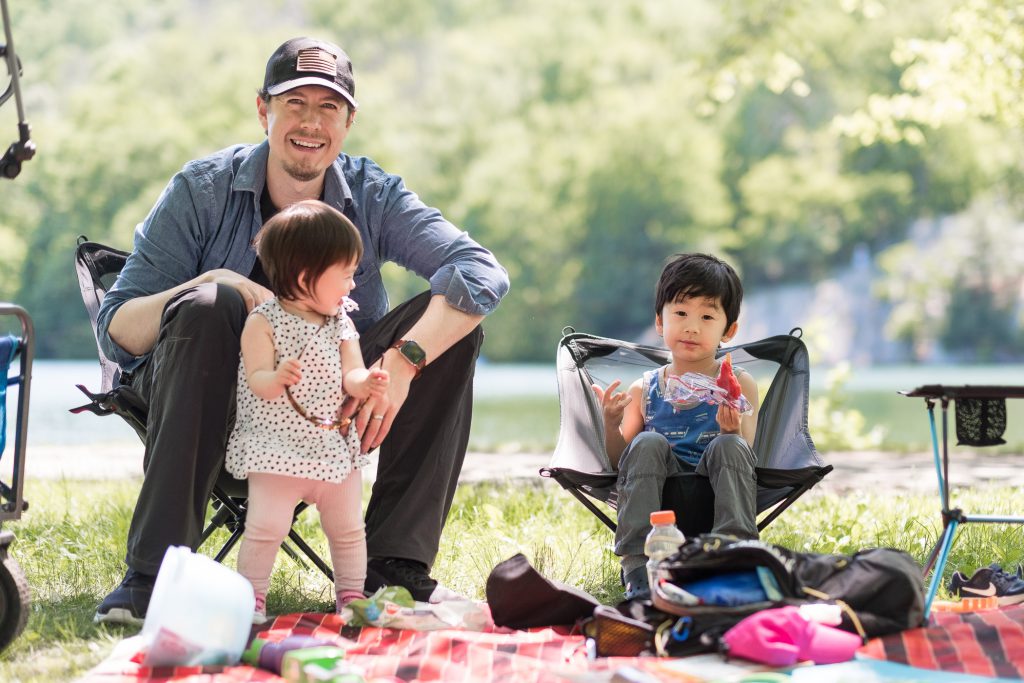 Summer is almost here, ushering in the best in alfresco dining! Bash loves picnicking and I like how a quick packed lunch or a stop at a local market can turn our outing into a full day adventure. Whether you're seeking an urban oasis of greenery in the concrete jungle or a more country setting just outside NYC, we've listed some of our go-to's and spots on our radar. So pack your basket and head to one our favorite spots to picnic!
Central Park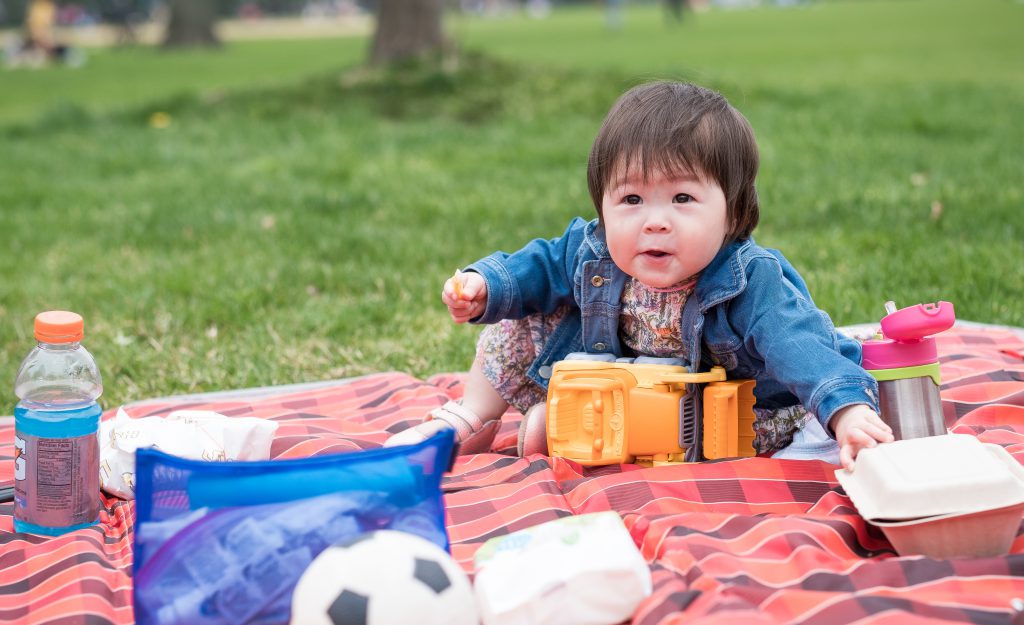 The classic spot for a picnic in the city! Who needs the suburbs when all 840 acres of Central Park becomes your backyard?! We like to stop at Zabars (UWS: Broadway & 80th), Citarella (UWS: Broadway & 75th), or Dean and Deluca (UES: Madison & 85th) to pick up lunch and head off to the park to explore.
Usually we head to the Great Lawn or Sheep Meadow for a grassy expanse, beautiful skyline views, and kite-flying / ball-tossing fun. Forgot your sundries…not a problem: there's usually a Wafles and Dinges cart parked on the southern edge of the Great Lawn (towards Turtle Pond and the Delacorte Theater) and Sheep Meadow is close to Le Pain Quotidian and Tavern on the Green, which has an outdoor takeaway window.
When we're feeling a little nostalgic for the country, we'll head into the Ramble and get lost in its maze of woodsy trails. Note, the Ramble does not have any nearby bathrooms or garbage cans (carry in, carry out) and the trails are narrower and may have stairs in some areas.
Last year, we finally ventured to the northern section of the park and enjoyed the Harlem Meer. There are some nice grassy sections for a picnic, big rocks for scrambling, and catch and release fishing through the Charles A. Dana Discovery Center. Fishing poles are available to borrow for free Monday – Saturday 10:00 AM – 4:00 PM and Sunday 10:00 AM – 2:00 PM.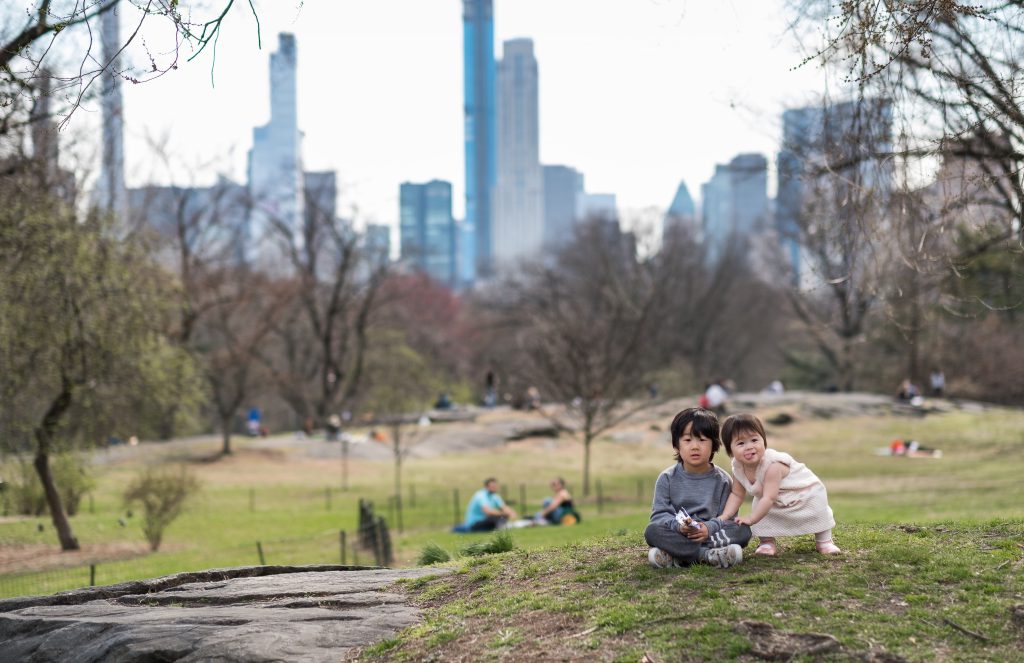 Bryant Park
Bryant Park in the summer offers so many great activities for kids! There's always something going on: rides on Le Carrousel, outdoor Broadway performances (waiting on the summer lineup to be announced here), juggling (weekdays at noon) art, games, story time, and weekend puppet and magic shows.  If it gets a little hot, we cool off in the NY Public Library's Children's Reading Room. Check the NYPL Schwartzman calendar for a list of kids' events before you head out, but they pretty consistently host storytimes by age group on a weekly basis:
Baby (0 – 12 months) Storytime on Mondays 10:15 AM and 11:15 AM
Preschool (3 – 5 years) Storytime on Tuesdays at 4:00 PM
Baby Pre-Walker (4 – 12 months) Playdate on Wednesdays at 2:30 PM
Toddler (1 – 2 years) Storytime on Thursdays at 10:15 AM and 11:15 AM
Weekend Family Storytimes on Saturdays and Sundays at 11:00 AM and 3:00 PM.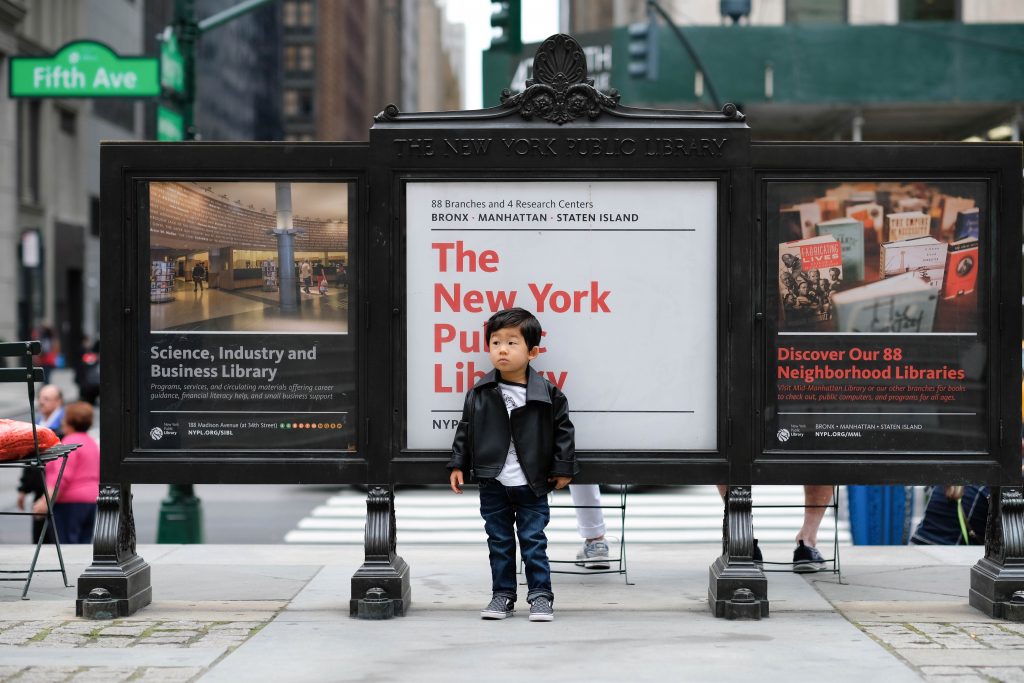 Since we take the subway down, we usually travel light and grab some grub on the go. There's a Whole Foods across the street (6th & 42nd) for convenient picnic supplies or lots of food kiosks in the park. We also really like the outdoor terrace at the Bryant Park Grill.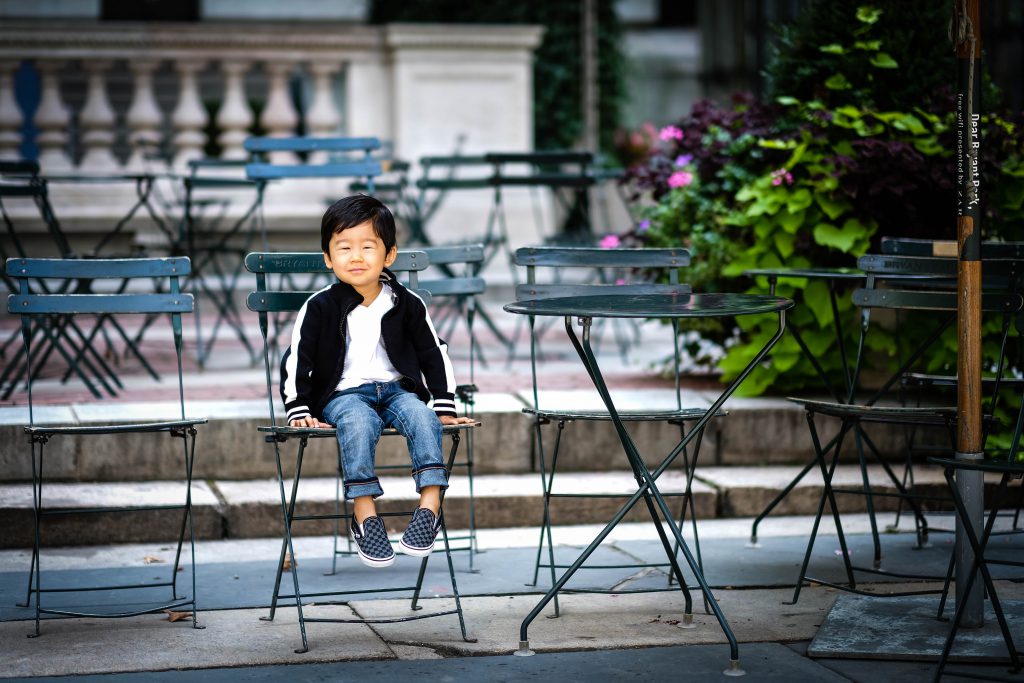 American Museum of Natural History Splash Pad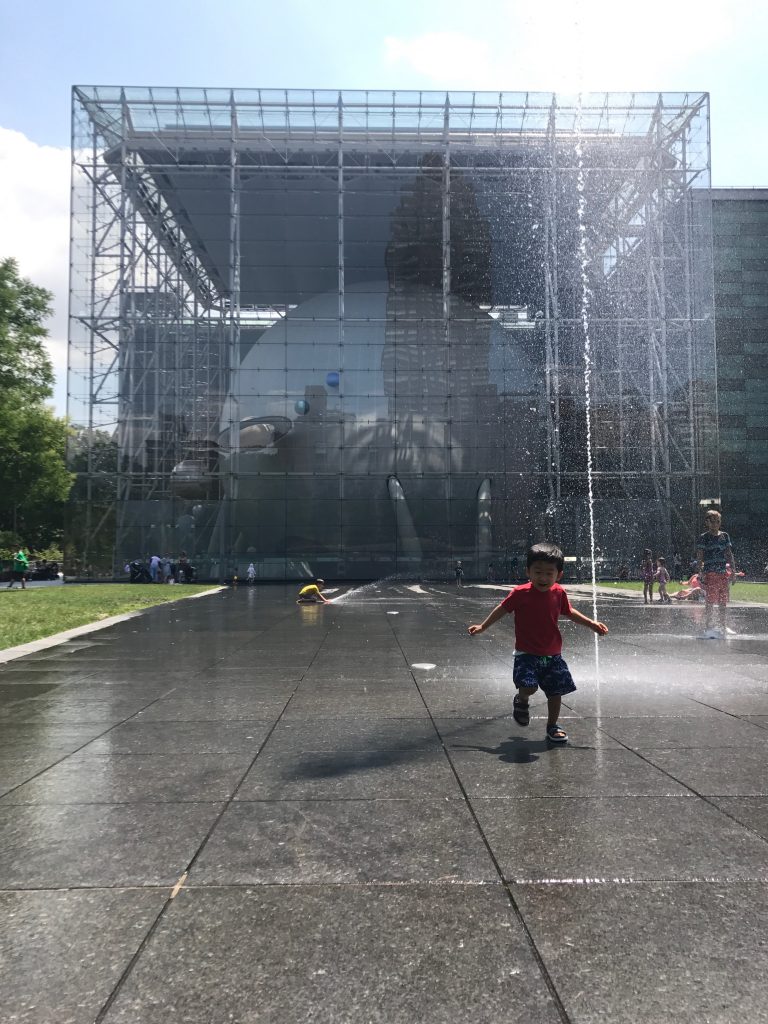 Another home away from home for us Upper West Siders! We like to spend the morning exploring the museum and then splashing in the fountains on the Arthur Ross Terrace. If you just want to play or picnic at this "spray-ground", enter via the stairs from 81st Street / Columbus or through the museum's Columbus entrance and take the elevator up (you don't need to wait in any ticketing lines or pay museum admission). 
For lunch, bring your own picnic or stop by Shake Shack across the street (Columbus & 77th) or pick up sandwiches at Lenwich (Columbus & 83rd). For a charcuterie board, stop by Salumeria Rosi (Amsterday & 73rd). And don't forget dessert at Levain Bakery (the "new" location at Amsterdam between 74th & 75th has much shorter lines). The terrace has tables and chairs on the upper level (unshaded) and a small grassy section (limited tree coverage) to the north of the fountains, so be sure to pack sunscreen and a change of clothes post-splash.
NOLITA Elizabeth Street Garden
The Elizabeth Street Garden (Elizabeth Street between Prince & Spring) is another of my favorite secret spots in the city and I really hope it's saved from the proposed development.  It's a peaceful oasis in NoLIta / Soho that has salvaged Old World sculptures and architectural details along with a community garden. NoLIta was our first neighborhood when we moved to NYC (we lived on Mulberry Street between Spring and Price), so it's nice to head downtown and reminisce. We like to stop here, one of the only patches of green in this dense urban neighborhood, after Freshmade NYC cooking class and when we need a breather for antsy kids who've spent too much time indulging momma at the cute Soho shops. Summer hours: weekdays 12:00 PM – 6:00 PM, weekends 10:00 AM – 6:00 PM.
There are way too many good eats around the area! We got spoiled living here and every time we return, it's like a smorgasboard where we have to get one of everything:
This summer, we'll probably go on Fridays as the NY Public Library hosts free a Baby Storytime: Shake, Rattle, and Read at the Elizabeth Street Garden on summer Fridays at 12:30 PM for children (0 – 3 yrs) and caregivers. They also host a Family Fun Time story reading for families on Saturdays at 10:30 AM.
Brooklyn Bridge Park / Time Out Market / DUMBO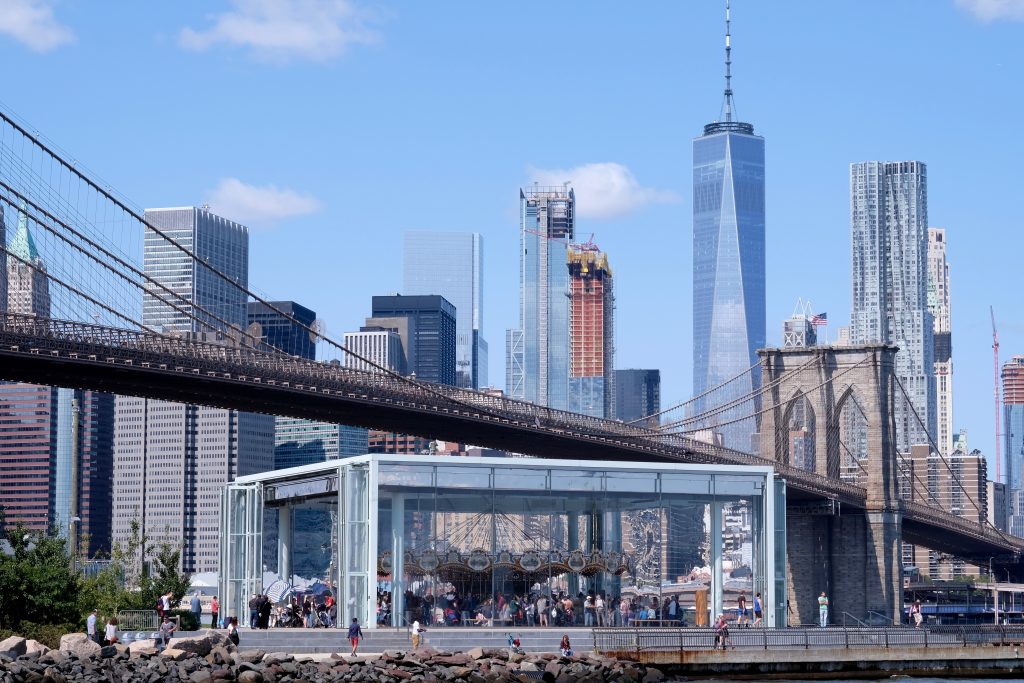 Coming from the UWS, a trek to Brooklyn is like an all day excursion for us, haha! There's something for everyone here: wandering the cobblestone streets, the Brooklyn Flea on Sundays, rides on Jane's Carousel, free admission to open play at the SPARK by the Brooklyn Children's Museum (on Thursdays 1:00 PM – 6:00 PM), public art and galleries, so many playgrounds, and al fresco dining amidst iconic views of the East River, Manhattan skyline, and bridges in Brooklyn Bridge Park. 
There are so many good eats and we are particularly excited as the new Time Out Market New York just opened, housing a ton of our favorites like Jacob's Pickles, Clinton Street Baking Co., and more! Seriously, we are planning to stay the entire day for breakfast, lunch, and dinner. And once we've satisfied our taste for the new, we'll head to our usual haunts: Almondine Bakery (Water & Main) for pastries, Juliana's Pizza (Old Fulton & Front), Shake Shack (Water & Old Fulton).
Governors Island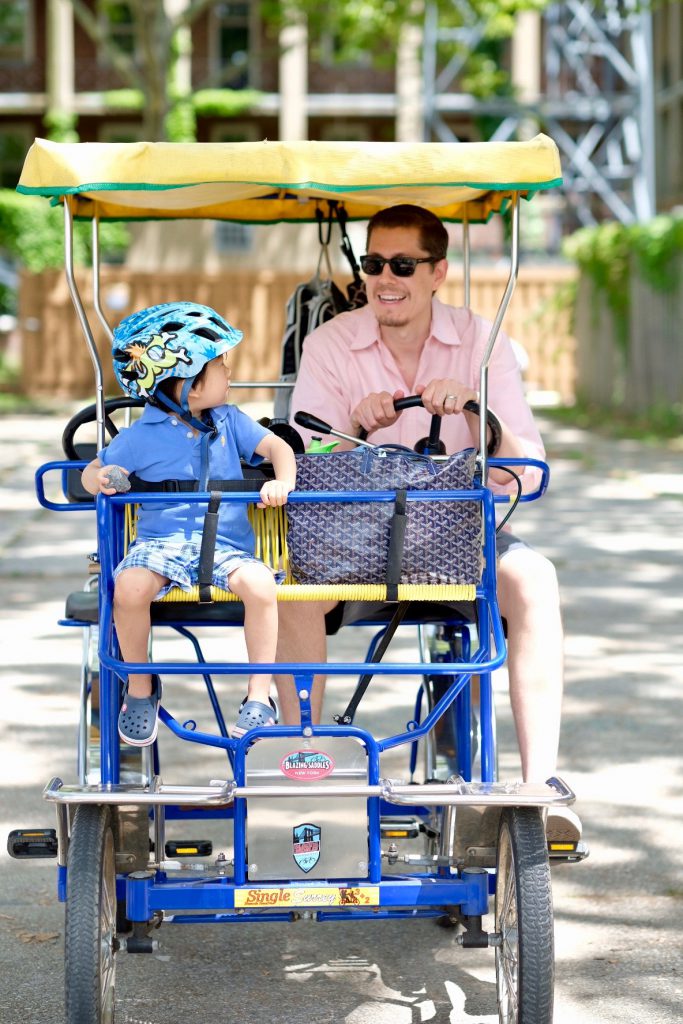 Last summer we had a blast at Governors Island and we can't wait to head back (especially since I lost all of my "big camera" photos in my first ever digital disaster, boo). After disembarking from the ferry, we rented a surrey from Blazing Saddles and pedaled our way around the island to get a lay of the land. We returned on foot to climb The Hills for a beautiful skyline vista, (carefully) scramble up and slide down at Slide Hill, chillax in Hammock Grove, cool off in the fountains in Liggett Terrace. This year, we are looking forward to checking out the Children's Museum of the Arts activities, exploring all the Adventures Pop-up, and free kayaking.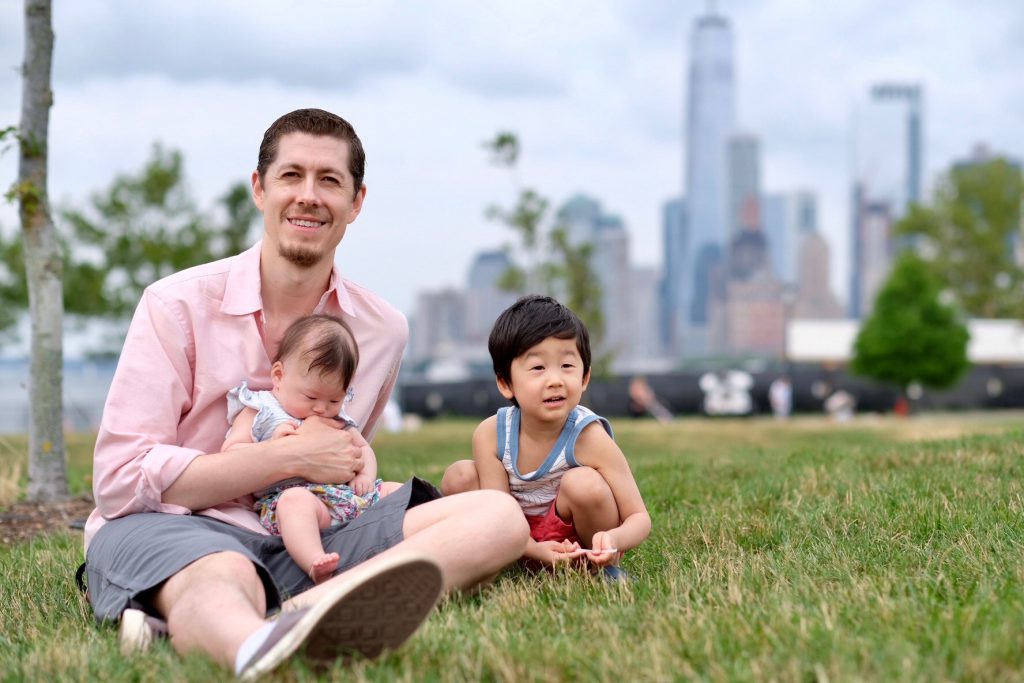 There are so many great spots for a picnic and we are looking forward to reserving a BBQ grill this year. If you prefer not to make a food haul on the ferry, there's a good variety of food vendors along Liggette Terrace and Island Oyster for water-front dining with a pretty tasty kids' menu!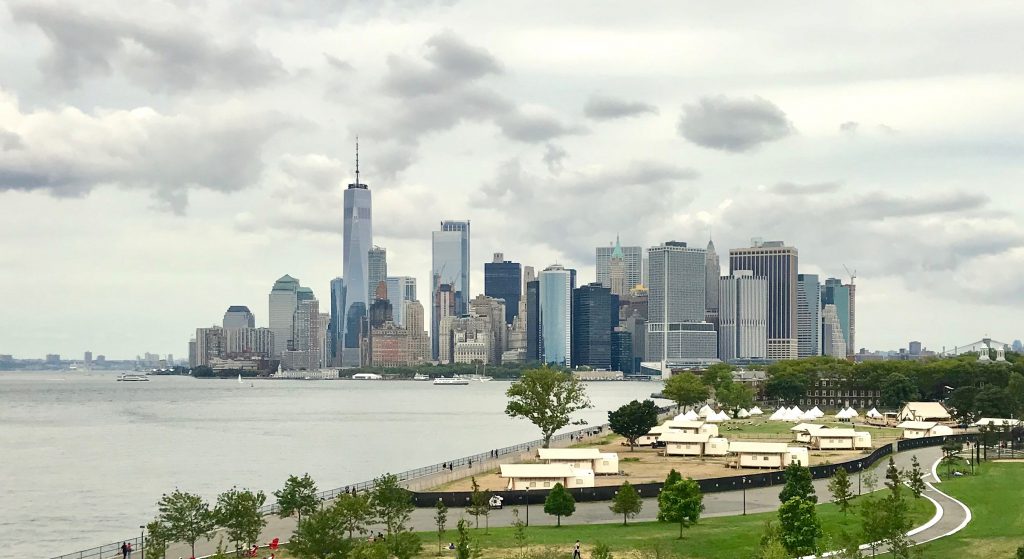 Bear Mountain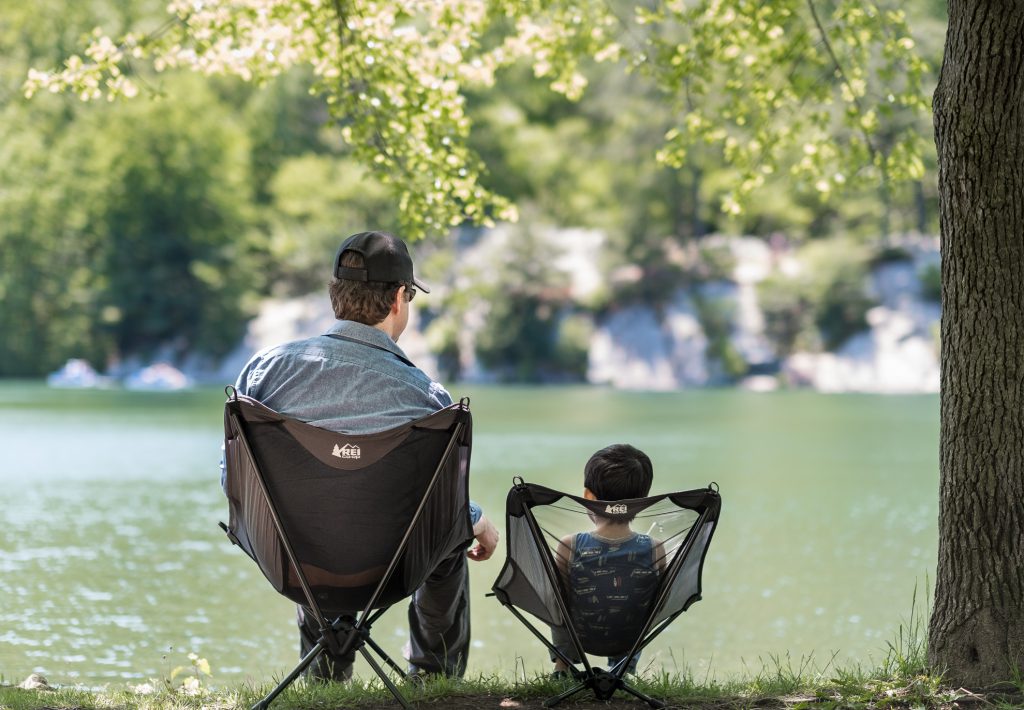 Bear Mountain State Park, a quick 45 minute drive up the Hudson River, offers a green respite from city life, easy trails, and lots of activities for kids.  We've gone in the fall for the beautiful golden fall foliage and crisp "mountain" air, but it's equally fun during the summer months with more boating activities on Lake Hessian. We went for a picnic over Memorial Day Weekend and Bash even caught a fish using bread as bait!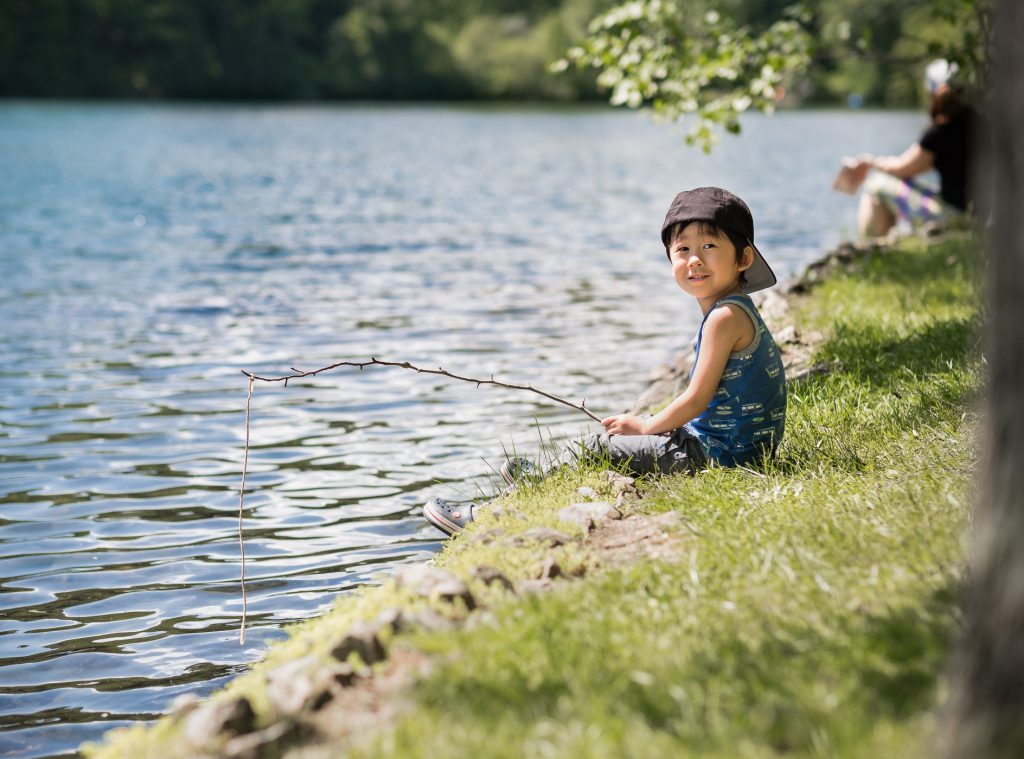 Be prepared for a walk from the parking lots, especially if it's crowded and you get stuck in the overflow lot. The crowds tend to thin out the further your walk, so head towards and around Lake Hessian for a more "secluded" spot. There's also a playground (note that it has been moved from lakeside to closer to the overflow parking lot), carousel, paddleboat rentals, and amenities offered at the Bear Mountain Inn and Trailside Museums and Zoo.
You'll want to bring your own picnic or BBQ supplies here since there's not much around. Get there early if you want to use a grill or BYO grill.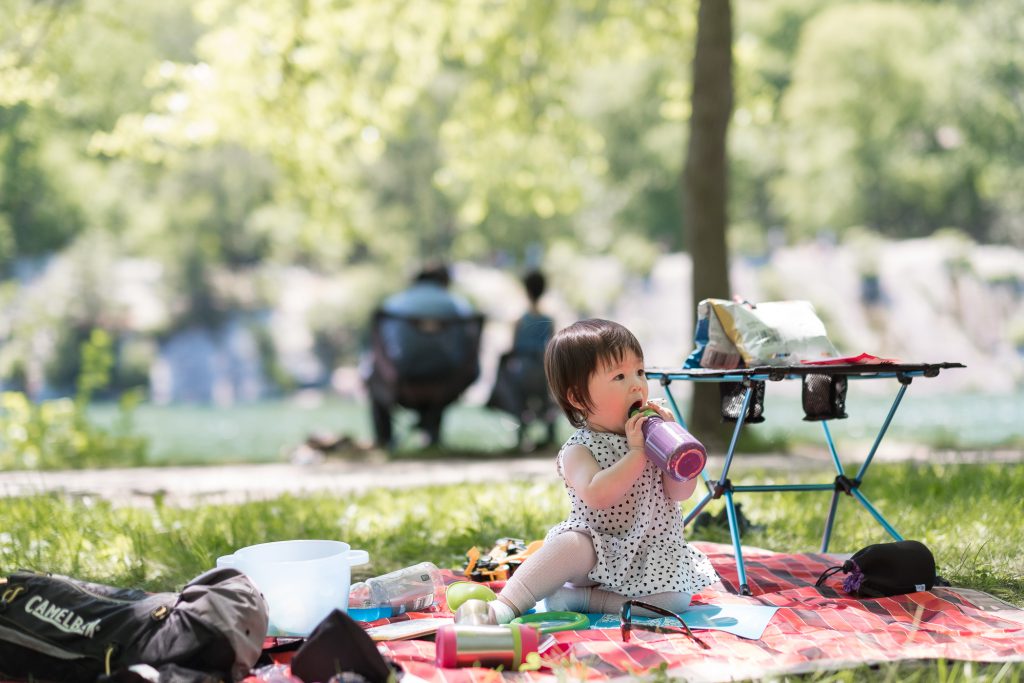 Storm King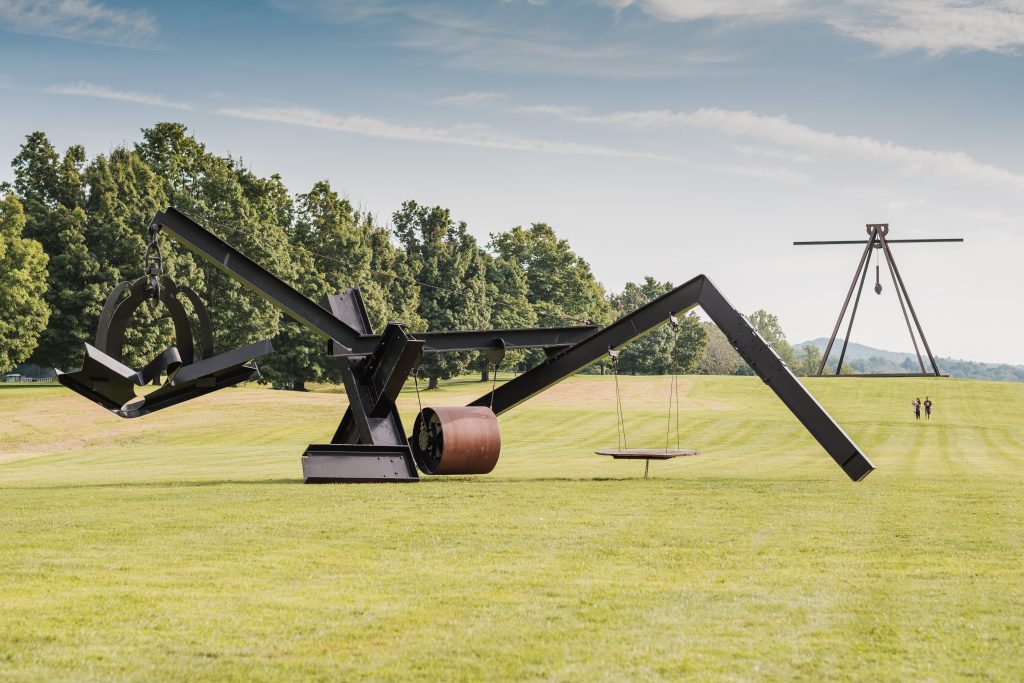 Another one of our favorite destinations in the Hudson River Valley, Storm King Art Center is a picturesque destination for a picnic. Take the tram for a fun, narrated ride and pop out to get an up close look at the land art and various sculptures. Be on the lookout for the interactive sculptures (indicated on the map with a green hand) that the kids will enjoy (Bash likes ringing the bell and swinging).
Bring your "SUV" of strollers or wagons to navigate the dirt and gravel paths and make sure you have some shade for the little ones as many of the central walking / biking paths don't have full tree coverage.
For food options, BYO supplies for a picnic in the designated areas. There's also a small outdoor cafe and some food trucks depending on the season. Or pick up a sandwich and cookies at Jones Farm nearby before heading to Storm King.
Opus 40
This "earthwork sculpture park" is next on my list of adventures. Opus 40 boasts a 6.5 acre walkable bluestone sculpture along with surrounding hiking trails. I'm just fascinated by the story: one man created this by hand over the course of 37 years! Plus, I think Bash will really enjoy exploring its labyrinth like structure. Picnickers are welcome and Phoenicia Diner has takeout!
Fort Tryon Park / The Met Cloisters
Last summer, we booked it to the Met Cloisters for a concert in their gardens. Bash was a little young to understand the medieval art, but I think he will be more into knights and armor this year. We'll also plan to spend more time exploring the surrounding Fort Tryon Park (park amenities listed here). With grassy areas perfect for picnics, I think we will BYO picnic basket. But, if we forget anything, the New Leaf Restaurant looks like a pretty space with something to satisfy everyone.
Note: if you plan to explore the Cloisters, bring the carrier or lightweight umbrella stroller. Housed in rebuilt European monestary, there are some small flights of stairs throughout the museum.
Picnic Essentials Checklist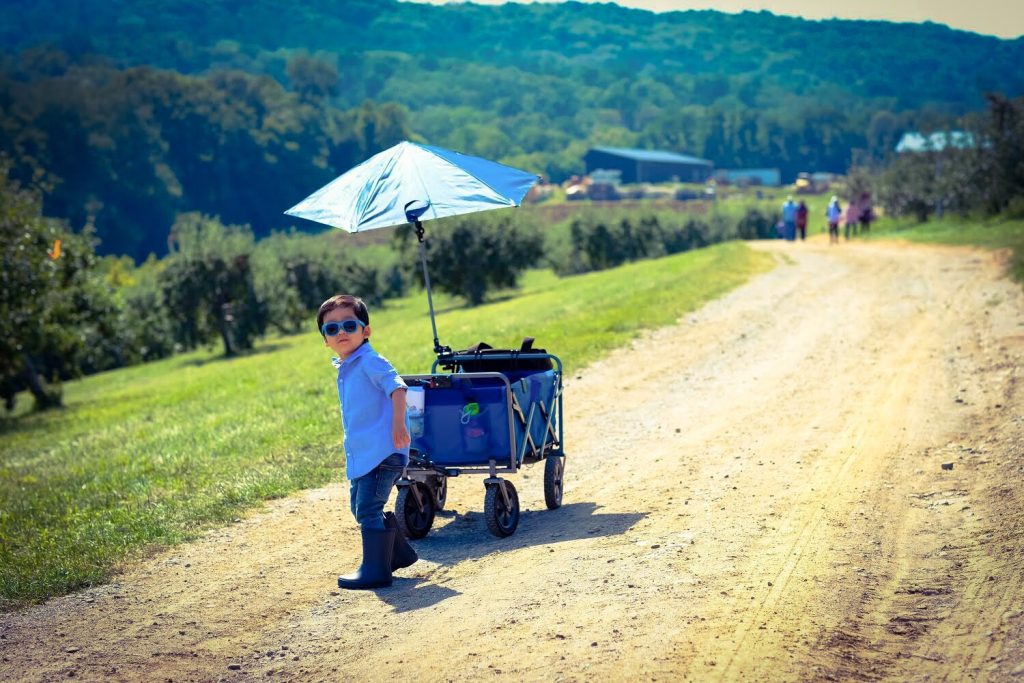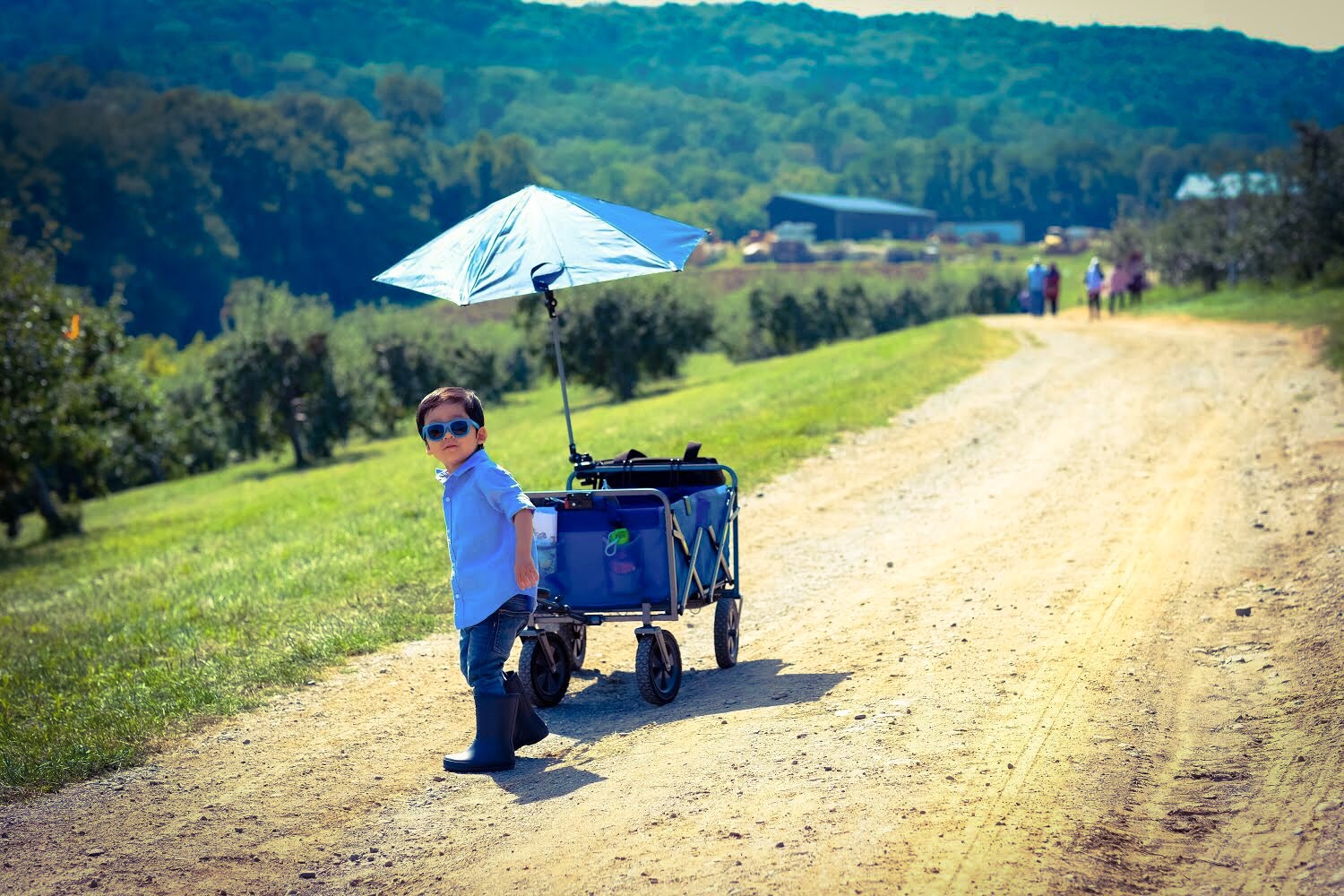 Picnic storage and transportation:
Tablewear:
Cups: while the red Solo is always a classic, we also like these HydroFlask tumblers to keep beverages at just the right temperature
Plates: while our picnic basket comes with appetizer sized plates, I usually supplement with extra paper plates or our stainless steel camp set
Utensils: save those extra utensil sets on your next takeout order; alternatively, we like disposable bamboo utensils
Napkins
Tablecloth: if you have a spot with a table, this Vinyl Tablecloth and clamps set is great to cover the picnic table: easy to wipe down and acts as a nice, clean working surface
Corkscrew and / or bottle opener
Cutting board and knife: Kyocera ceramic knives are great for travel
For the babies / kids: I carry this Modern Twist silicone placemat and bib everywhere for restaurants and eating on the go! I've had the same set ever since Bash was a baby and it has held up incredibly well through almost daily usage for 4 years! Both kids also use the Thermos Foogo and Thermos Funtainer bottles
Garbage bags: carry in, carry out!
The setup:
Blanket: we have this foldable, waterproof blanket and it's held up well for 4 years
Chairs & table: These are our most portable folding chairs: Nick gets the REI macro chair (made for big and tall campers), I use this Alite chair (with critical cup holders), and Bash has this smaller REI low chair (lower to the ground and easier for him to get into on his own). We also like this folding table
Shade: We have this Otentik Sunshade which is great because you can stand / sit and it has a large shaded footprint but requires sand / dirt as anchors. This Pacific Breeze tent is also highly rated.
Eats:
Food: think easy to transport mains like sandwiches, charcuterie and cheese boards, or BBQ supplies for the grill; don't forget the sides: fruit, pasta salads, potato salad, chips, veggie crudites; dessert; extra snacks for the kids!
Condiments: grab extra takeout sized packs of salt, pepper, ketchup, mustard, etc.
Beverages
Accessories, entertainment, and outdoorsy things:
Sun protection: hats, sunglasses, and sunblock (my favorites are ThinkBaby and we just started using Vanicream Sunscreen, which Bash's dermatologist recommended since he's allergic to everything has extremely sensitive skin)
Bug spray: our camping go-to's are Cutter Family Insect Repellant Wipes (a lower amount of deet for safety concerns) and ParaKito Kids Repellant Clip
Wipes
Camera, lenses, and extra batteries
Portable outdoor speaker if you're going for more of a party vibe
Outdoor toys: bubbles, kite, chalk, sports gear / balls, nature scavenger hunt equipment, shovel & pail, etc.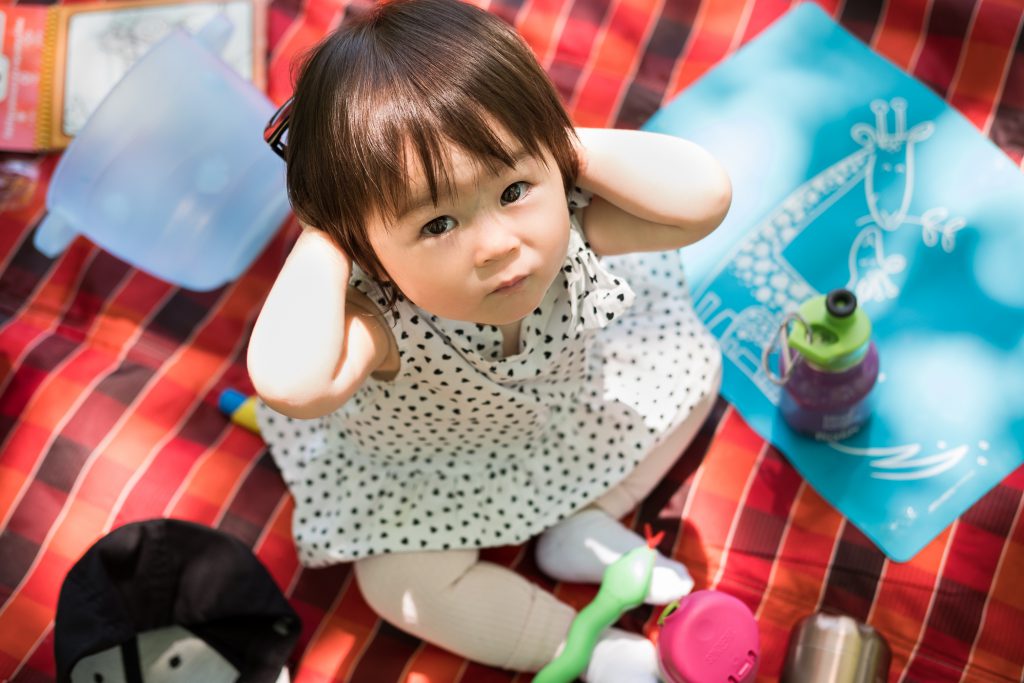 More Ideas for Summer Fun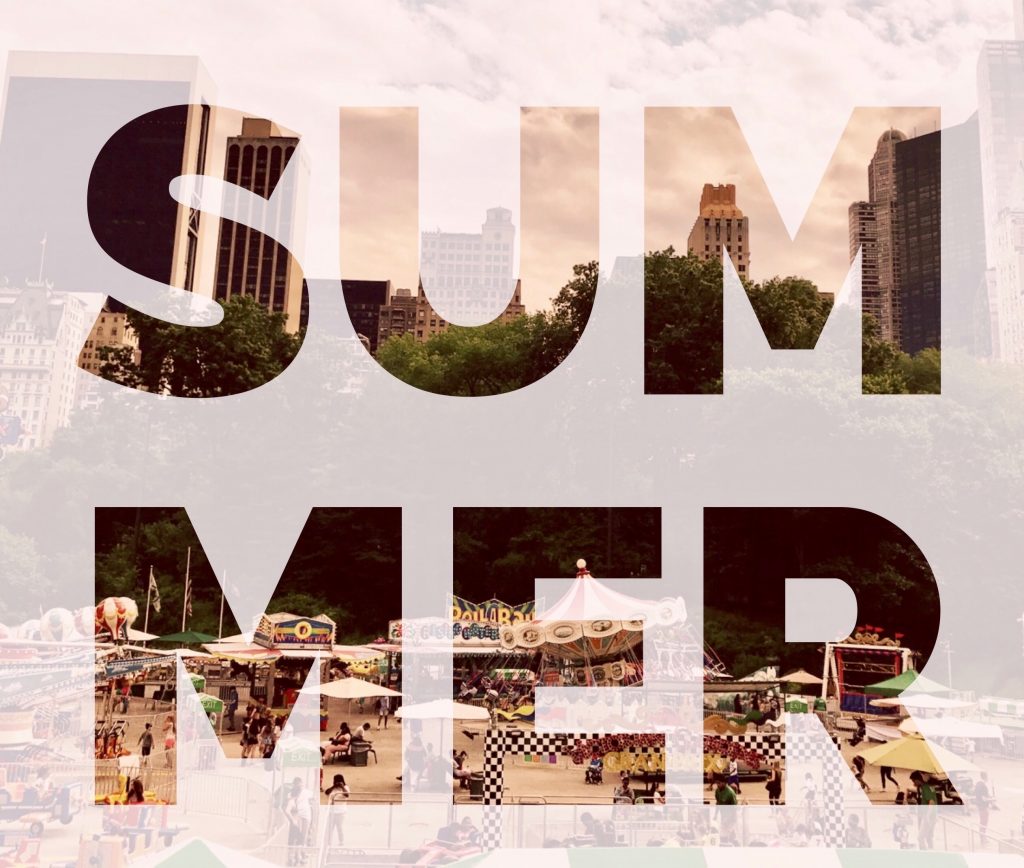 Need more ideas for summer outings? Don't forget to check out some of our summer guides from the past year: