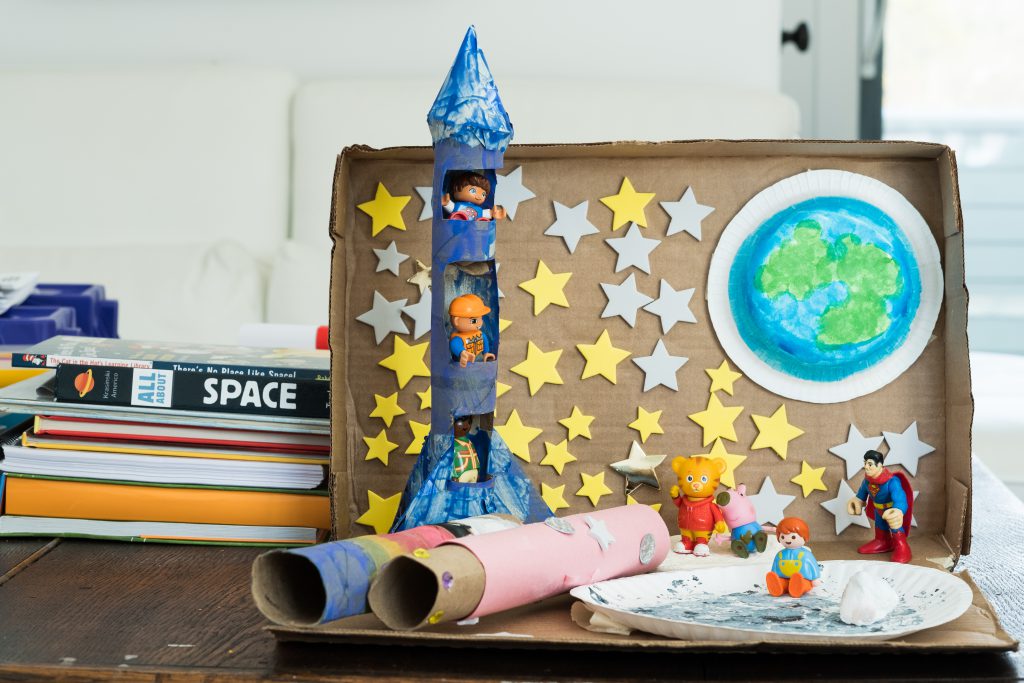 We just wrapped up Week 2 of our COVID-19 "quaran-cation" which also coincides with our Spring Break, after spending the first week adjusting to our new environment as we temporarily decamped from our NYC "epicenter" apartment to the more isolated Woodstock, NY countryside.  While I'm trying to give the kids a break from "school" (it is spring break after all), I personally thrive on a routine, structure, and objectives.  So, I set up some themed activities, focusing on space as Bash was in the middle of a space curriculum at school before Spring Break / COVID-19.  While there's no way we could recreate school's amazing activities, I hoped to at least continue to engage Bash's curiosity and interest in the solar system.
I'm neither teacher nor homeschool parent, rather a type A mom who thrives on organizational structure.  I just researched and tested a ton of space-themed activities that I hoped would keep the kids both occupied and excited.  I should note that since we are currently not at home, we only have a few of our regular toys, books, games, and craft materials.  My goals were to find easy ways to keep the kids occupied (independently when possible) and use materials we had readily available.  Hoping it could save you hours of research and help occupy and engage your little ones, here are some of our favorite space-themed videos, activities, songs, and crafts that Bash (age 5, Pre-Kindergarten) enjoyed.
Day 1: The Solar System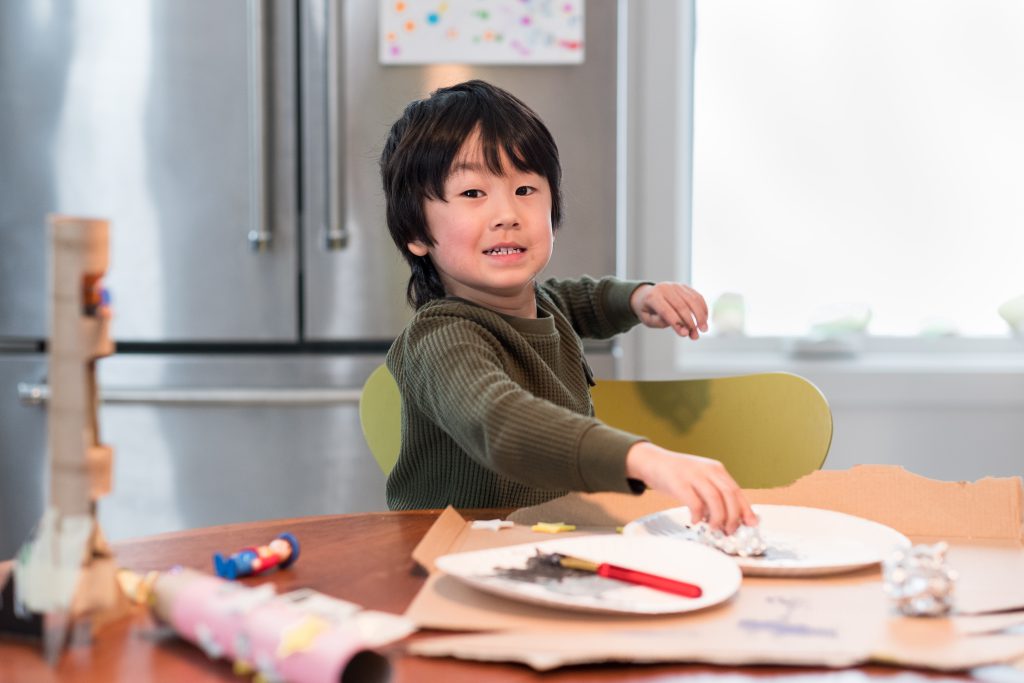 Videos
Songs
This Planet Song for Kids been Bash's favorite planet song and we've been listening to it on repeat for the past week.  I have to admit, it's catchy and I've caught myself singing along on multiple occasions.  Note: this version is about 40 minutes and starts with the intro solar system song and then goes into dedicated songs about the sun, each planet, the dwarf planets, the moon, and the seasons.  Here's the direct link to the 3 minute "8 planets in the solar system" song.
Storybots Outer Space song and video is a cute animated series that sings and raps about the solar system.  Note: the space-themed portion ends about halfway through around the 8:30 minute mark.  It then weirdly transitions into a time machine song about dinosaurs.
Kid-friendly staples, Pink Fong and Cocomelon, also have solar system and planet songs with animated videos.  Pink Fong's Space Song Compilation runs about 16 minutes and covers the solar system overview, individual planets, space travel, Mr. Sun, stars to the Baby Shark tune, etc.  Cocomelon's Planet Song is a 5 minute animated video.
Activities
Hands-on Activity: here's a very easy, short activity to demonstrate how planets (like our Earth) orbit the sun:

In a pie tin or shallow saute pan, flatten a ball of play-doh in the center to represent the sun (make sure it's sticking to the pan).
Roll a second ball of play-doh and place the ball "Earth" at the edge of pan.
Tilt the pan to roll the ball "Earth" around the center "Sun".

Arts and crafts activity (with minimal oversight): Paint planets out of paper plates or paper bowls or use construction paper or coffee filters…whatever's handy and keeps the kids occupied!  We used paper bowls and Do-A-Dot markers (yes, I included these in my "apocalypse packing", that's how much we love them!).  I just put up pictures of each planet and let the kids go to town – a good 1.5 hours of individual play time!
Additional Resources
For fun facts about each planet, check out NASA Kids' SpacePlace.
National Geographic's 101 Series has short (~3 minutes) videos on each of the planets
Day 2: The Moon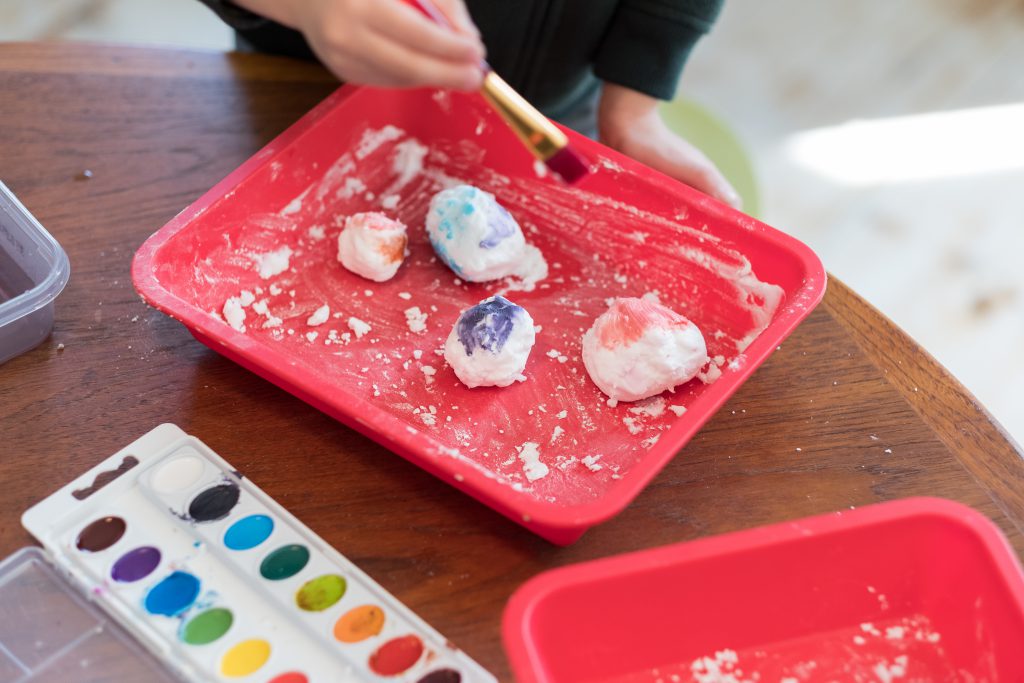 Videos
Songs
Activities
Scholastic's Learn at Home free, online activities are awesome!  Each week, they've been posting daily reading topics with 2 read aloud books and a series of coordinating activities.  I was super excited to see that Week 1, Day 4 focuses on Earth and Space – The Moon.  There are 2 read-aloud videos of the following books:

Happy Birthday, Moon: A fictional tale about a bear's loving interactions with the moon; one of my childhood favorites that I immediately remembered reading with my mom and both Bash and Ava fell in love with as well.  (~9 minutes, features animation of the illustrations)
The Moon: A nice overview of facts about the moon

Sensory / Imaginative / STEM activity: Make "Moon Rocks" from baking soda and water, inspired by Little Bins for Little Hands

Grab some baking soda and sprinkle a good pile on a tray / covered surface.  Pour a tiny amount of water on the baking soda to create a paste.  Start forming balls from the paste (continue adding water to get them to stick like snowballs).  Note: a little water goes a long way; just add more baking soda if they get too mushy.  My kids spent about 20 minutes independently playing with the balls, smooshing them and reforming them.
To extend the independent play time, I gave them some watercolor paints and let them go to down coloring their moon rocks.  You could also use food coloring to make them a realistic gray color, but I'd recommend watercolor paints if your goal is independent play with minimal mess and oversight.  I got another good 20 – 30 minutes.
Once they are done, wrap each ball in saran wrap and place in the freezer to set – at least 30 minutes.  I wound up leaving them overnight as we moved on to another activity.
My kids loved playing with the hardened moon rocks on the little diorama they made.  You can also add a little STEM component by adding vinegar and watching them fizz from the acid + base reaction.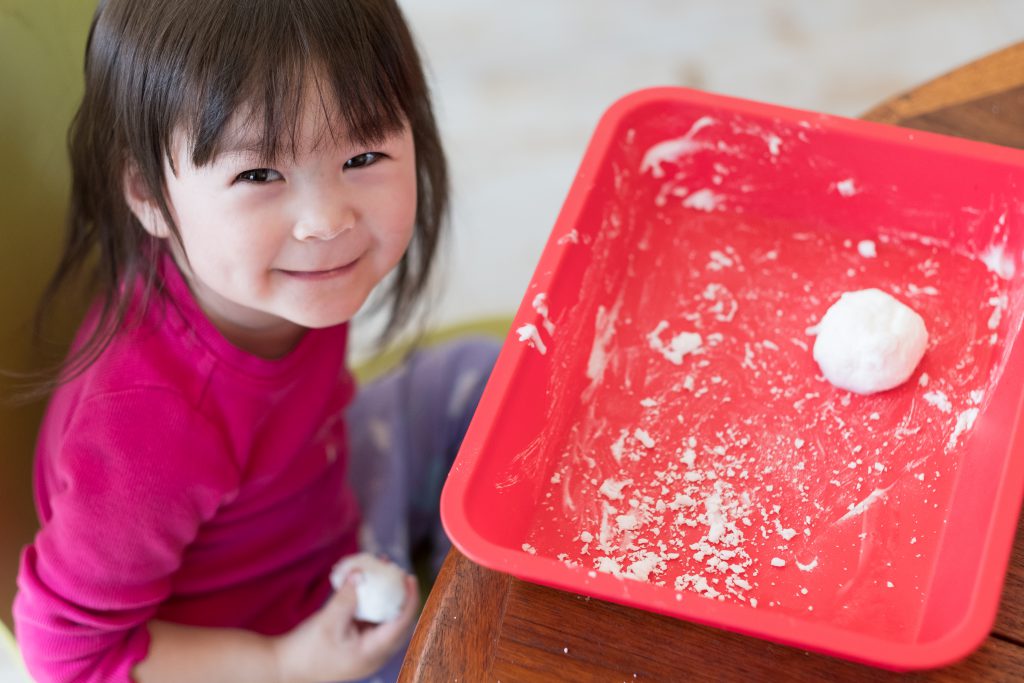 Sensory / craft activity: Make moon craters out of modeling clay for a super easy, independent play activity.  We had some white Crayola Model Magic clay leftover from Bash's birthday party favors, so we put it to use by pretending it was the moon's surface.  We stamped "craters" using foil balls, chunks of the "moon rocks" activity, acorns, rocks, and anything we had on hand that the kids wanted to try.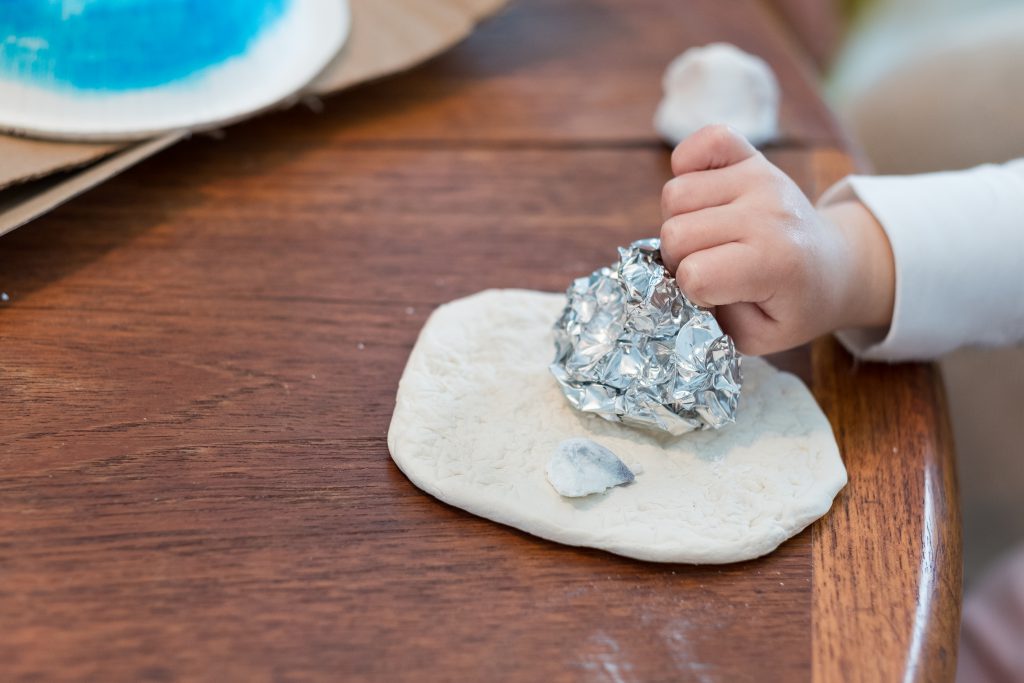 Arts & crafts activity: Make a moon with paper plate and foil ball stampers.  Mix some black & white washable paint to great a nice gray moon color.  Instead of a paint brush, use a rolled up ball of aluminum foil to stamp the paint on the paper plate to create a nice crater-like texture.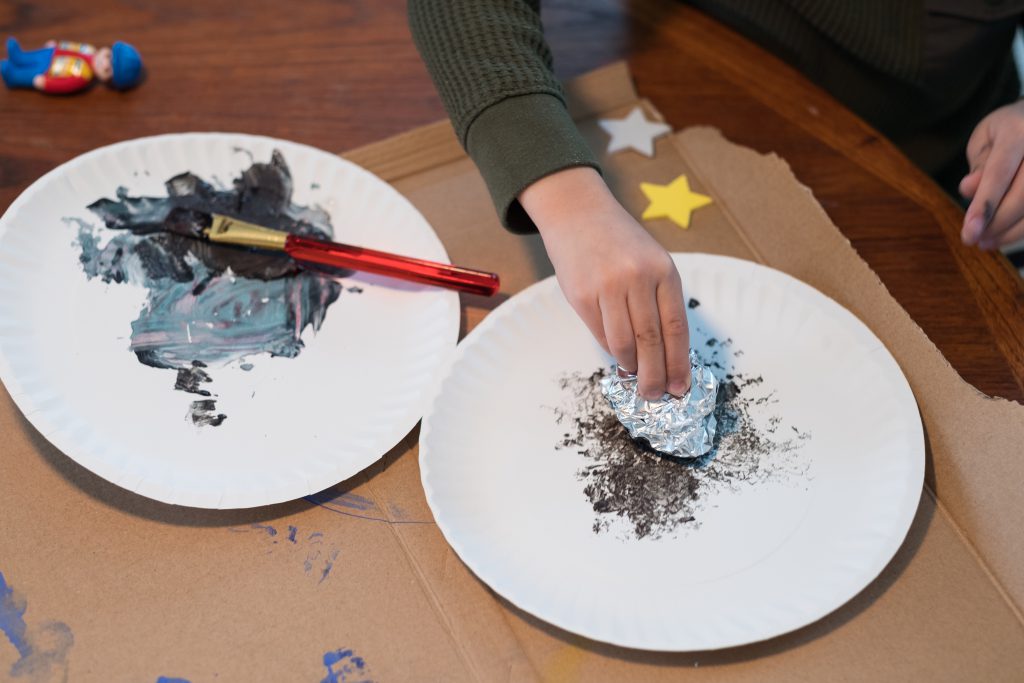 Additional Resources
Day 3: Stars and Constellations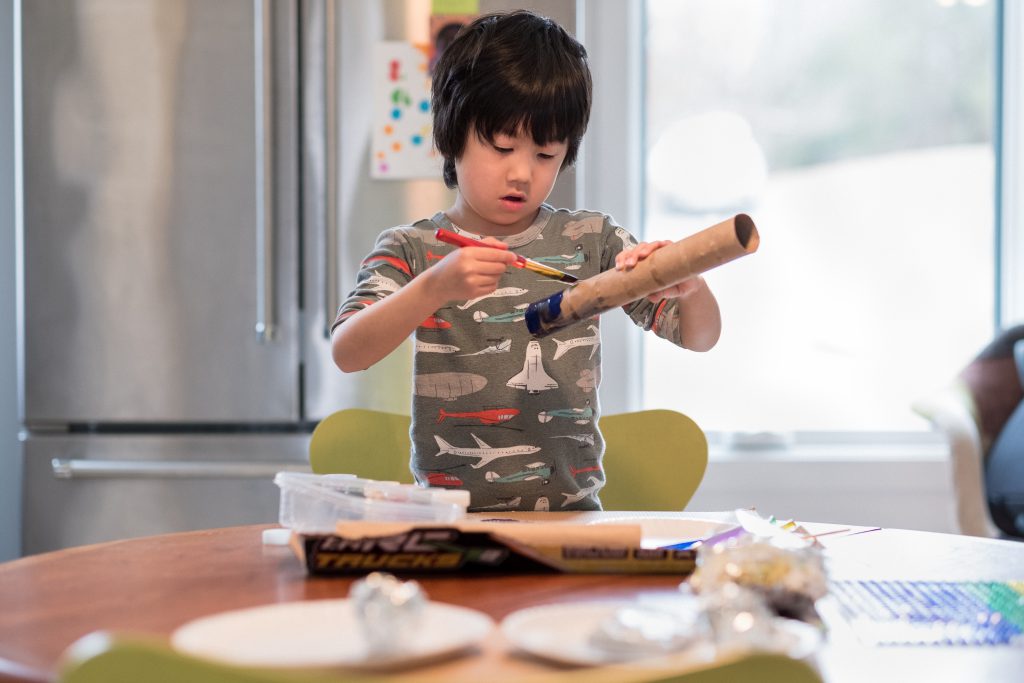 Videos
Activities
Arts & crafts: Make a telescope for pretend star gazing.  We decorated some old paper towel tubes with paint, stickers, and construction paper.  I put out a bunch of materials and let Bash take the lead – a good, independent activity requiring very little oversight.
STEM: Make marshmellow constellations:  We tried our hand at making constellations from marshmellows and pretzels, but we only had the big marshmellows and the short pretzels.  We would up making random shapes, calling them constellations, and eating them.  If you want to get serious about this as an activity, grab a bag of the small marshmellows, use toothpicks, and check out this Edventures with Kids' guide.
Movement: Take a walk at night and try to identify stars, the moon's phases, and constellations.  We tried out the Star Walk 2 (free, but the ads are annoying) app to identify the stars.
STEM: Make a star nightlight inspired by Creative Galaxy Season 1 Episode 5 Annie's Flowers / Indoor Campout (the second half of the episode, "Indoor Campout" has the instructions for the craft. We actually didn't intend to make this.  Bash just happened to be watching this show in the afternoon and ran up and wanted to make it.  I've been hoarding recyclable materials since we don't have many crafting supplies handy and a salsa jar was perfect for this.

Poke holes (in a shape to make a constellation or random) in some aluminum foil.
Roll the foil so it fits in a glass / plastic jar (preferably one with a wider mouth to make it easier to fit).  Put a small light / flashlight in the jar and add the lid.
Turn off the lights and voila, a star nightlight!
Day 4: The Sun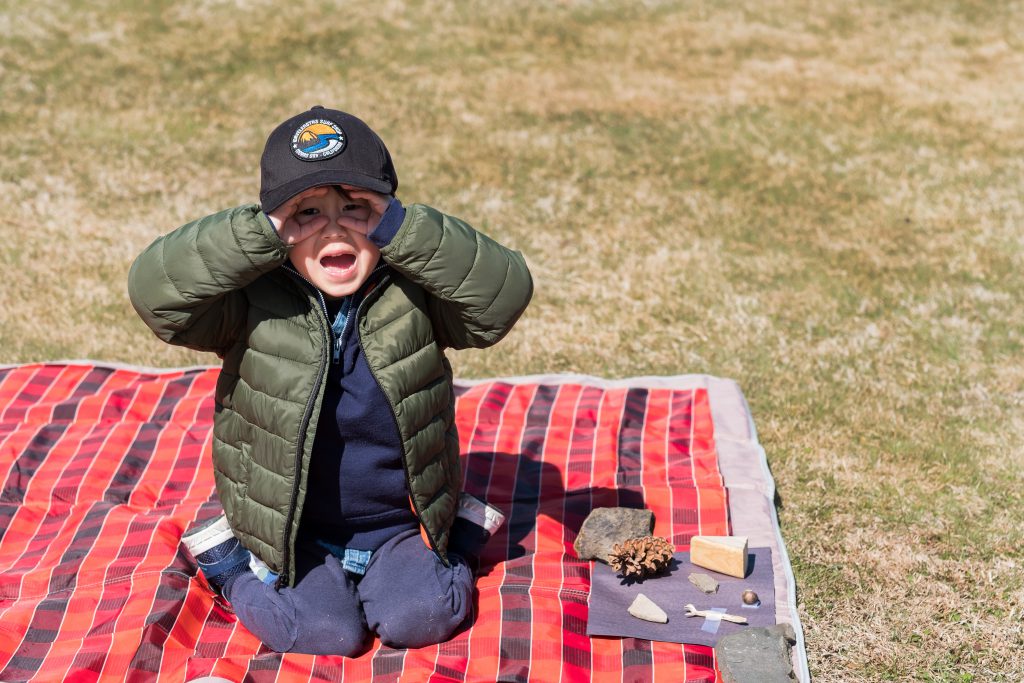 Videos
Songs
Activities
STEM activity: Sun printing (inspired by PBS Kids).  Demonstrate the power of the sun by "bleaching" paper.   We can actually see how the sun's energy will change the color of the paper, leaving silhouettes of the objects placed on top of the paper.  While there's actually sun-sensitive specialty science and craft paper (takes minutes rather than hours to activate), we used dark construction paper that we had on hand.

We started by finding objects outside during our walk.
We placed the objects on the black construction paper (we mostly used heavy objects and taped down the lighter objects so they wouldn't blow away).
Set the paper in a sunny spot and leave it undisturbed.  We were aiming for 3 – 5 hours, but 2 hours worked good enough to demonstrate the concept.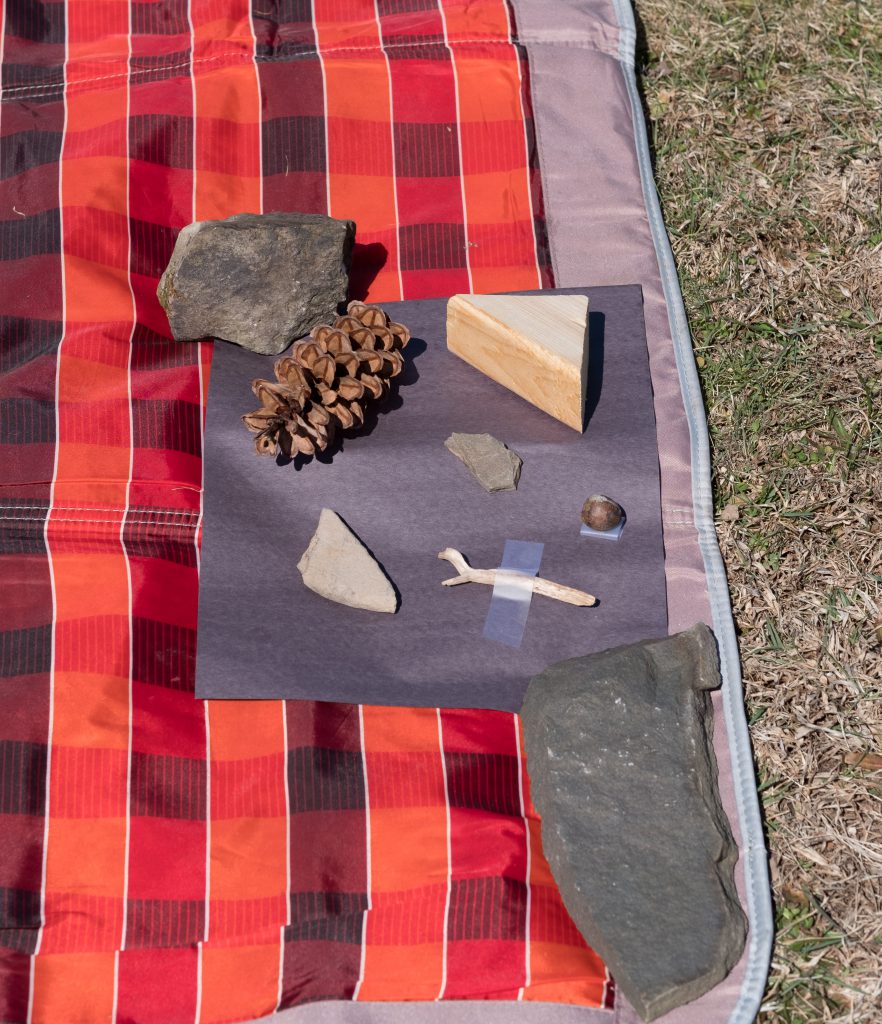 STEM activity: Sun's energy and the water cycle (this chart provides a good, kid-friendly explanation of the water cycle).  I actually brought our Clifford The Big Red Dog Water Science Kit with us which included this experiment and the Brain Pop clip above sparked the idea for this project.  Even if we didn't have the kit with us, we still had all of the materials available to demonstrate the water cycle concept.

Using a plastic or glass jar as a terrarium (clear is key so you can see the effects), scoop a little dirt into the bottom (we used potting soil – if you choose to use potting soil, feel free to sprinkle a couple of seeds for an additional gardening project).
Sprinkle some water on the dirt, just enough to make it moist.
Add the lid and set out in the sun.  Check back periodically to see how the water from the soil collects at the top of the terrarium.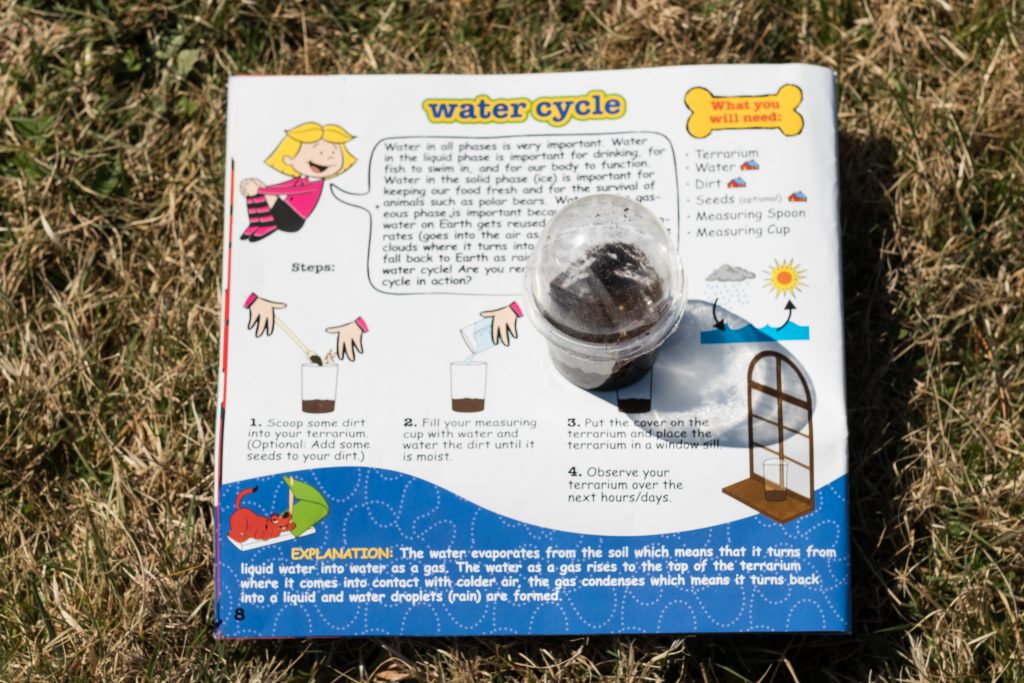 Additional Resources
Day 5: Astronauts and Rockets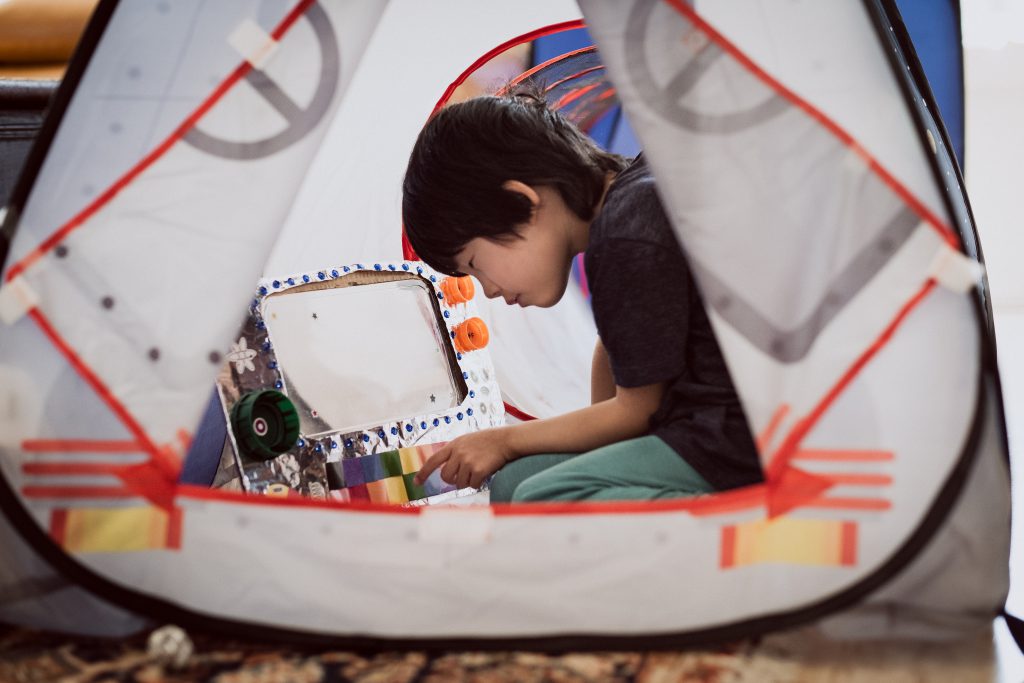 Videos
We turned to our trusty staple, National Geographic, for its overview of Rockets 101 (~5 minutes).
Bash spent a full 45 minutes watching rocket launch footage while at the Smithsonian Air & Space Museum, so I thought he would really enjoy a similar experience via this real Space Shuttle Launch recording (~4 minutes).
This National Geographic Space Shuttle video also shows the Discovery launch and the astronauts working in space.
Bash has been pretending he's an astronaut "floating" around in space, so we decided to look into how astronauts work and live in zero gravity.  This series by astronaut Chris Hadfield demonstrates different aspects of life in space.  Each clip is about 2 minutes.  Bash really enjoyed watching these videos, especially to see all the things floating around.  These really sparked Bash's imagination and he started playing astronaut by himself: packing all the things he would need in space, putting on his "astronaut suit", and preparing to launch.
For grins, Bash loved seeing the Tesla car in space.  A couple of videos we watched: Tech Insider and Space X's Live (2018) Views of Starman.
Songs
Activities
Arts & crafts: Build a rocket ship mission control / launch panel.  Okay, okay, I may have done this as a creative break, but it helped jump start hours of dramatic play.  There are a ton of really cool, complex DIY launch pads on Pinterest, but I just upcycled whatever materials we had laying around: a panel from a cardboard box, aluminum foil, a plastic top from a Swiffer box for a window, some bottle caps, stickers, construction paper, and a marker.
Craft activity and imaginative play: build a rocketship from a paper towel / extra toilet paper rolls.  Grab a paper towel roll, paint it, add a cone to the top, and some landing feet out of cardboard for the bottom.  I also cut some "windows" so we could put toy people in it.  Ours doesn't look pretty but Bash has been playing with it for the past week.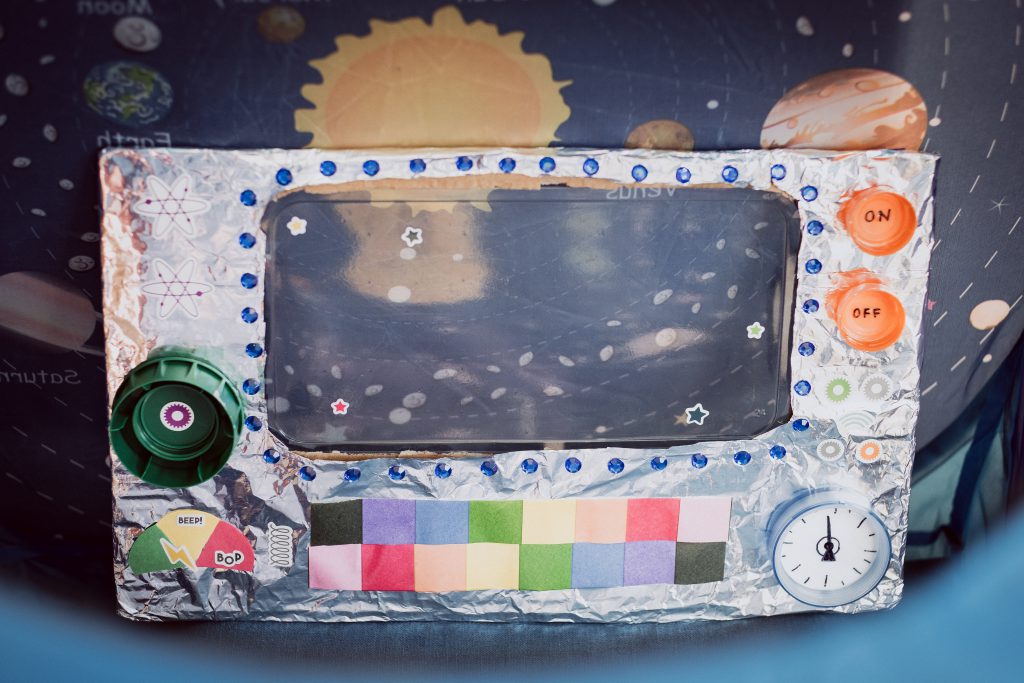 STEM: Build an astronaut glove box (inspired by Gift of Curiosity):

Grab an open cardboard box.  Cut 2 kid hand-sized holes on one side and attach gloves (dishwashing gloves or we used our COVID-19 prevention adult nitrile gloves that we had on hand) using tape to completely seal the edges.
Fill the box random items to the box for the kids to explore, catalog, sort, color, etc.  We threw in our moon rocks, a magnifying glass, markers and paper to start.
You can seal the top of the box with saran wrap to focus attention on using the gloves to explore.
Additional Resources
The Smithsonian Air & Space Museum has some great pictures of rockets and space tools
Check out the Story Time From Space program where astronauts read picture books.  This link takes you to the reading of Ada Twist, Scientist read by astronaut, Serena Auñón-Chancellor.  Stories are about 10 minutes each.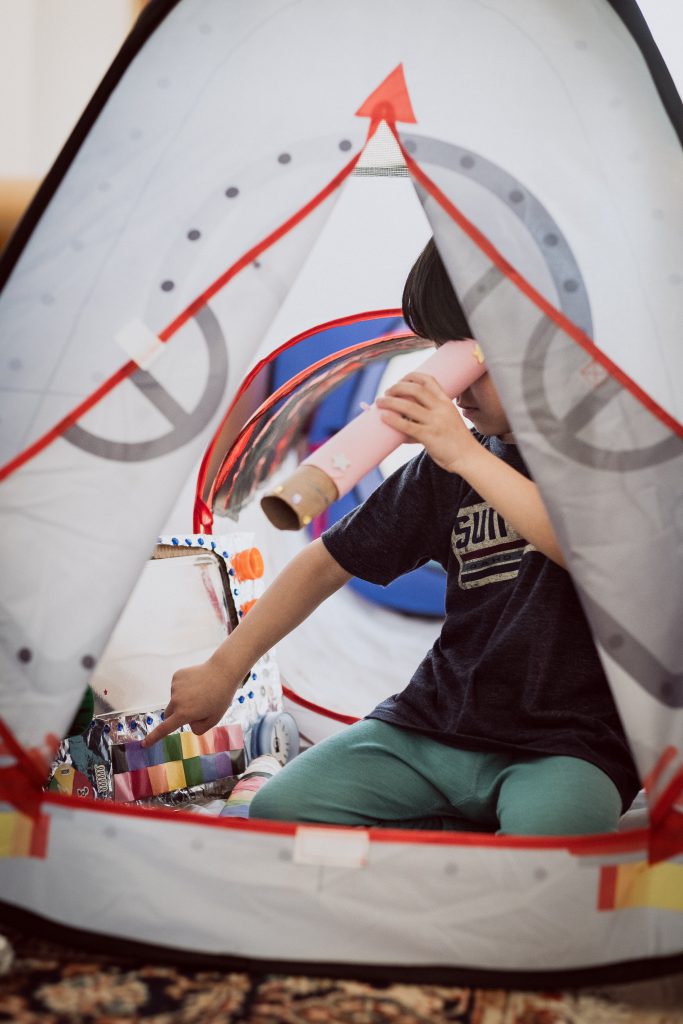 More Space-Themed Ideas, Toys / Games, and Resources:
Books
We brought a couple of our favorite space books as they've been read on repeat while Bash was studying space in school before the break: There's No Space Like Space (a Dr. Seuss series book filled with fun space rhymes and facts) and All About Space (a fact-filled book with pull tabs and moveable parts that Ava (2 years old) can also get into).
Toys and Games
We bought this Space Astronaut crawl through, pop-up tent for the kids to promote independent, imaginative play.
Since turning 5 recently, Bash has really been into building "little Legos".  We have a ton of fun kits at home including these space sets he got for his birthday:
Bash loves playing with his replica space shuttle and astronaut characters we picked up at the Smithsonian Air and Space Museum.  Similar figurines: space shuttle and astronaut characters.
We have these space themed puzzles at home:
Stomp Rockets are also great for the outdoors.
Free, Online Resources