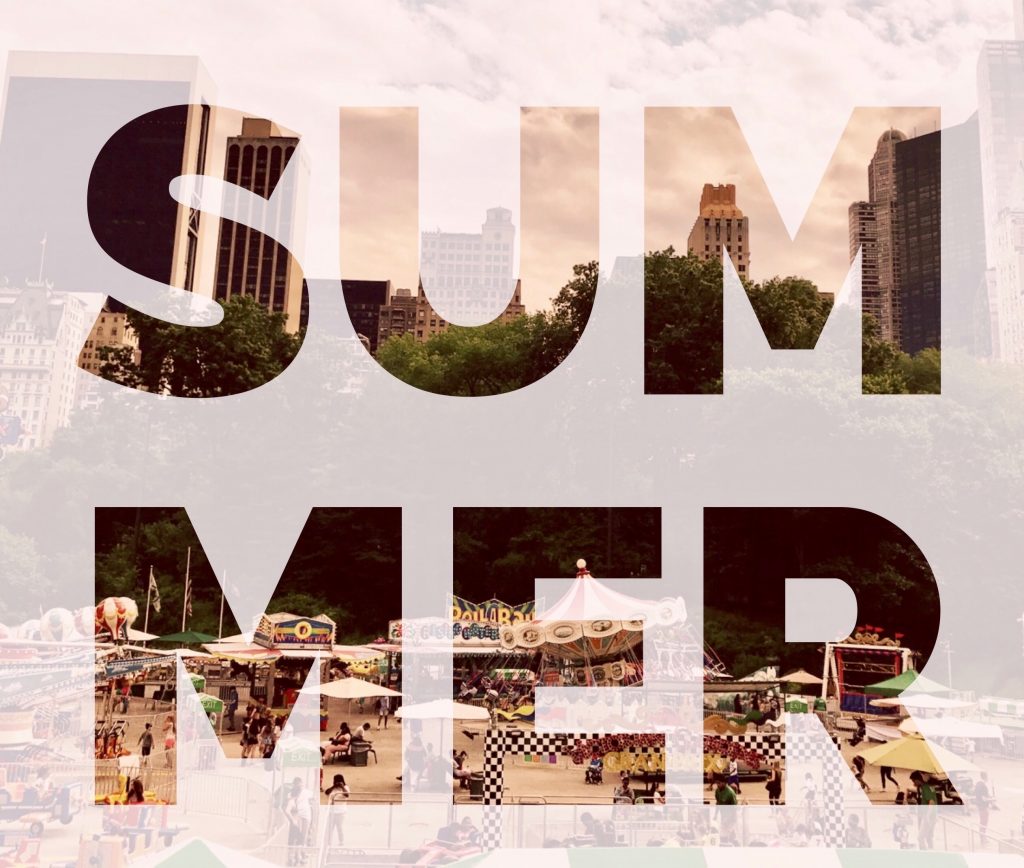 It's finally summer in the city and we are looking forward to sunny playdates and exploring NYC!  While Bash is at half-day camp for part of the summer, we have a break next week, so I need to find places to keep him entertained.  There's no shortage of fun, family-friendly activities in the city so we're planning to repeat favorites and check out some new additions.  Without further ado, here's our family's summer bucket list!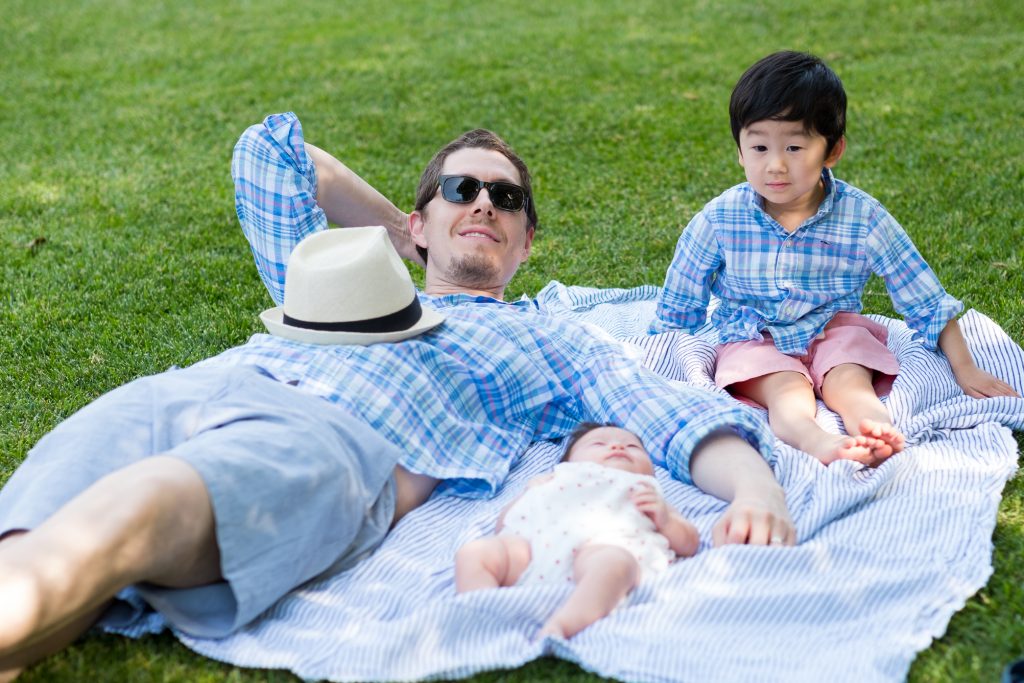 City Sights
Central Park
We love spending time in NYC's backyard in all seasons, but you can usually find us in Central Park at least 2-3 days a week during the summer (like everyday when we lived on a park block).  It's great for kids of all ages and there's always something new to discover for tourists and locals alike.  Here are some of our favorites (map of Central Park):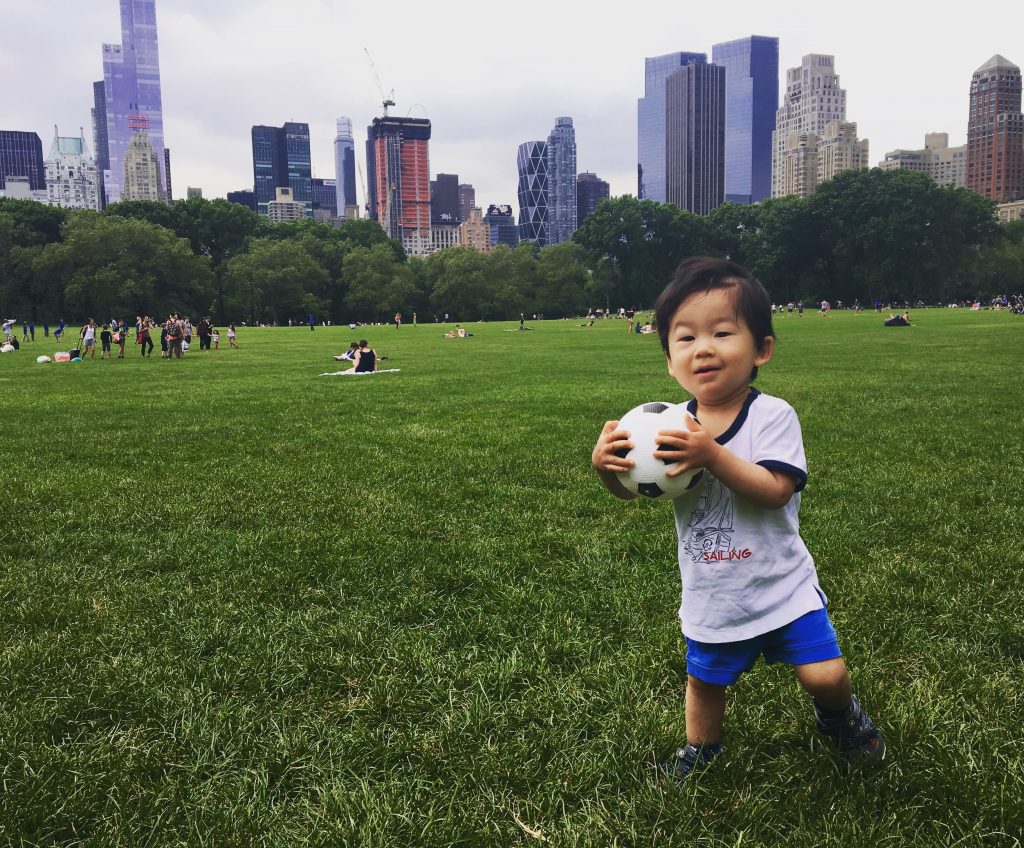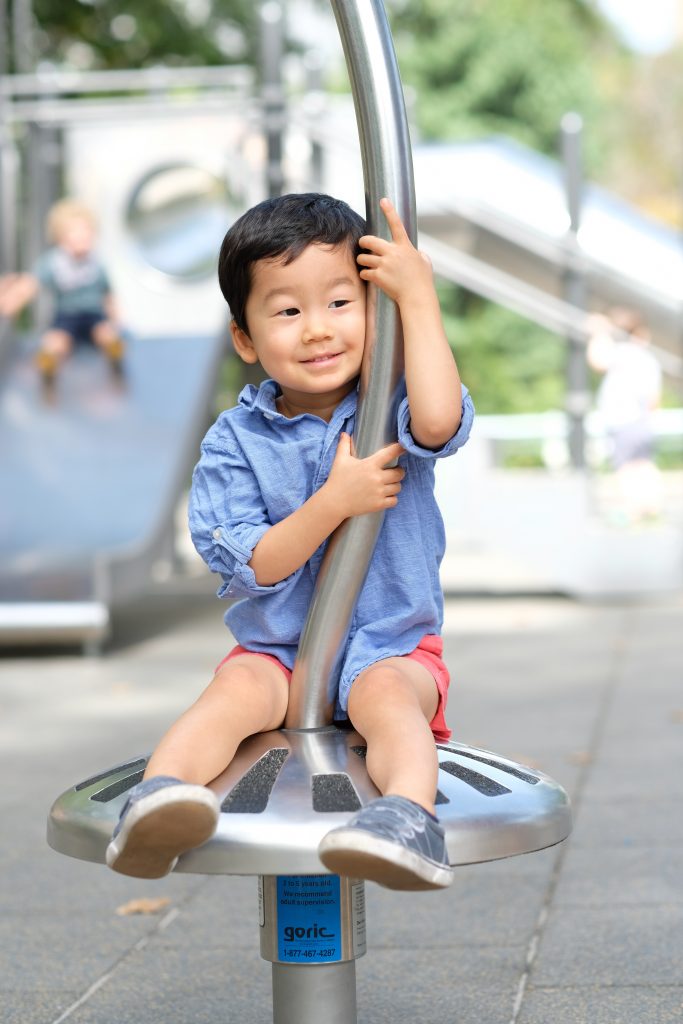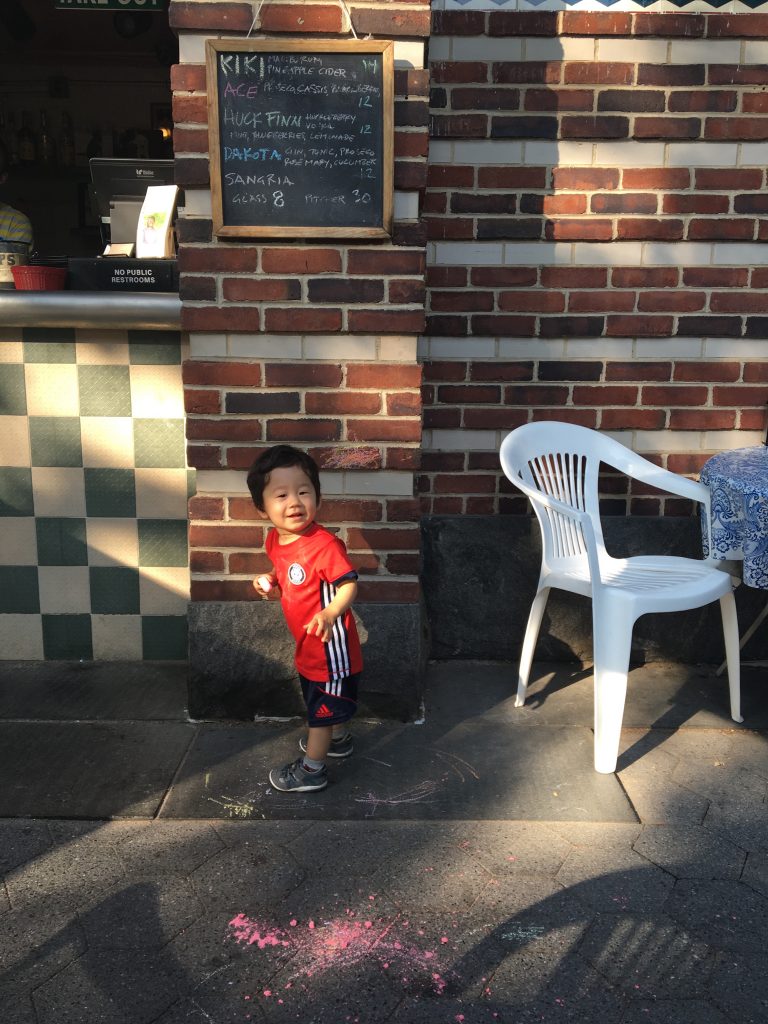 Our mission this year includes:
Exploring Central Park north of the Reservoir, specifically the Harlem Meer, where there's catch and release fishing (free pole rentals) and free outdoor music and dance performances every Sunday 2 – 4 PM during July and August.
Enjoying the carnival rides at Victoria Gardens
Renting boats at the Loeb Boathouse on the Lake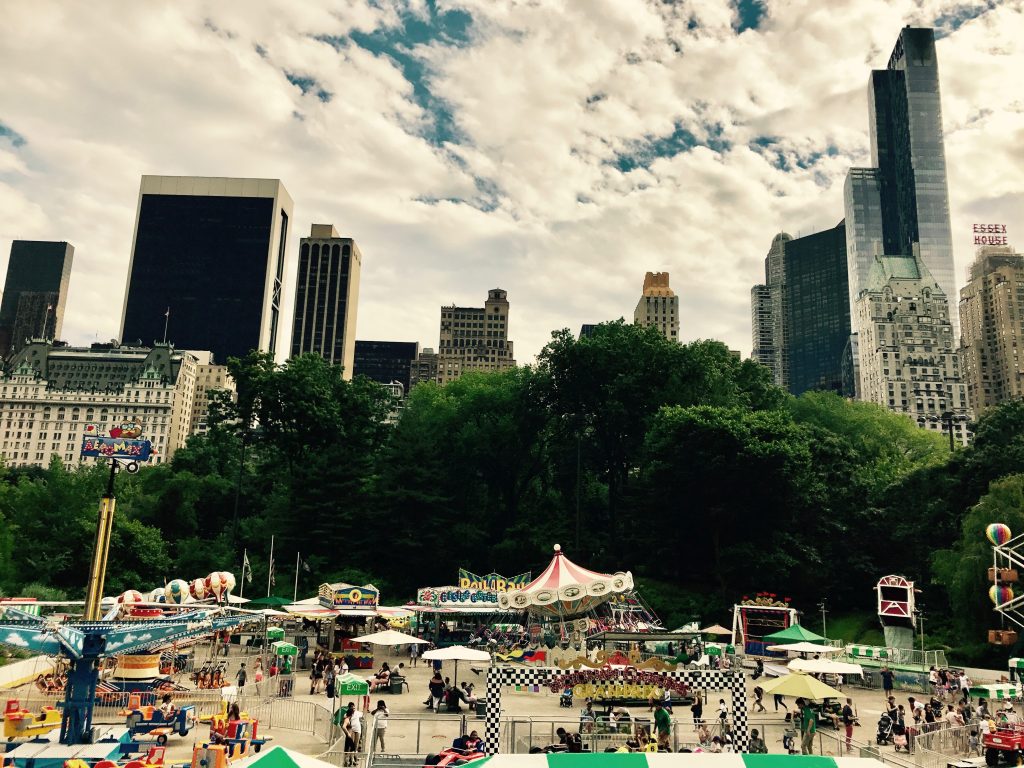 Bryant Park
Last summer, we subjected ourselves to the hot and humid subway ride to Bryant Park once a week because Bash kept having so much fun (and he was going through a major carousel phase).  It's such a pretty park and their summer programming has a ton of great activities for kids and families.  Beyond Le Carrousel, there's always something going on from an outdoor Broadway performance (Thursdays at 12:30) to art, games, story time, and jugglers.  To cool off, stop by the NY Public Library's Children's Reading Room and we reward ourselves with a bite (and drink!) at the Bryant Park Grill.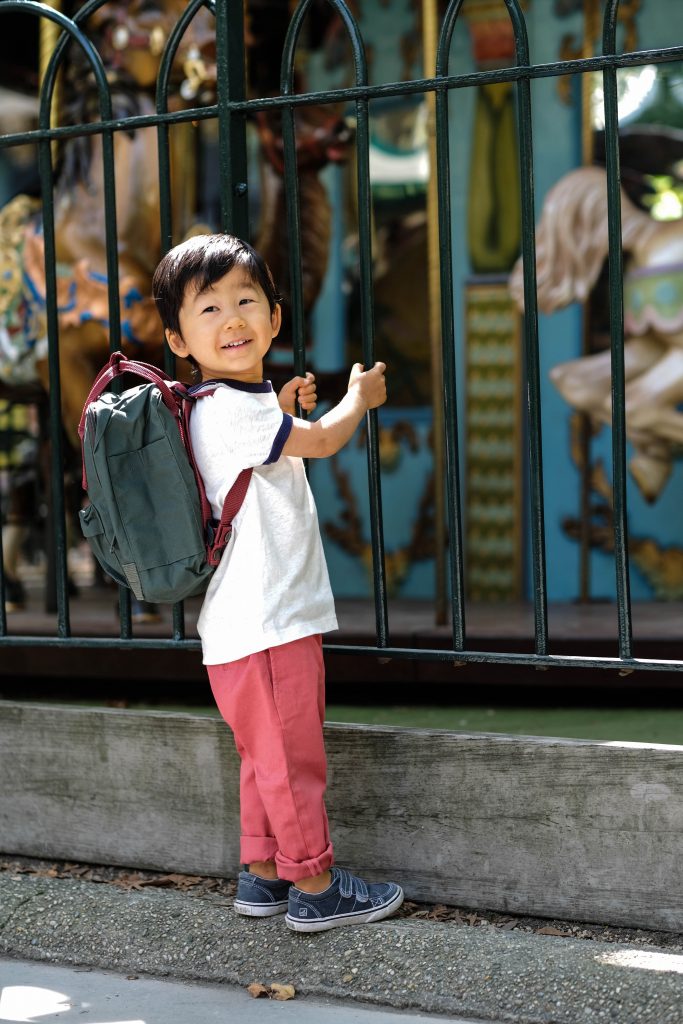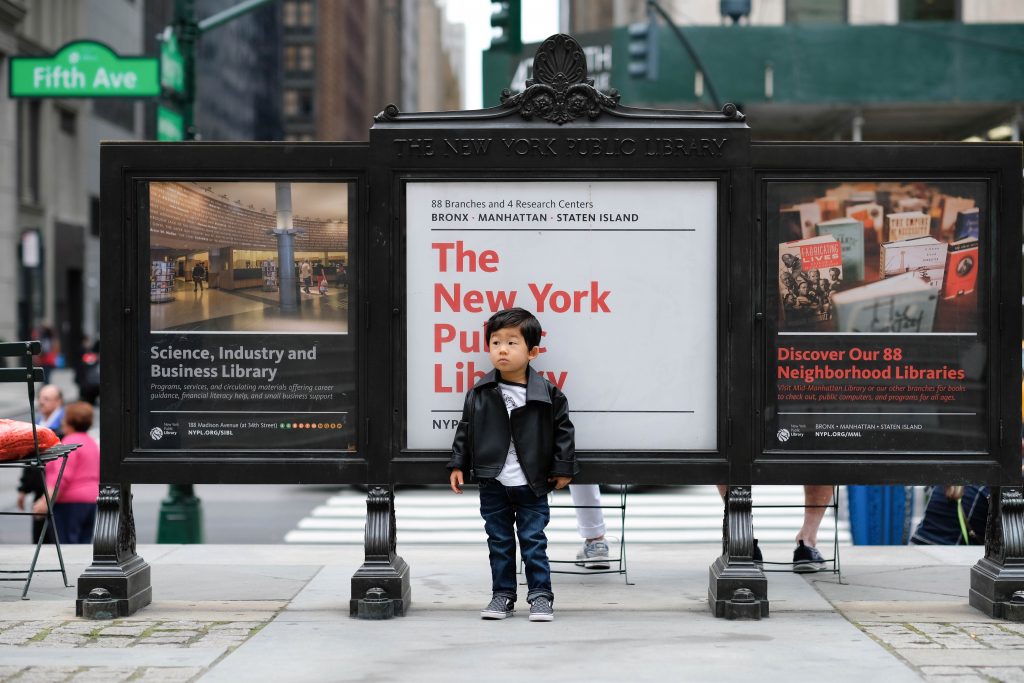 Splash Pads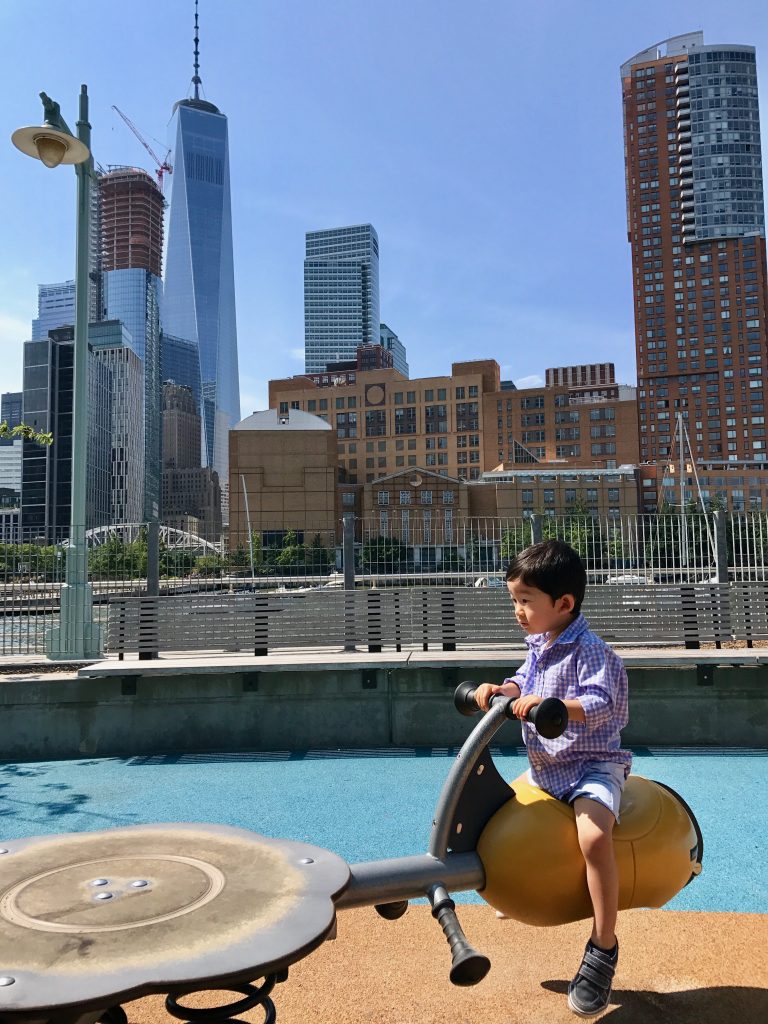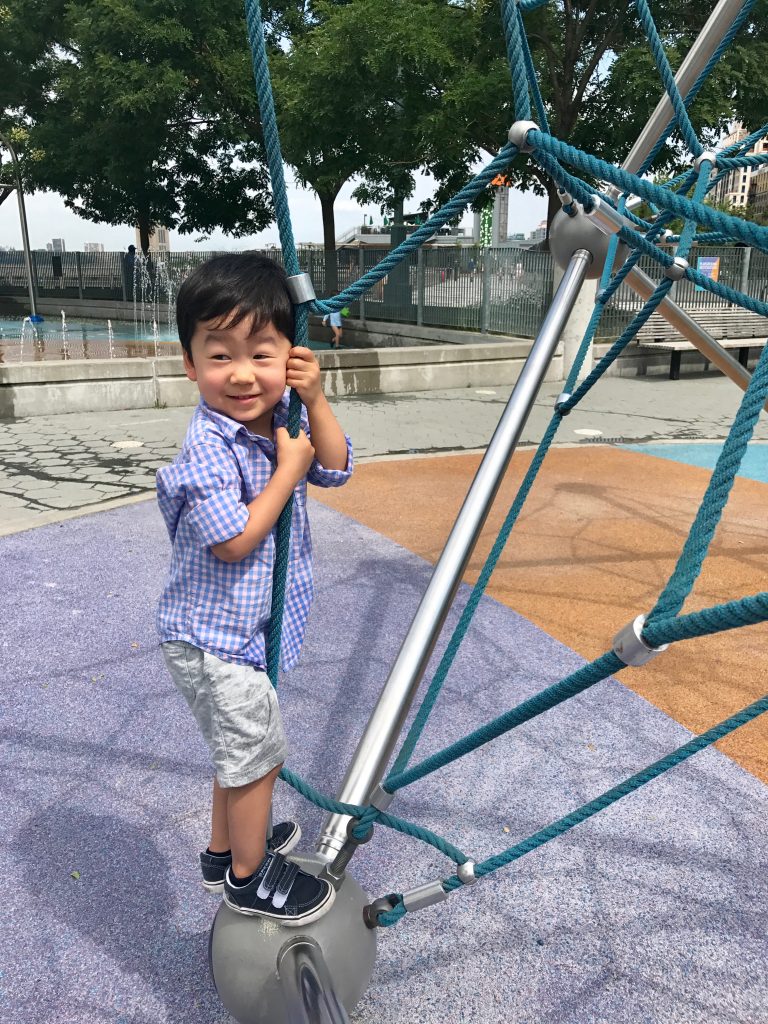 Warm weather means the sprinklers come out at all of the NYC playgrounds!  Our favorites:
Hudson River Park Pier 25 (Tribeca): This playground is awesome and features several water installations, plus the city views can't be beat!  This year, we hope to test out the mini golf down the pier.  We like to go early the morning and then head over to either Bubby's or Le District / the Food Court at Brookfield Place for lunch before heading back uptown.  On the short walk back to the 1 train, we also stop at Playing Mantis to pick up a unique toy.
Riverside Park (UWS): Our 2 favorite playgrounds are River Run (mornings and late afternoons because it gets hot and crowded) and Hippo Park (afternoons are fine because it's relatively well shaded).  I skip the sandboxes (at all NYC playgrounds #meanmom), but Bash loves the water features at these 2 playgrounds.  On Wednesdays (10:30), St. Agnes Library hosts a free story time for kids at River Run.  After gym class, we like to stop by the Little Engine Playground.  While it's geared towards younger kids, Bash loves playing with the train.  Then we head down the hill for lunch at the Pier i Cafe or Boat Basin Cafe.
American Museum of Natural History (UWS): So, the AMNH is basically a giant indoor playground for kids!  We've been going pretty much once a week since Bash was a baby: he learned to climb stairs in the dinosaur wing, enjoyed the Discovery Room's Gateway Storytime, and spent Friday mornings this past year learning about all things nature and science in the Early Adventures Program.  Safe to say, we come here a lot!  But the biggest secret of all is that the museum has an amazing splash pad located just outside the planetarium in the public (free) Arthur Ross Terrace.  We like to spend the morning exploring the museum and then check out the terrace's fountains along with a picnic lunch (bring a hat, there's not much shade).  If you just want to play, enter via the stairs from 81st Street / Columbus or through the Columbus museum entrance and take the elevator.  For lunch, bring your own (they have tables and chairs on the upper level) or stop by Shake Shack across the street if you can bear the crowds.  After all that play, we take refuge stopping at some of our favorite Columbus Avenue shops: Book Culture (great kids' books and toy selection downstairs), Jacadi (cute baby and kids clothing), Polarn O.Pyret (best baby / kids clothes for all weather play), Monica and Andy (cute prints for babies / kids), and Flying Tiger (random novelties you never knew you desperately needed).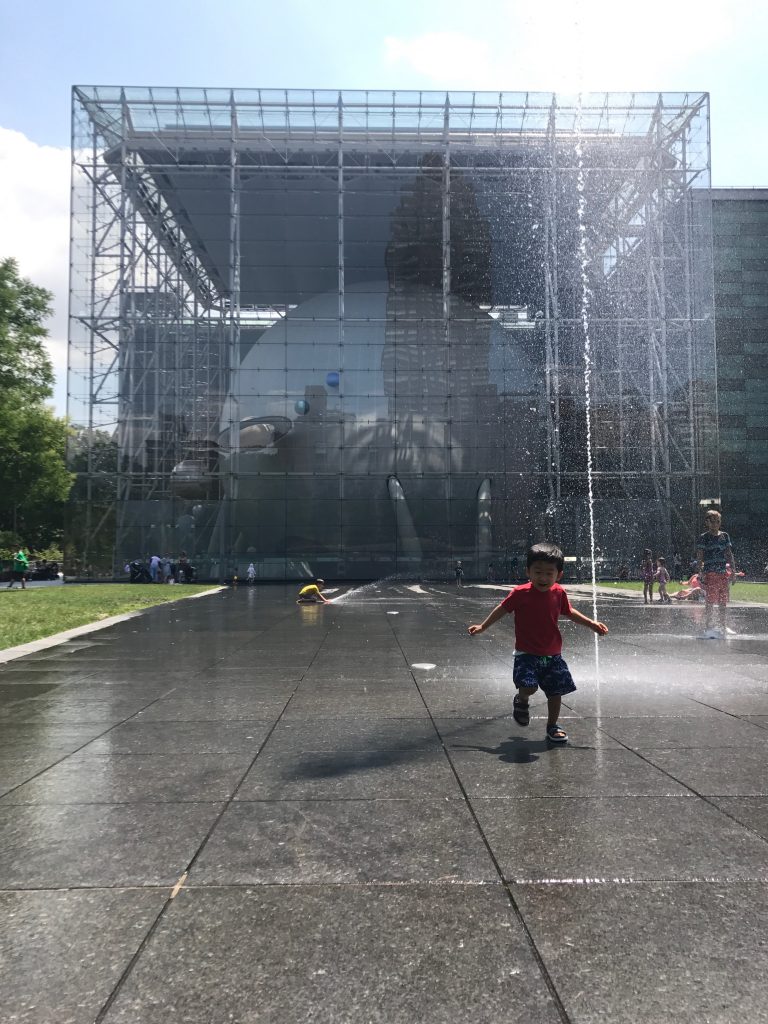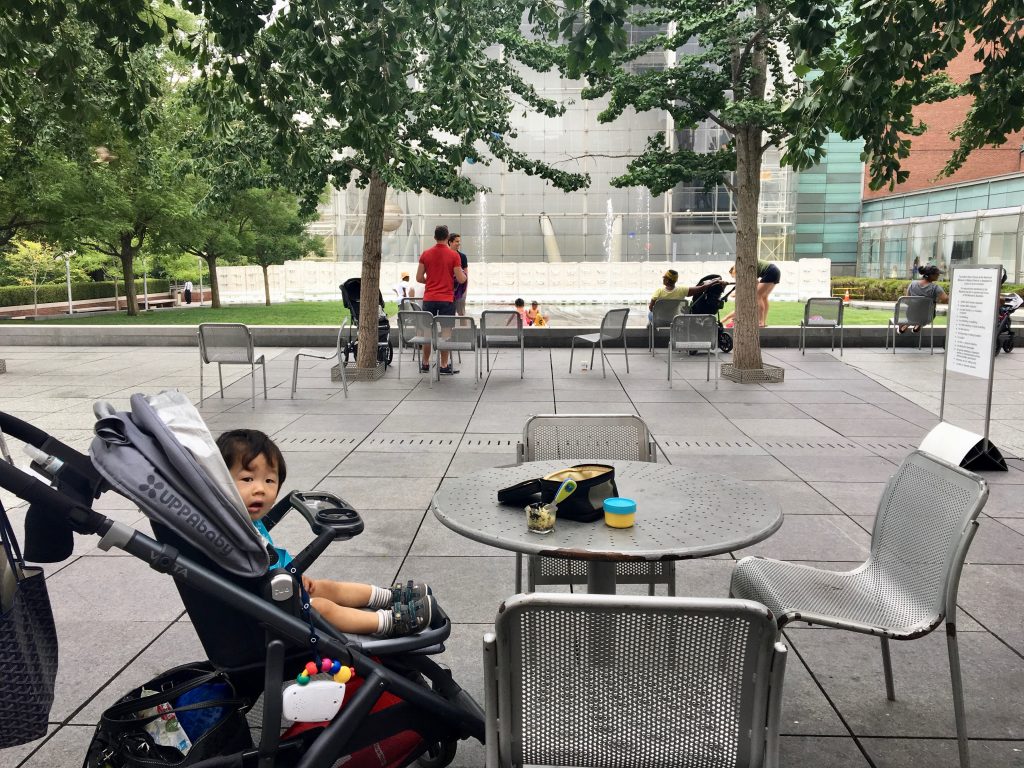 Summer Festivals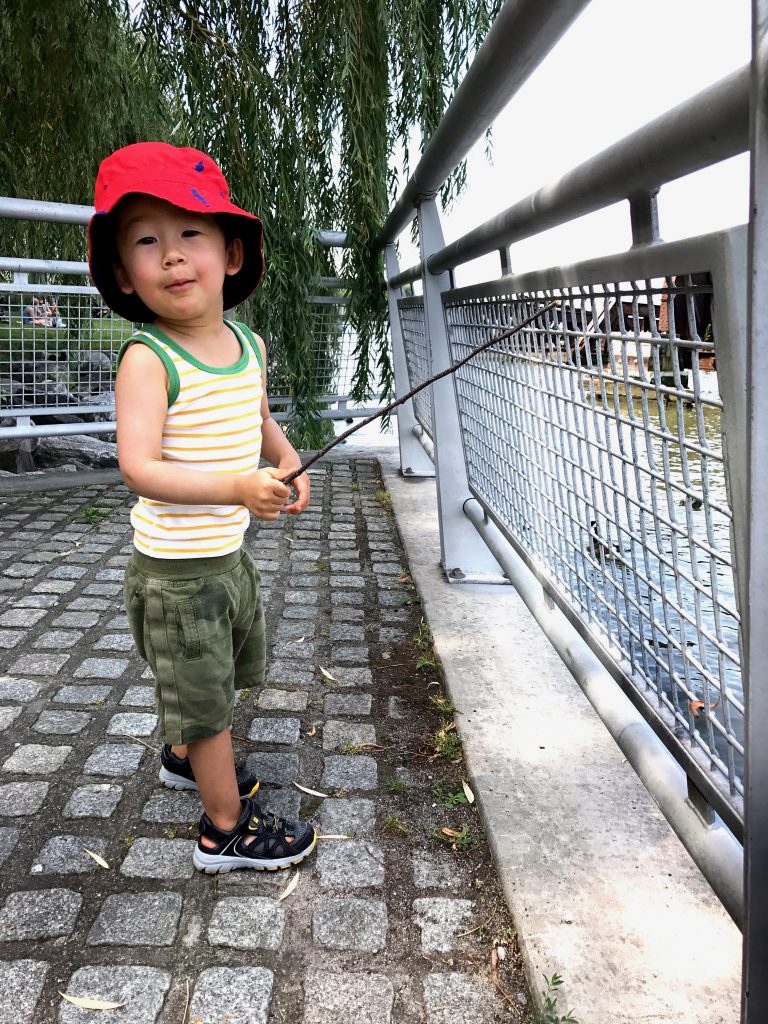 Summer in NYC always means block parties, festivals, and free family programming.  Last summer, we were weekly regulars at the Summer on the Hudson kids' events.  The full 2018 programming for adults and kids can be found here.  On Thursdays, we'd hit up the free kids' events at Locomotive Lawn (bring an umbrella and sunscreen as there's not much shade) or the Pier i Cafe – check the calendar as the Thursday programming changes each month (June: Moosiki Kids, July: Music / Storytelling / Theater, August: Super Soccer Stars).  Bash loves to dance, so we'll stop by the Pier i Cafe on Sunday nights for dinner and a free concert.  This year, I should probably start hightailing it to the Butt and Gut workouts, haha!
Great resources for local family-friendly events:
Mommy Poppins' Events Calendar and Best Summer Events for NYC Preschoolers
Kid on the Town – I really like their weekly emails for a recap of the coolest events for kids across the city
Water Sports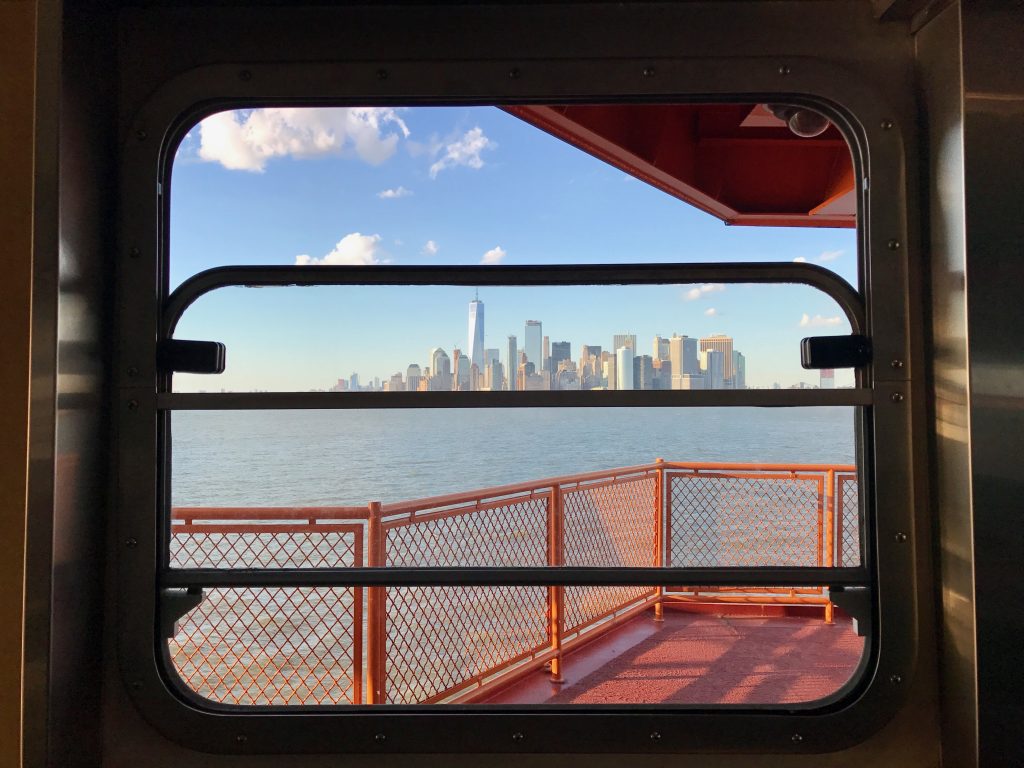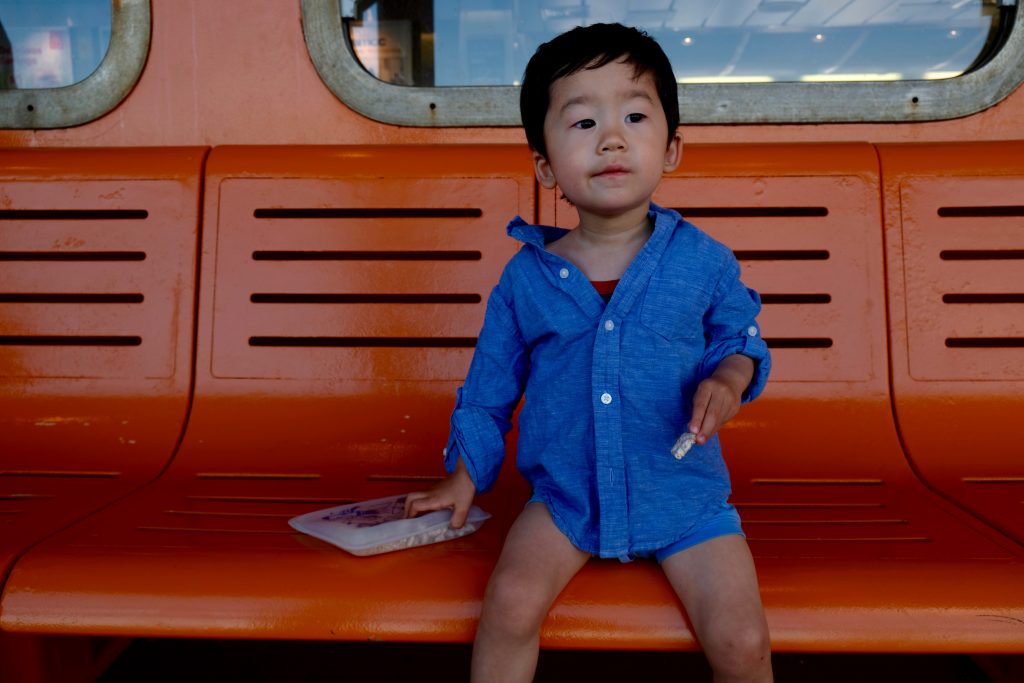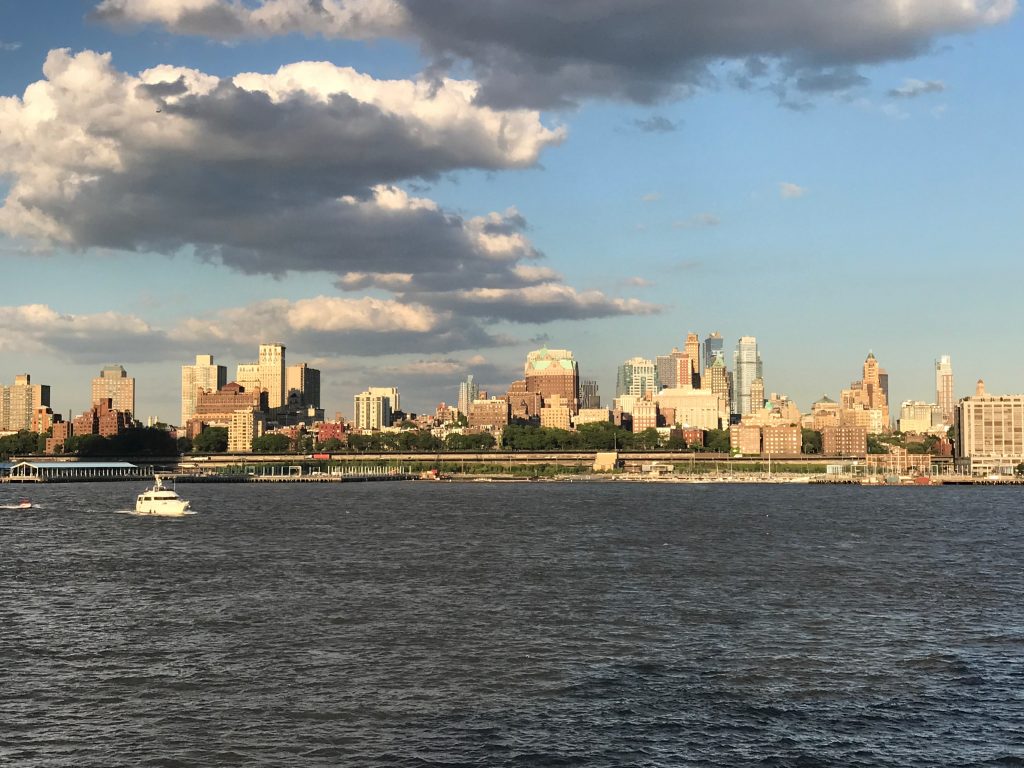 I've been splashed by water from the Hudson River and survived!  Okay, so I still wouldn't swim or drink the water, but since I didn't contract any flesh-eating diseases from a little river spray, we'll enjoy some fun water activities this summer.
Sailing: While pregnant with Bash, we took sailing lessons with the Manhattan Sailing School and had visions of captaining our own boat wherever the wind would take us.  I'm a little rusty and would be too nervous taking Bash out on a J/24, but I think he would love playing pirate aboard the Pioneer 1885 Schooner.  Specifically, their Family Ecology Sails look like such a blast with a bonus lesson on the local river ecology.
Staten Island Ferry: Bash loved riding "da big orange row row boat" and still talks about it almost a year later!  So, we'll have to make the trek downtown for this free, 30 minute ferry ride.  First, we'll stop at the Sea Glass Carousel before boarding the ferry.  If we can plan it right, maybe we'll do a little tour of Staten Island instead of turning right back around to head back to the city.
This year, we're looking forward to:
Kayaking in the city!  A number of boathouses across the city offer free kayak rentals and classes.  We're planning to take Bash out on the water this summer at Pier 96.
Playing tourist for the day and hopping aboard one of the skyline boat cruises.  Beyond the free boat ride to the Brooklyn Ikea and the free Staten Island Ferry, we figure it's about time to invest in a real boat tour.
Checking out the South Street Seaport.  Saturday, July 14th, they are hosting a free festival, "City of Water Day" from 10 AM – 4 PM.  I'm secretly most intrigued by the cardboard kayak race, but I think Bash will like the free boat tours (registration for boat tours begins in early July).
Outdoor "Playgrounds"
High Line: There's always something new on the High Line, from public art installations to new features and developments to discover.  We head to the stroller accessible entrance at 14th Street (see here for a map listing elevator access points and the various features / scenic lookouts).  Bash loves exploring the High Line, especially walking up and down the sloped benches!  We'll usually first stop at Chelsea Market to pick up some snacks or lunch to eat along the High Line (seating indoors at Chelsea Market can sometimes be tough as it gets pretty crowded with the lunchtime rush).  Otherwise, on the way back to the subway, we'll stop at Rossopomodoro or Santina.  This summer, the High Line is hosting family festivals on select Saturdays (June 30, July 28, and August 25 from 10 AM – 1 PM).
Elizabeth Street Garden: This is another of my favorite secret spots in the city.  It's a peaceful oasis in Nolita / Soho and I really hope it's saved from the proposed development.  I like to bring a coffee here when it first opens and Bash likes to explore each sculpture.  As Nolita was our first neighborhood when we moved to NYC, we always enjoy meandering the streets, indulging in the tempting Soho shops, and eating at our favorite local hangouts: Rubirosa, Ruby's, Taim, La Esquina, Balthazar (get a few Cannele to go), and Parisi Bakery (just to name a few).
Museums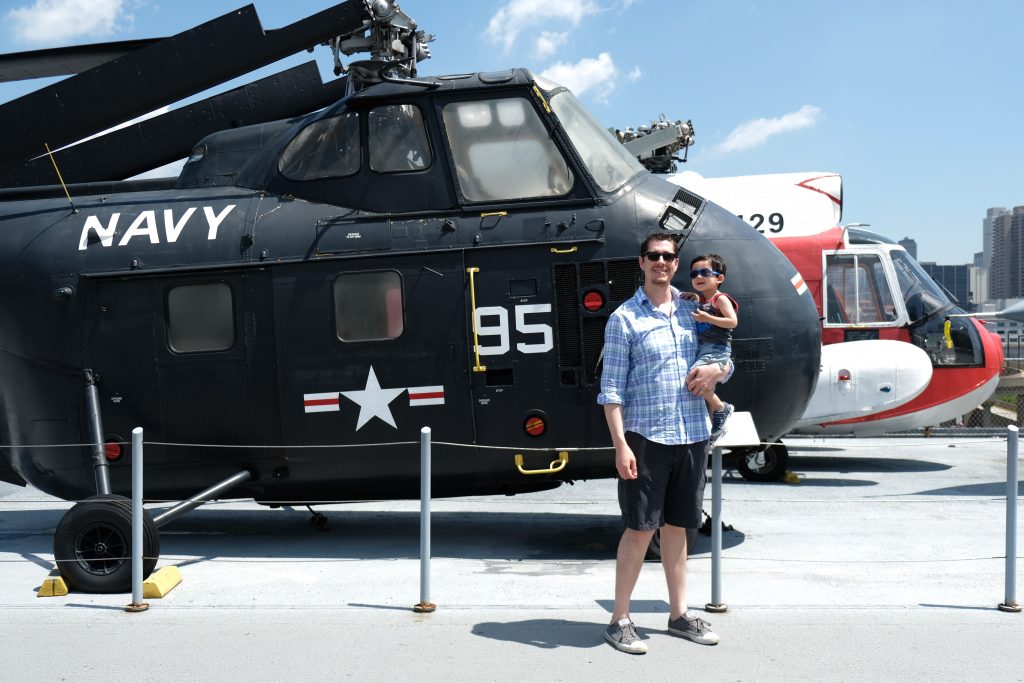 When the temperatures get too hot, we like to cool off at the amazing museums in NYC.  There are so many to explore, but some of our favorites for kids include:
Metropolitan Museum of Art: In the summer, we love stopping at their Rooftop Garden for their installations and a refreshing drink while gazing out over Central Park.
Intrepid: We head here early upon opening as it gets hot and crowded in the summer.  But Bash loves seeing all of the aircraft and there are tons of hands-on exhibits.
American Museum of Natural History: We're here once a week year round!  Dinosaurs, tigers, and bears, oh my!  There's something for everyone and for kids, don't miss the Discovery Room for interactive, hands-on learning.
This summer, we can't wait to check out:
American Folk Art Museum: It's free and we used to live just 2 blocks away, so I'm not sure why we haven't been here before.
NY Transit Museum: We've done the holiday nostalgia train rides and always check out the train show at their annex location in Grand Central Station, so it's high time we make the trek to the real thing.
Park Avenue Armory: While tickets to the Up Right Performances are sold out, we're hoping to see the installation of Nick Cave's The Let Go this weekend.  I'm also extremely excited for William Kentridge's The Head and the Load in December.  While not for preschool aged kids, Kentridge became one of my favorite artists while I  studied abroad in South Africa, so I'm already planning to buy tickets.
I'll likely leave Bash at home while I check out these exhibits:
Giacometti at the Guggenheim: I went last week and loved it – was very interesting to see how his work progressed and I never knew he went through Surrealist and Cubist phases.
Klimt and Schiele: Opens this Thursday at the Neue Gallerie; plus I love breakfast at Cafe Sabarsky, which is a little slice of Vienna in NYC (sacher torte is definitely coming home with me).
Elegance in the Sky: The Architecture of Rosario Candela at the Museum of the City of New York: I love pre-war buildings and Candela is the mastermind behind some of the best on the UWS and UES.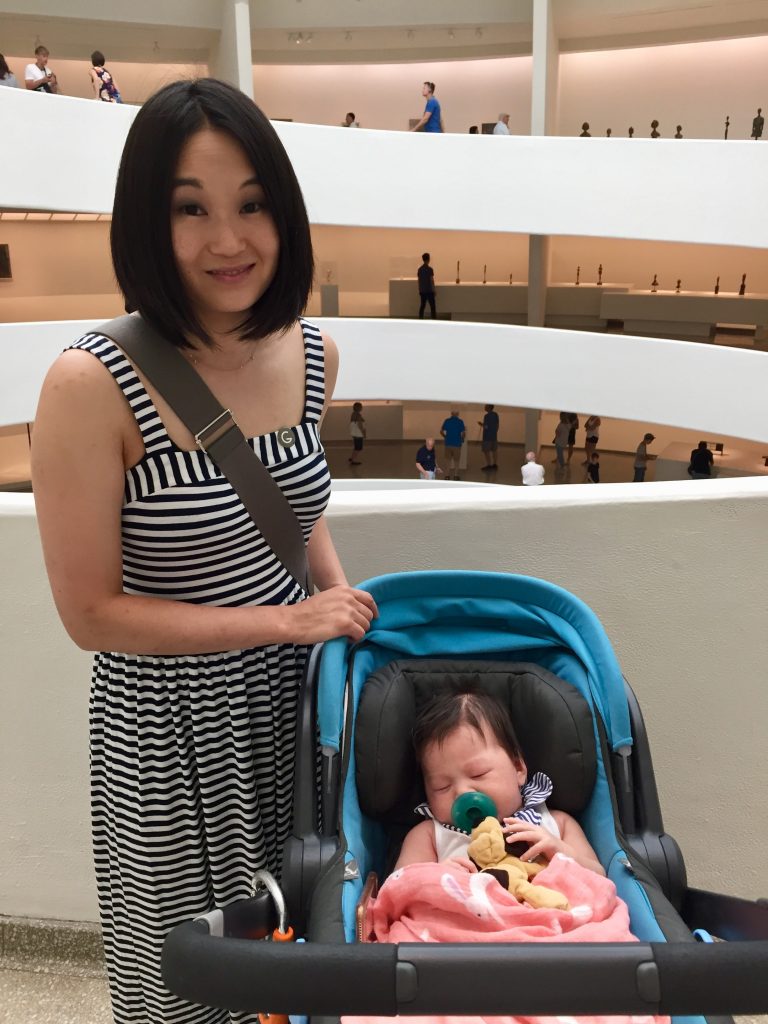 What are you favorite summer activities in the city?