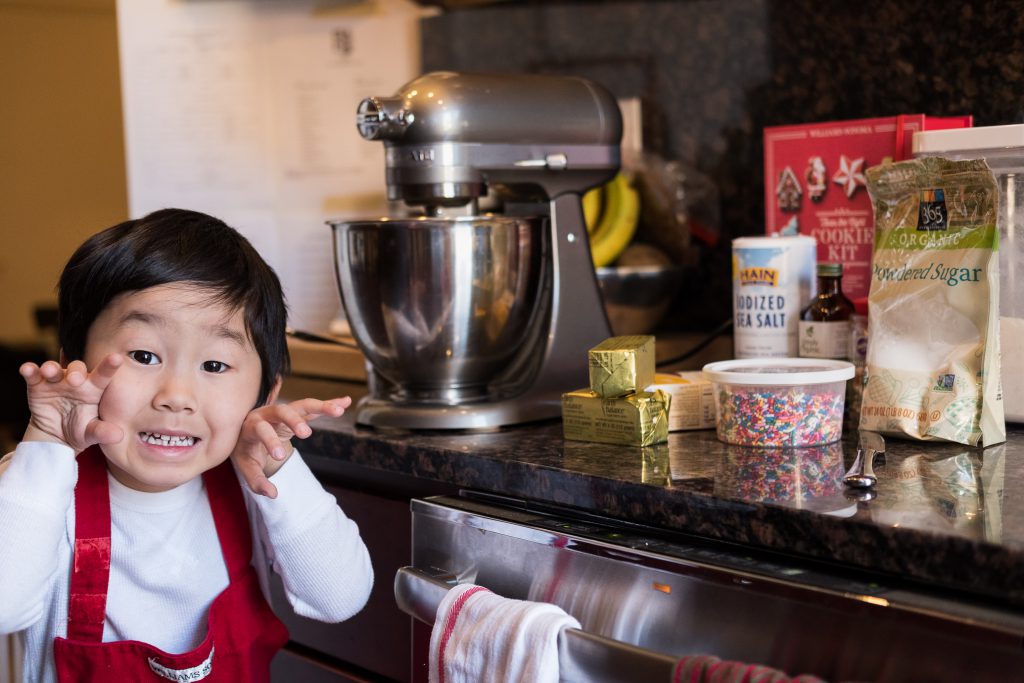 One day after school, Bash sporadically asked if he could bake cookies.  With all of his severe food allergies (dairy, sesame, tree nuts, etc.), it's sometimes difficult to do cooking and baking activities.  While Bash usually enjoys helping with the mixing of the dry ingredients for our usual holiday baking, I knew he really wanted to get his hands in the dough.  Even the slightest touch of butter / dairy will cause an immediate reaction for him, so I quickly looked up vegan cookie recipes and decided to start with a basic shortbread version that we amended by adding vanilla for additional flavor and various toppings for added flair.  Initially, I was a little skeptical of how a vegan cookie would turn out taste wise, but they were actually so good, Bash, Ava, and Nick requested another batch!
Overall, this was a super easy and fun after school activity.  The recipe is super simple (prep time ~10 minutes, baking time 15 minutes) and we always have the ingredients on hand, making for a great impromptu baking session!  Bonus: the cookies were actually good!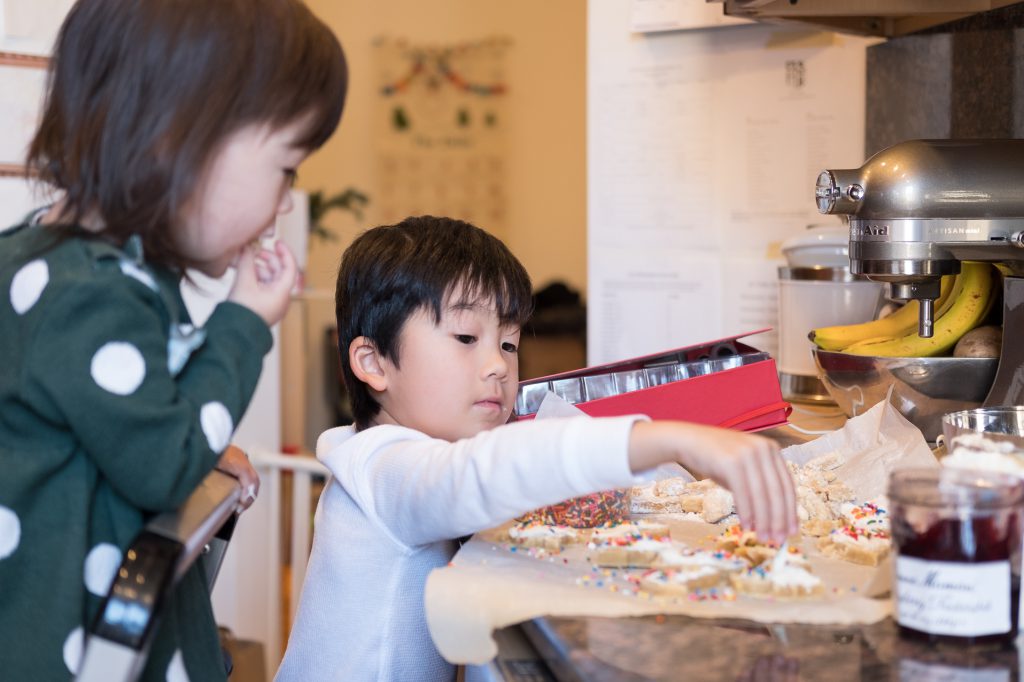 Ingredients
Shortbread
2 cups all-purpose flour: we use King Arthur unbleached flour
1 cup dairy-free "margarine / butter": we use Earth Balance
2/3 cup confectioners' sugar
1/8 teaspoon salt
1 teaspoon vanilla
Toppings
Confectioners' sugar
Frosting: For icing, we used the Pillsbury Vanilla Frosting (non-dairy) as it was an impromptu baking session.  But you can easily whip up a batch of dairy-free frosting.  We've used this The Spruce Eats Vegan Buttercream recipe before.
Sprinkles
Jam
Instructions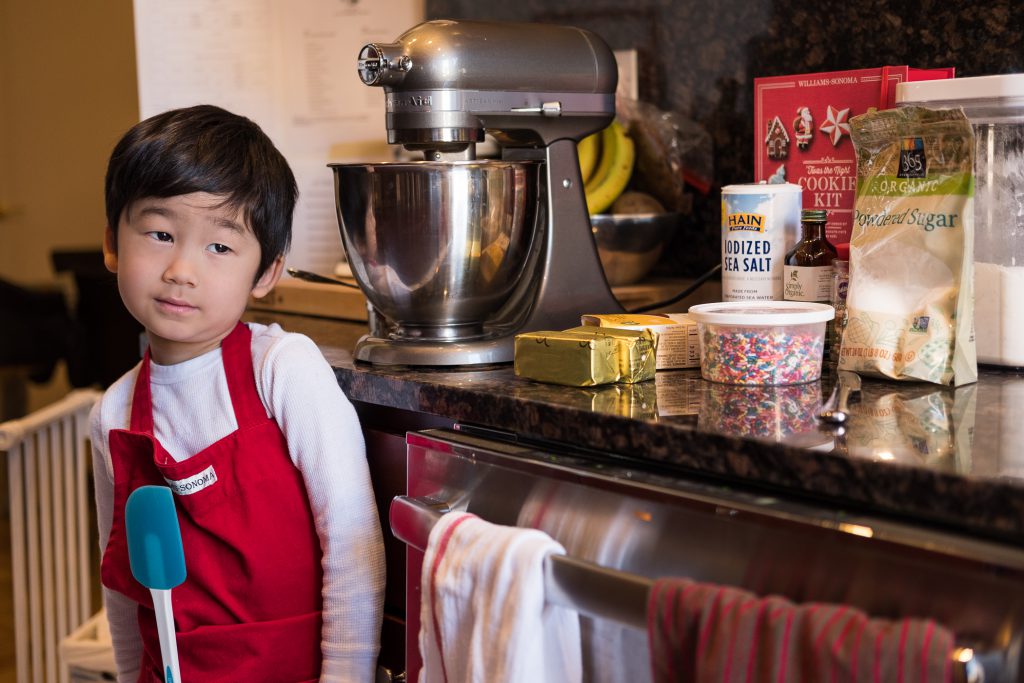 Preparations: Preheat oven to 350F degrees.  Line a baking sheet with parchment paper.
Cream "butter" and sugar mixture: In a mixing bowl or Kitchen Aid Mixer, beat dairy-free "margarine / butter" until creamy.  Slowly add confectioners' sugar and continue beating until combined.  Add vanilla.
Add dry ingredients: Gradually add flour and salt until mixture becomes a soft dough.
Prepare for baking: Spread the dough on the lined cookie sheet till about 1/4 – 1/2 inch thick.  Ours was a little on the thicker side and took up about 1/3 of the cookie sheet.
Decorating: Bash really wanted to use the cookie cutters to make fun shapes.  The traditional method of rolling out the dough and using the cutters was a little difficult as the dough is pretty wet and sticky, thus hard to peel out the shapes and transfer to the cookie sheet.  The second time we made these, we saved the cutting for post-baking, about 5 minutes after they came out of the oven (transfer the shortbread via the parchment paper to a work surface and use caution as the dough and cookie cutters may get a little hot).  You'll have a lot of odd scrap pieces leftover, but it was by far easier than attempting to use the cutters before baking.  We rolled the scrap pieces in confectioners' sugar and dunked some of them in raspberry jam for an extra dose of sweetness, which goes great with the more hearty shortbread.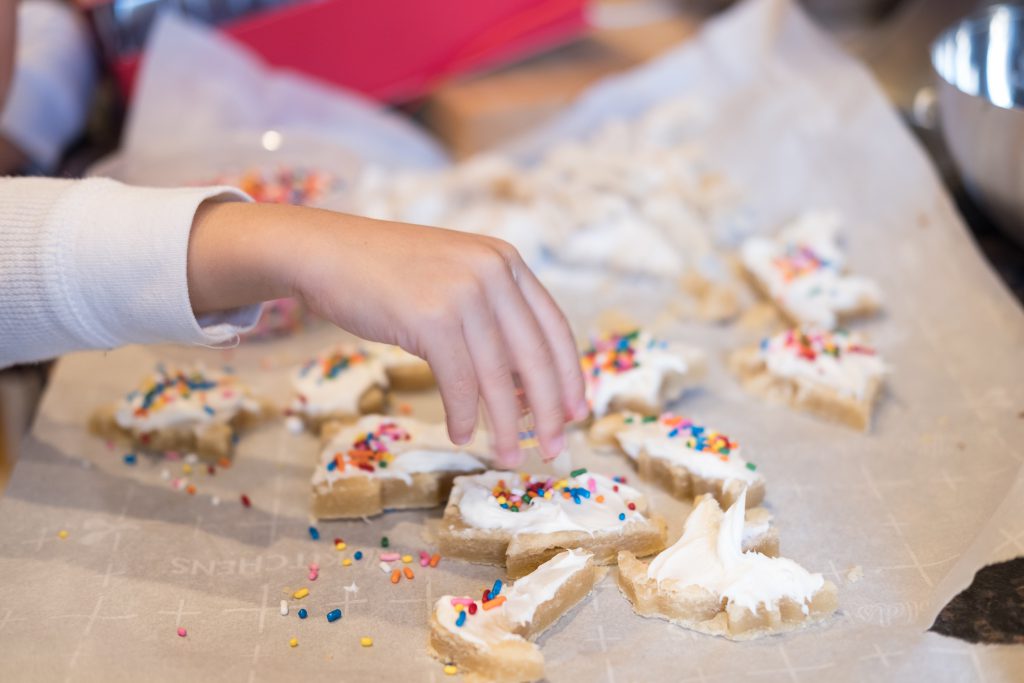 Enjoy!