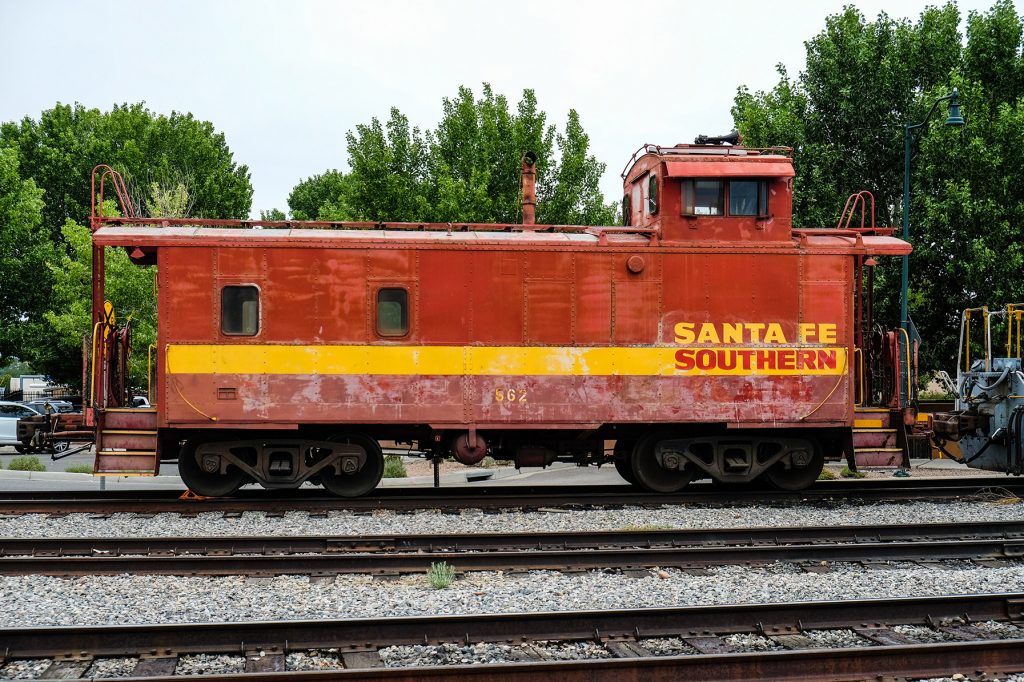 So, after reading our "Surviving Travel Alone with a Toddler Article", you may be curious…where did we actually go? Well, it was none other than Santa Fe, New Mexico and no, you don't need a passport to visit 🙂 . While Santa Fe is always listed as a "top travel destination" for amazing cultural activities, it may not come to mind as a top family vacation spot. We've loved visiting "The City Different" so much that we chose to have our wedding here. Now, we usually go with Bash at least once a year to visit family and have really enjoyed discovering a host of toddler-friendly and fun places.
When to Visit:
Summer is definitely the high season, with the crowds and prices to match, but also a ton of festivals and events. Typically, we prefer visiting in late Summer or Fall – the weather tends to be milder, there are still a few great festivals attracting more of a weekend crowd, prices are reasonable, and the leaf-peeping is great. Also, if your family likes winter sports, don't count out Santa Fe! Winter has great downhill and cross-country skiing and snowboarding in Santa Fe and Taos. (Yes, Santa Fe is a high desert, but it sits at 7,000 feet and is at the tail end of the Rocky Mountain Range).
What to Do:
There are so many amazing places to visit in and around Santa Fe. From the opera, to the Canyon Road art galleries, Georgia O'Keefe's Ghost Ranch, the High Road to Taos, and world class museums, you could really spend a few weeks exploring. But, if your toddler is anything like Bash, then you may want to keep those excursions limited, unless you like holding your rambunctious toddler close while fearing each second s/he will reach out and knock over some priceless antique Southwestern pottery piece. And while the travel books already wax poetic about all of Santa Fe's charming must-sees, I'm going to focus on recommending fun places that both you and your toddler will enjoy. You could probably spend all day exploring each place, but to give you a sense of our timing, we did each of these activities on separate days. Mostly from morning (9:00 / 10:00 AM ish) to about lunch (1:00 / 2:00 PM ish) so we could get in an afternoon nap at home.
1. Museum Hill: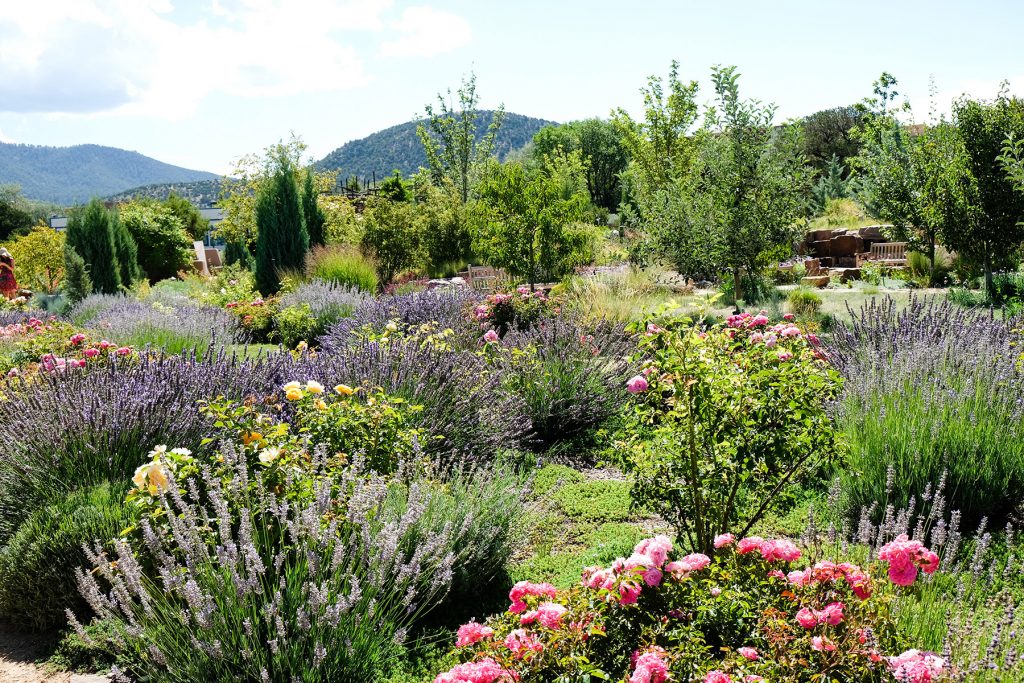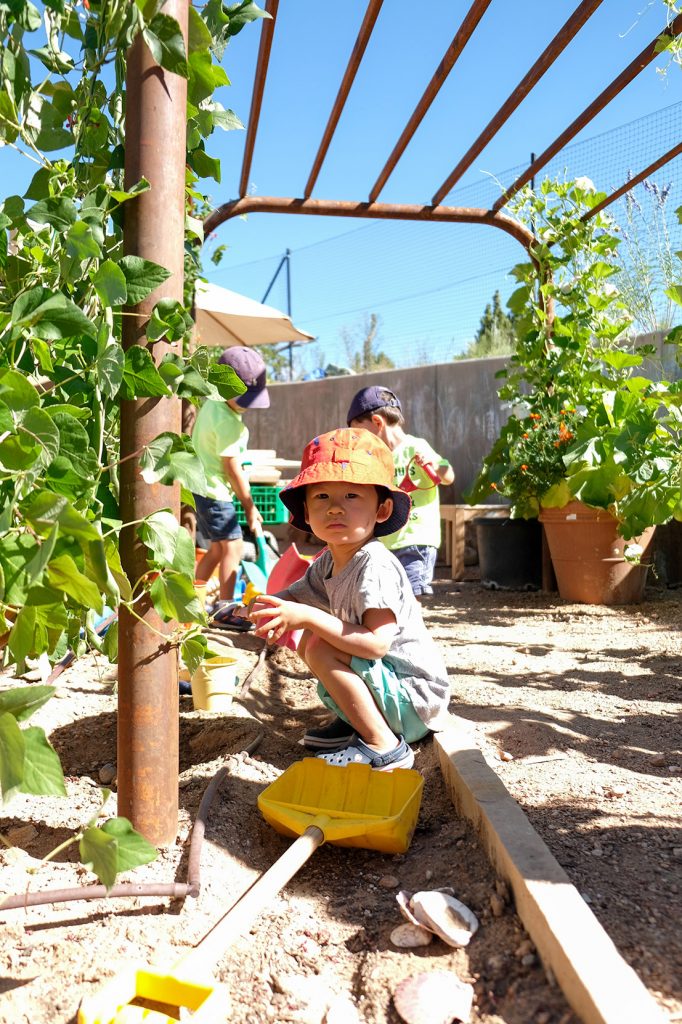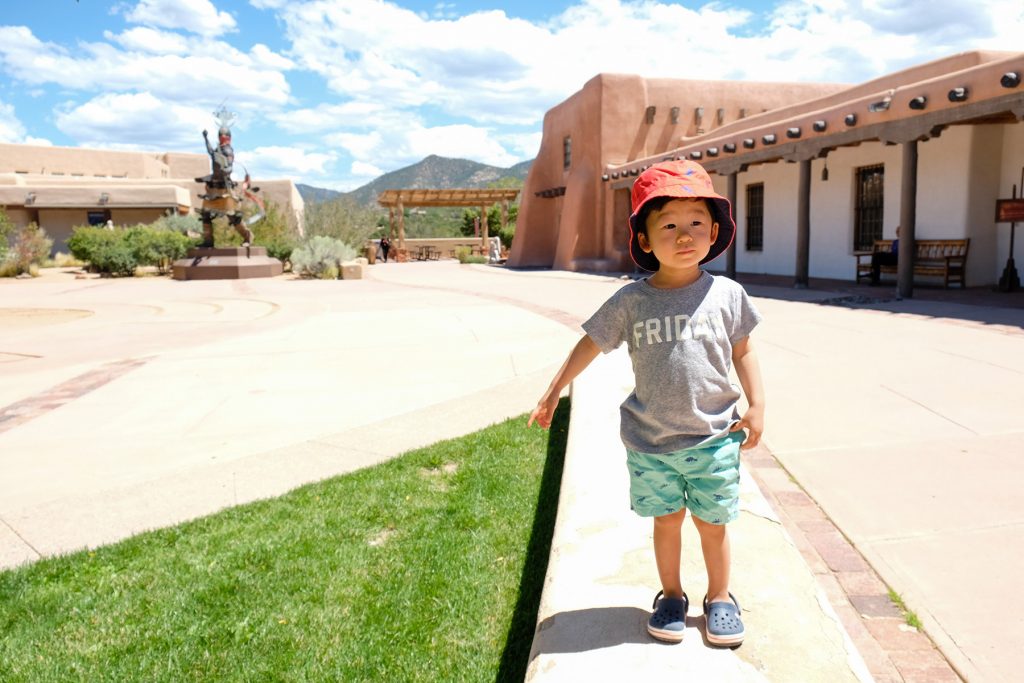 A complex just off the Old Santa Fe Trail boasting 4 world class museums and a botanical garden. We started off the morning at the Santa Fe Botanical Garden with the Garden Sprouts outdoor, hands-on class. The excitement kicked off as we saw a harmless garden snake slither past us at the entrance to the garden! And I can't say enough about the class – we all loved it! Targeting kids ages 3 – 5, they read a few books (our theme was the farmer's market), sang songs, and then off to the activities! First, there was an art project where each child decorated a bag. Then, they took the bag to shop at a mock farmer's market where they served fresh fruits and veggies and homemade bread. The activities continued with sensory bins, where the kids dig out and wash pretend veggies and bugs, and a small area where the kids could use mini shovels and rakes. But the highlight was when Bash got to harvest his own carrots from the garden! (NOTE: While many activities take place under shaded tents, don't forget your sunscreen, hat, and water.). After a walk through the rest of the garden's grounds, we headed across the street to cool off at the Museum of International Folk Art. While the museum is filled with crafts, textiles, ceramics, etc. from various cultures, our favorite is the Girard Collection wing, depicting scenes from daily life and celebrations of various cultures from around the world. While you could definitely head back to the Plaza for a bite to eat, the Museum Hill Café is conveniently located a few yards away and offers a nice respite for lunch. There is no set kids' menu, but there was enough variety that kept Bash (and his many food allergies) satisfied.
2. Meow Wolf: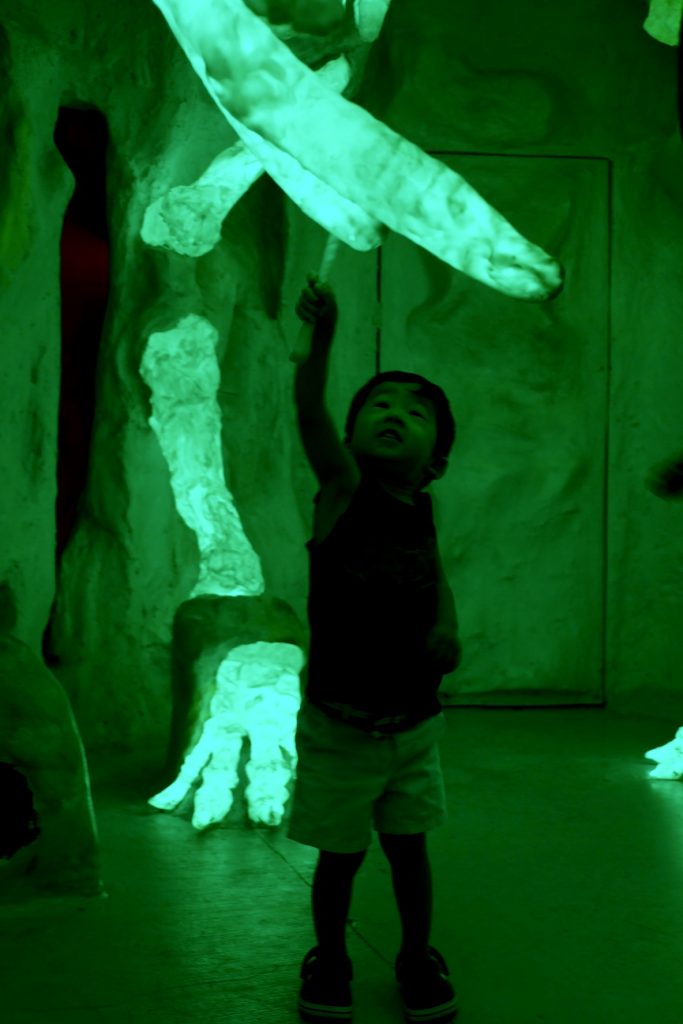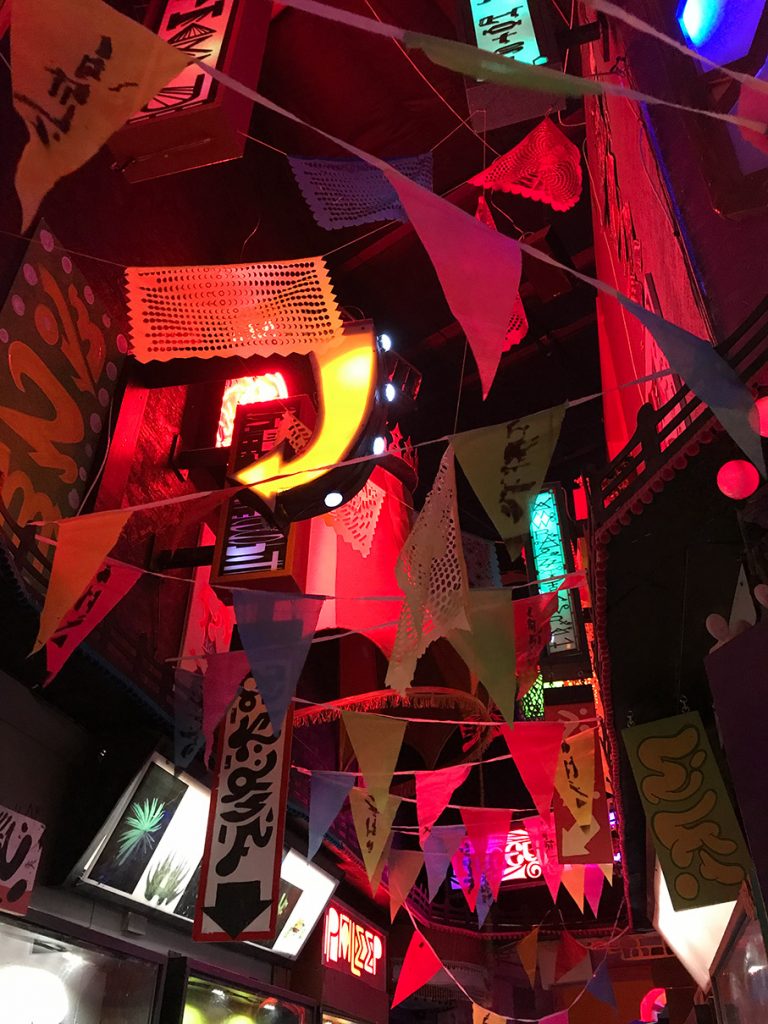 For a mind-blowing, possibly sensory overload experience, Meow Wolf is a DO NOT MISS! Housed in a former bowling alley, donated by Game of Thrones author and Santa Fe resident celebrity George R.R. Martin, Meow Wolf is an incredible maze of interactive art installations combined with a choose-your-own-adventure style mystery theater. I don't want to spoil it, so I'll just leave a few hints in the pictures and don't forget: touch and explore everything! (Note: if you go during high tourist season, buy your tickets in advance on the website and go early). If you need to wind down, Duel Brewing is a very casual, off the radar / local brew-pub located across the street. While there's no kids' menu, Bash likes their charcuterie boards and I like their tasting flight!
3. Santa Fe Children's Museum: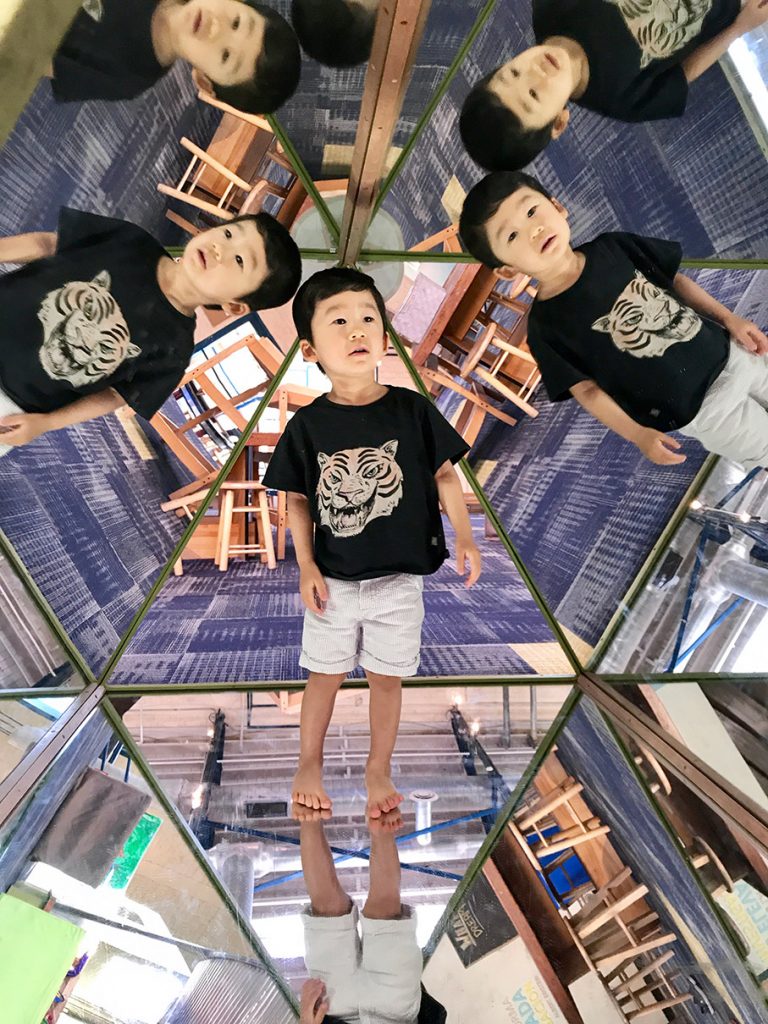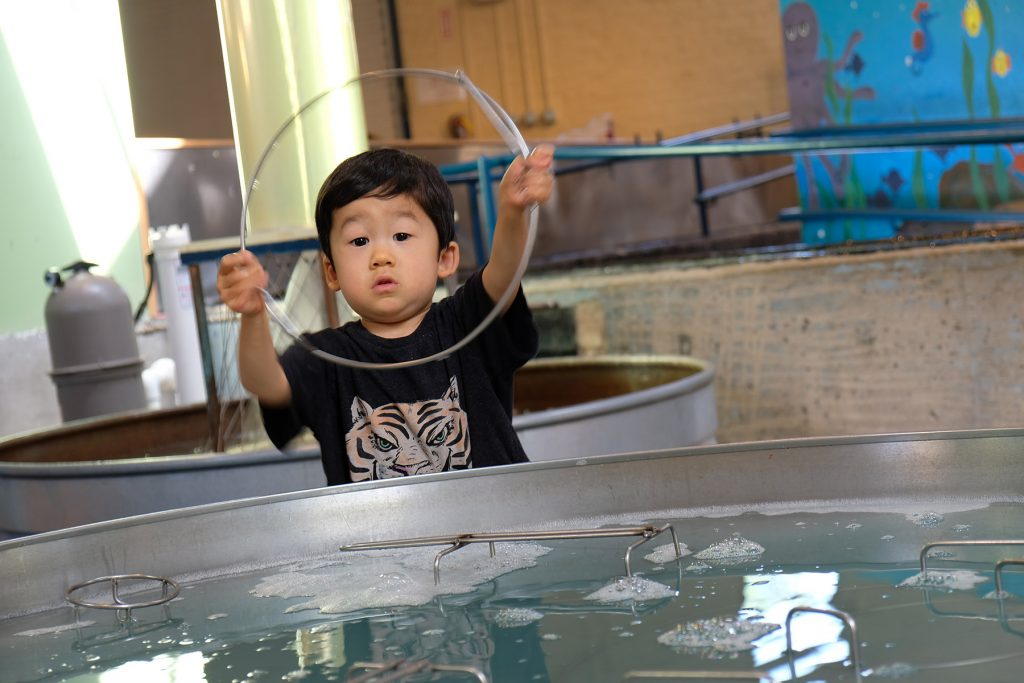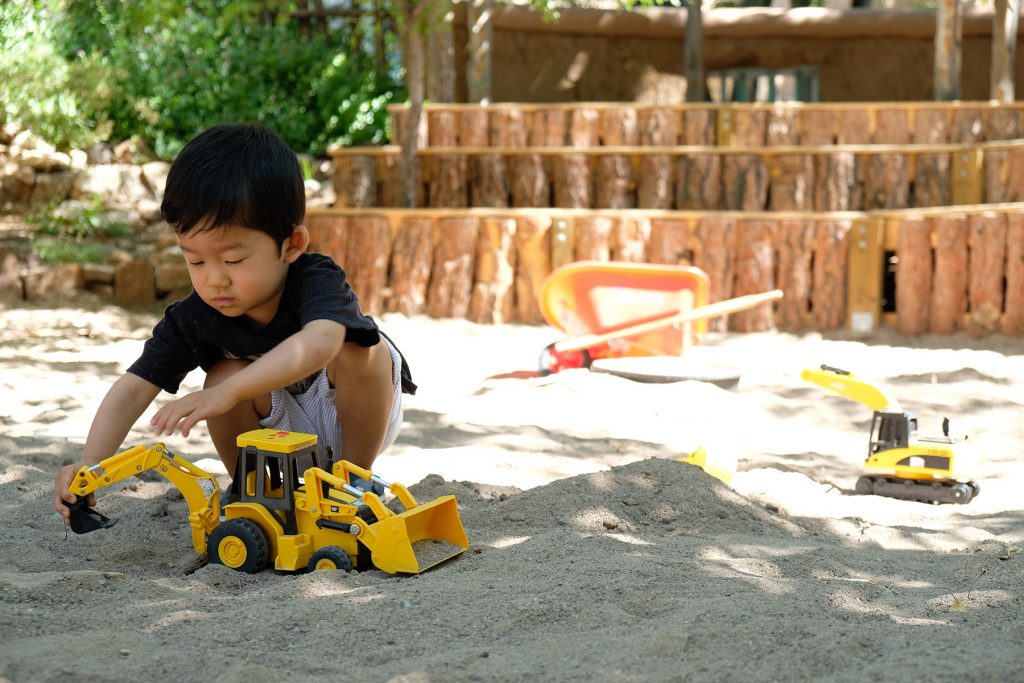 Bash could've stayed at the Santa Fe Children's Museum all-day, every day! This is a million times better (and cleaner) than our local NYC children's museum and their outdoor space can't be beat! From live animals, water play, an adobe playhouse, gardening, a huge sand pit, educational stations, going inside a bubble, to art stations, this place has it all! Heading back towards downtown, stop in at the Santa Fe Bite, formerly Bobcat Bite (http://santafebite.com) for the best green chile cheeseburger. There is a kids' menu and of course…fries!
4. Downtown Santa Fe: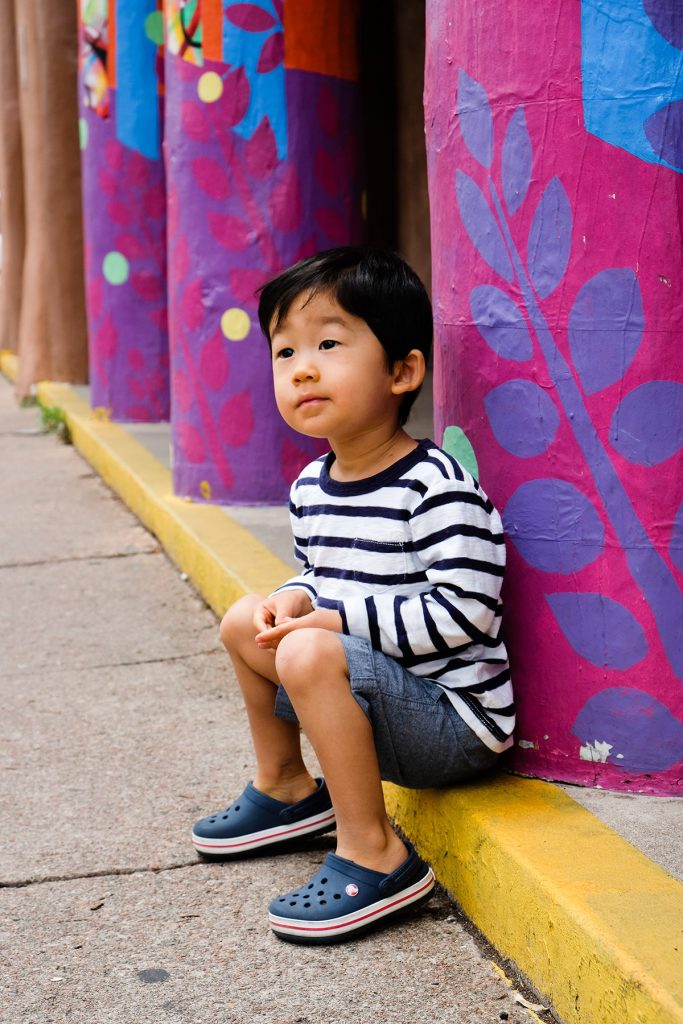 A visit to Santa Fe usually starts off with a stroll around The Plaza. Many of the main cultural / historical sites (i.e., Cathedral Basilica of St. Francis of Assisi, Loretto Chapel with the "Miraculous Staircase", Palace of the Governors), shops, and galleries are all within walking distance. Start with breakfast at Café Pasqual's. If your kids need a break from the touristy stuff, here are a few fun places to check out. Right where Cathedral Place dead ends into Palace Avenue, duck into the flowering courtyard, Sena Plaza for a quick respite, especially if you are waiting for a table at The Shed (my all time favorite restaurant for New Mexican cuisine, but watch out, the red is spicy!). It's pretty photo op and there are some cute boutiques, including the colorful Todos Santos Chocolate shop. Stop by Susan's Christmas shop for souvenirs, a very tiny shop boasting colorful and delicate ornaments and holiday décor (you may want to keep your little one close and watch for grabby hands in this shop). For a more kid-friendly shop, check out Doodlets for toys, gifts, stationery, nostalgia, and more. (If you are in desperate need of happy hour by now, look no further than Secreto's Smoked Sage Margarita, conveniently located across the street from Doodlets in Hotel St. Francis or Coyote Café's Cantina just down the street). Collected Works also has a cute kids' books section if you need to pick up some activities for the plane ride home. Finally, satisfy your sweet tooth (or your toddler's) at Senor Murphy Candymaker. And come back for an evening passagiata along the Plaza and stop by Ecco for your gelato fix.
5. Hiking with Toddlers: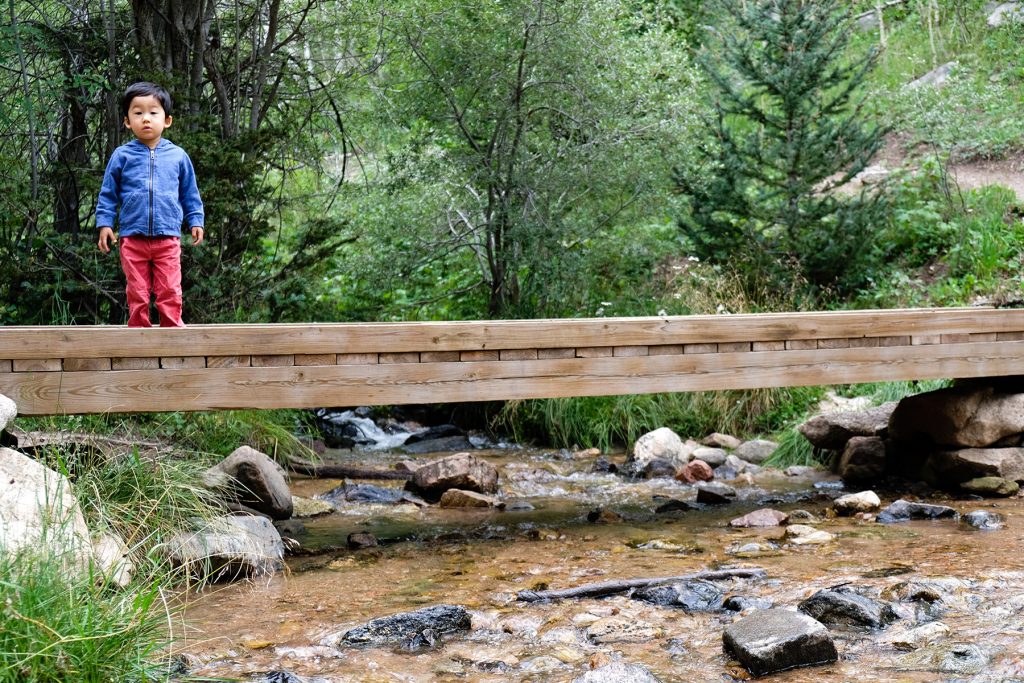 If you are looking for an easy hike / nature walk, Santa Fe has plenty of trails to choose from and boasts 300+ days of sunshine annually. You could head up all the way to the Santa Fe Ski Basin, but we usually stop in Hyde Memorial State Park (about a 15 – 20 minute drive into the Sangre de Christo mountains). We like to first stop at El Parasol (my favorite) and / or El Chile Toreado (Nick's favorite) for breakfast burritos to eat at the picnic tables at the start of the Big Tesuque trailhead. While the views are mostly of forest, Bash loved that the trail follows a creek and so we spent most of our time finding rocks and leaves to throw in the water. Another favorite trail a little further up is Aspen Vista. It's a wider, more trafficked trail that winds through a beautiful Aspen forest with great leaf-peeping in the Fall. Just remember, at high elevation, take it easy and bring plenty of water. If you have a sitter, drop the kids off and spend some time relaxing at Ten Thousand Waves Spa. Or just stop by for lunch at their restaurant, Izanami. While there's no kids' menu, Bash loved their Banbanji chicken and they have fries!
6. Railyard District: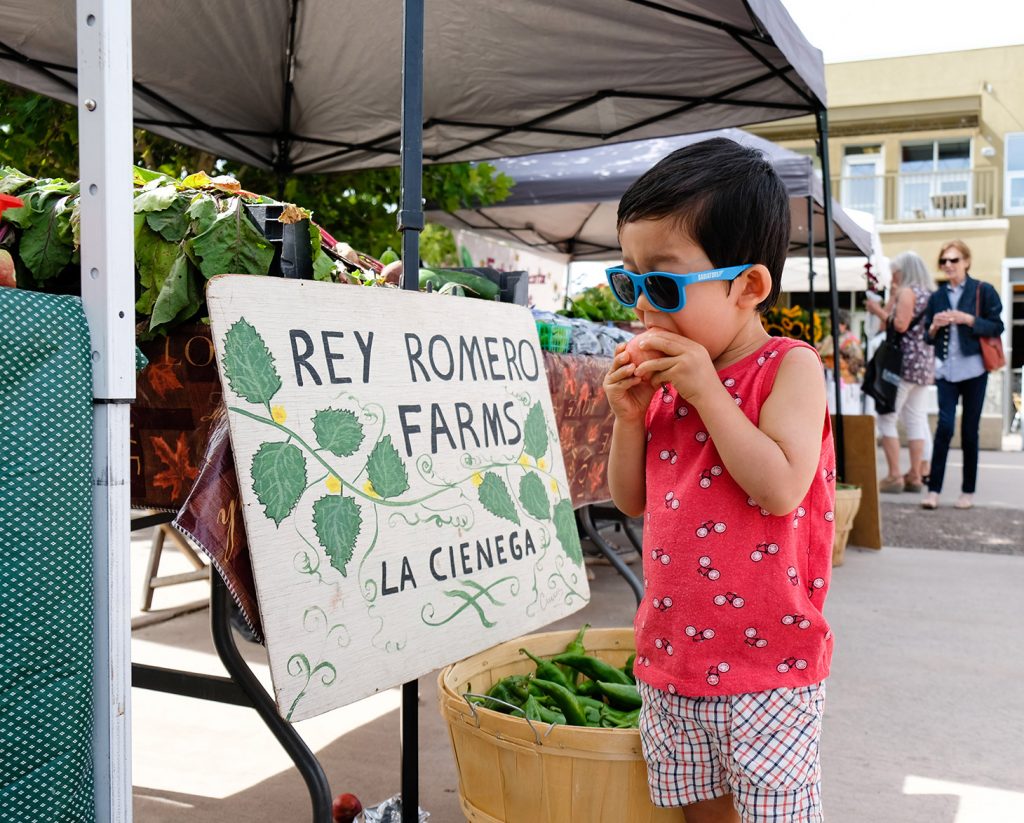 Bash loves trains, so we often find ourselves around the Railyard, sometimes just to stop and look at the trains. On certain days, they have a wonderful famer's market and in the fall, the smell of roasting chile infuses the air. For a classic New Mexican meal and margarita, stop in at Tomasita's – kid friendly with a kids' menu and, of course, the trains are right outside the parking lot in case you have to "take a walk." Tired of reading the same bedtime story for the third day in a row? Well, just up the street is BeeHive Books, an independent children's book store that has a wonderfully curated selection books, ranging form picture books to young adult novels (just in case you need the latest Throne of Glass installment). If you are feeling brave, there are several great shops and galleries in the Railyard District. Some of my favorites: SITE Santa Fe, Evoke Contemporary, and LewAllen Galleries. For a little something off the beaten bath, you may want to drive up the street to the DeVargas Center shopping mall. Don't let the mall location fool you, it's home to the Harrel House Bug Museum. Initially I was a bit skeptical and was definitely feeling the creepy crawlies, but Bash loved seeing all of the different bugs, reptiles, and yes, creepy crawlies! And if you still need a few more souvenirs, stop by Indigo Baby, Pandora's, Bodhi Bazaar, and another outpost of Senor Murphy Candy. For a casual and local spot for New Mexican food, check out Atrisco.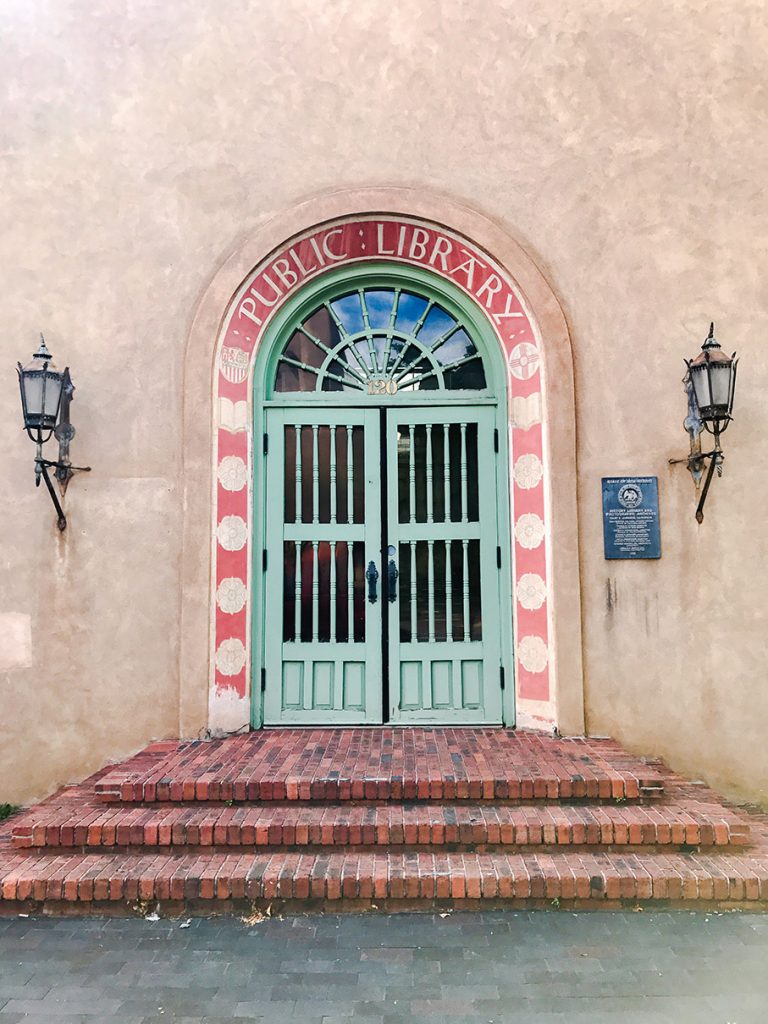 Where to Stay:
When we aren't staying with family, we check in to my favorite, The Four Seasons Resort Rancho Encantado. I've loved this resort since it first opened and chose this place for our wedding venue. Nothing compares to Encantado's gorgeous sunsets, amazing food, and warm hospitality. (To see more on our wedding: part 1, part 2, part 3, part 4). While certainly great for couples, the easy hiking trails, spacious casitas, and shuttle to the Plaza make it more family friendly.
While I'd still recommend having a car for day trips, these hotels are closer to all the action off the Plaza: Hotel Santa Fe, La Fonda, Inn of the Five Graces, and Hotel St. Francis.
Eats:
I can't say enough about the food in Santa Fe. So much, that we usually bring back several pounds of roasted Hatch green chile. I've mentioned a few of our favorite places to eat already, but here are a few more…
Casual:
The Shed: Southwestern
El Parasol: Southwestern
El Chile Toreado: Southwestern
Dual Brewery: Brewpub
Atrisco: Southwestern
The Santa Fe Bite: Southwestern / burgers
Tomasita's: Southwestern
Vinaigrette: Soup / salad / sandwiches
Secreto at Hotel St. Francis: Cocktail lounge
Pho Kim: Vietnamese
The Pantry: Southwestern / breakfast
Tecolote: Southwestern/ breakfast
Jambo: African / Caribbean
Harry's Roadhouse: Neighborhood restaurant
Counter Culture: Coffee / American
Moderate:
Café Pasquale's: Southwestern
Coyote Café / Cantina: Southwestern
Arroyo Vino: American Bistro and Wine Shop
Upscale:
Happy travels and let us know if you make it out for a family visit to Santa Fe! Be sure to let us know your favorites as we are already planning our next trip. And, don't be shy – comment or email us if you'd like more tips and recommendations!