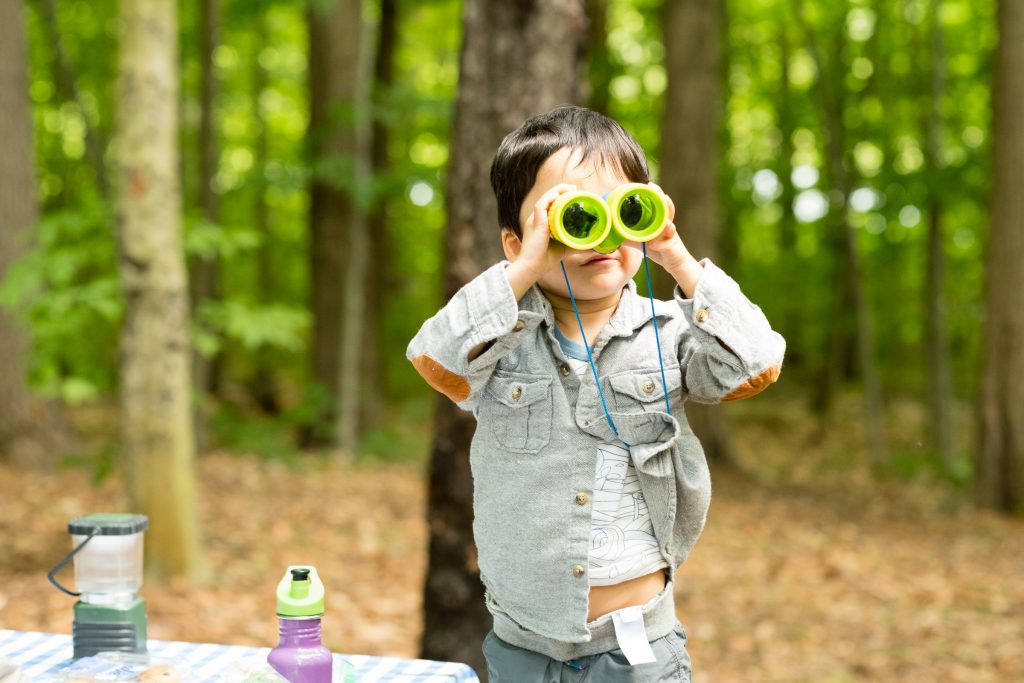 After several nights reading Fred and Ted Go Camping as a bedtime story, Bash has been begging to go camping.  It couldn't have been better timing for Nick, who likely needed an excuse to indulge in some new camping gadgets during the REI sale.  So, we finally loaded up the car and hit the road for a long weekend of camping in the Berkshires.
While we knew Bash would absolutely love camping and easily adjust to new surroundings, I had been debating whether to take Ava (who just turned 2 months), mostly out of concern for our potential neighbors.  But since she's been sleeping well at night (2 quick wake-ups to eat around 2 AM and 5 AM) and isn't a big crier, we decided to join in on the family fun.  Overall, she did great and there was something about the cooler air that even cleared up her eczema and made her poop (a lot).  It really wasn't hard having a non-mobile infant around as she spent most of the time napping or checking out the new surroundings in her carrier.
So, if you are looking for some new family adventures this summer, don't shy away from a camping trip!  While I'm definitely not the next Naked and Afraid contestant, we survived with infant and preschooler and, most importantly, all had a blast!
Base Camp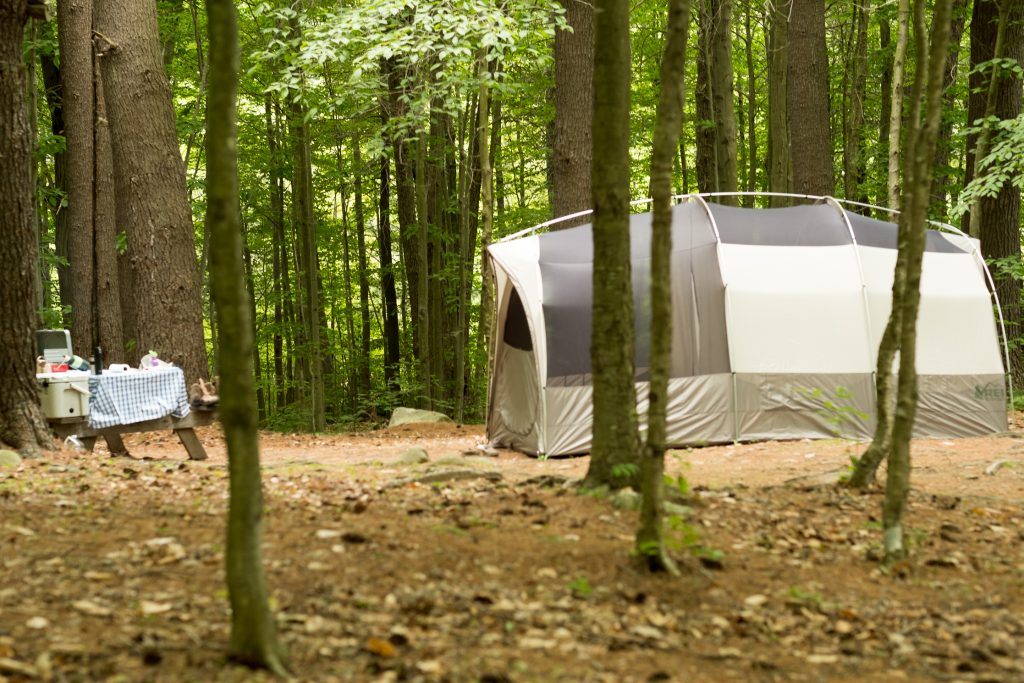 While I do love me some Bear Grylls and Nick and I have had some fun survivalist-style camping trips, we knew that this time around camping with a 2 month old and 3 year old would be very different.  Our adventure had to adhere to the following criteria: (1) within a 3 hour drive from NYC, (2) campsite reviews: clean, family-friendly, quiet, and (3) access to hiking and water sports.  Tolland State Forest in East Otis, Massachusetts met those criteria and we would definitely return again (Nick is already checking the calendar to find a weekend to reserve site 87…picturesque, right on the lake, which books up 3 months in advance).
Tips for choosing a campsite: the best sites are those that give you privacy, lots of space, and not close to the road.  A great tool to help find that perfect campsite is CampsitePhotos.com to check out photos of each site.  You can also find campsite reviews if you dig through Trip Advisor and Yelp reviews.  Once you find a site, don't be shy: call the Ranger Station and ask questions about the site and if they have any recommendations. Also, when you get there, do a loop around to check out the sites and see if other sites have availability; they are always friendly and will let you switch campsites if available.
Adventures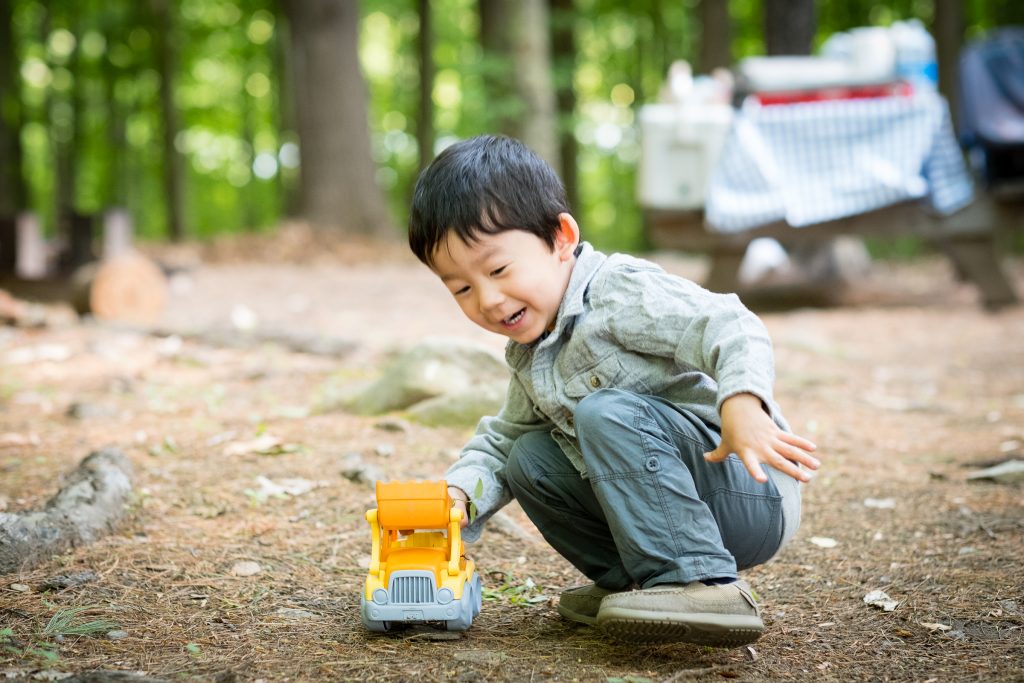 Just being outdoors is adventure enough for us city slickers!  Seriously, I think Bash's favorite part was peeing in the woods!  We immediately checked our campsite clearing for poison oak / poison ivy / hazardous items and then let Bash set about exploring while we unpacked.  I was all set with scavenger hunt activities and thought he would enjoy collecting leaves to press and preserve, but he was content with his shovel and pail, spending hours digging and transferring dirt between "construction sites".  He also loved helping with the camp chores, with his favorite being finding sticks for the fire.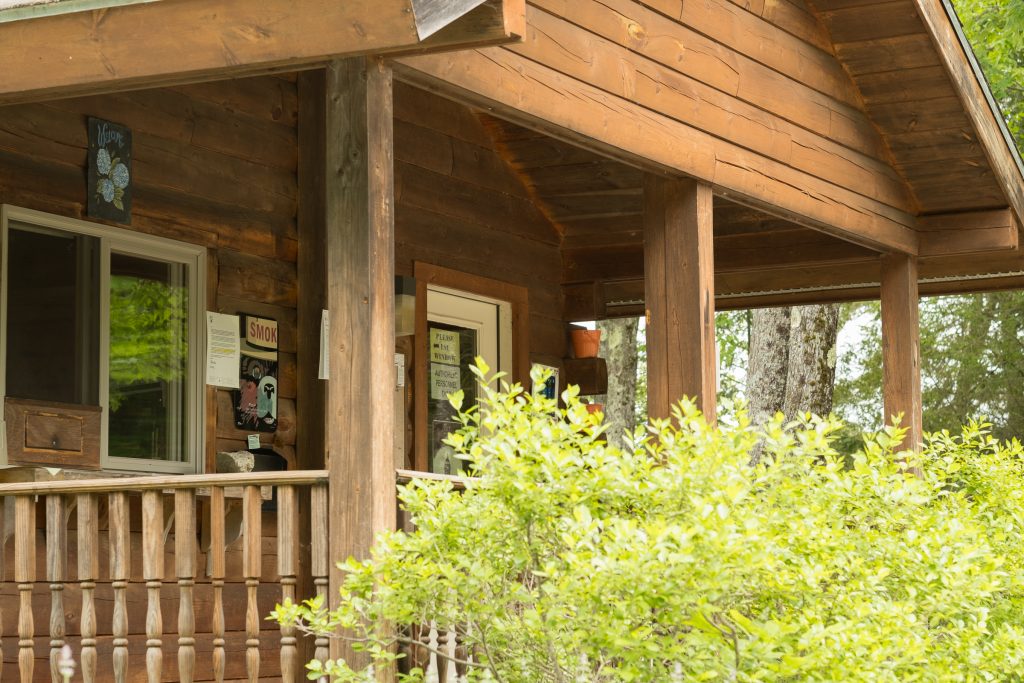 You'll need to stop at the Ranger Station when you check in but bring the kids along as they are very friendly and usually have some goodies to handout like stickers or in our case an info card on tick identification.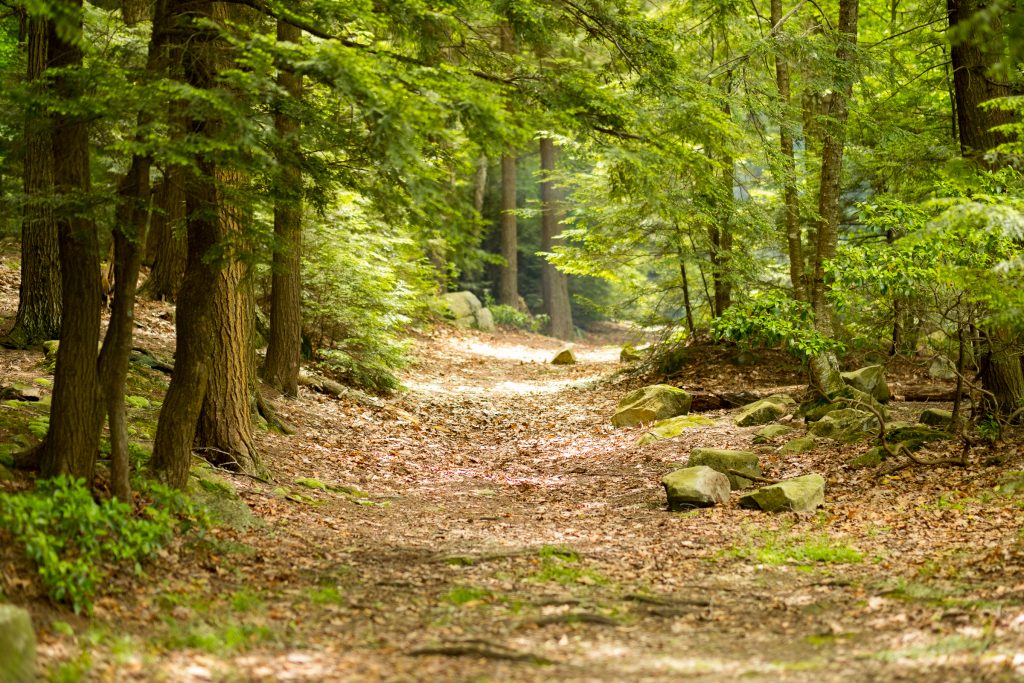 We were planning to do more hiking, but the day started getting away from us as camp cooking takes a lot longer than at home.  Instead, we did a mini-hike to find a secluded fishing spot.  But next time, we'd plan to spend more time hiking as there are several easy trails from the Ranger Station and beach.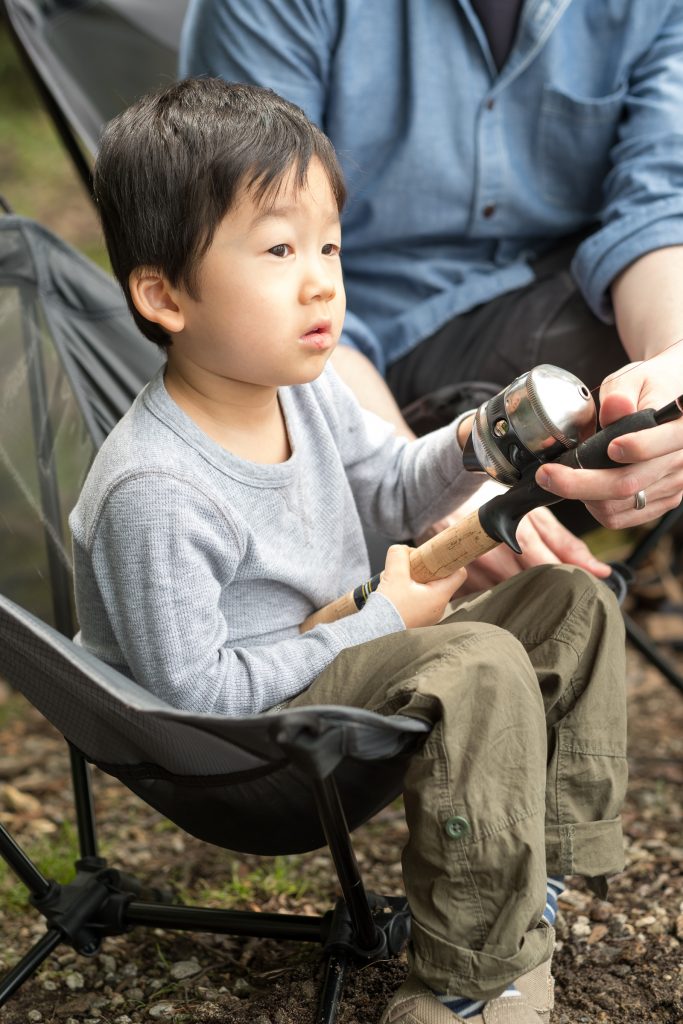 While Bash was initially super excited about fishing, reality set in and he got bored with the amount of time spent waiting.  At least, he entertained himself skipping rocks, until he flipped out over a rogue wave got his shoe a little wet.  In the end, we didn't even catch anything.  Next time, we'll rent a boat instead of fishing by the bank and also spend more time at the beach.
Essential Gear
Sleeping Arrangements:
For All: REI Kingdom 8 Tent: when I first saw this tent set up in our living room, I was aghast at how ginormous it is, considering there are only 4 of us.  But having the extra space was definitely a necessity.  We used one section for sleeping and the screened section as a living room of sorts where we played Zingo after dinner.  We also added a tent rug for an extra layer for warmth and cushion (since you lose most of your heat through the ground).  Nick tricked out our tent with a usb battery pack and string of these mini lights, which were great as we could have our "living room" lights on while keeping the "bedroom" section dark when Ava was sleeping.
For Us: While we usually go minimalist with a bedroll and sleeping bag, this time around, with a queen sized mattress, we felt luxurious.  That is, until Bash decided he wanted to sleep next to Nick and I kept getting pushed off!  Don't forget a few extra blankets; we actually stuff a down blanket under the mattress for extra warmth.
For Bash: We brought his trusty Hiccapop Inflatable Travel Bed (see our full review of kids' travel beds here), sleeping bag, and extra blankets.
For Ava: I was really nervous about disrupting her sleeping routine, especially as I'd been using the Snoo (aka: robo-mom) to put her to bed for the past week.  I usually start her in the Snoo and then transfer her to the stationary UppaBaby Bassinet (that comes with the Vista stroller) upon her first night feed.  But she was a champ and slept fine in the bassinet.  To keep warm, we put some blankets under the bassinet, had her in her regular Kickee Pants pajamas and Snoo-Sack Swaddle, then topped her with 2 extra Aden & Anais muslin swaddles and her cashmere blanket (tucked into the sides of the bassinet mattress).
"Living Room" Supplies: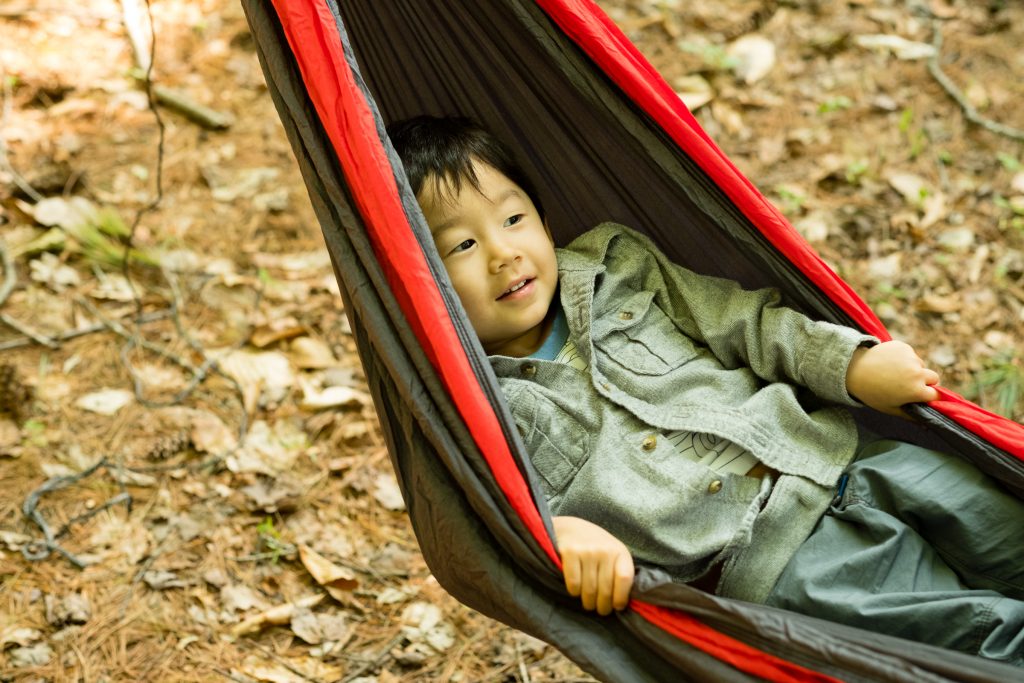 Seating: We were like Goldilocks and the 3 bears with our folding chairs: Dad's REI macro chair (made for big and tall campers), Mom's Alite chair (with critical cup holders), and Bash's smaller REI low chair (lower to the ground and easier for him to get into on his own).  As a place to put the baby, we were initially going to bring the Bjorn Bouncer, but we really didn't need it.  Ava was happy to sit in her carseat with matching bug net or snuggled up in our Solly Baby Wrap.  Next time, I would also bring our Ergo Baby Carrier for hiking, and, once she's more mobile, a thicker playmat or pack 'n play.
While the campsite had a picnic table which we used, we also brought this folding table for the tent; perfect for family game night!
Lighting: We brought a couple of lanterns and a flashlight, but mostly used our headlamps.  For the little ones, a headlamp is a must!  It's a way to keep track of them at night and it gives them a fun adventure to explore during when its dark out.
Cooking / Dining: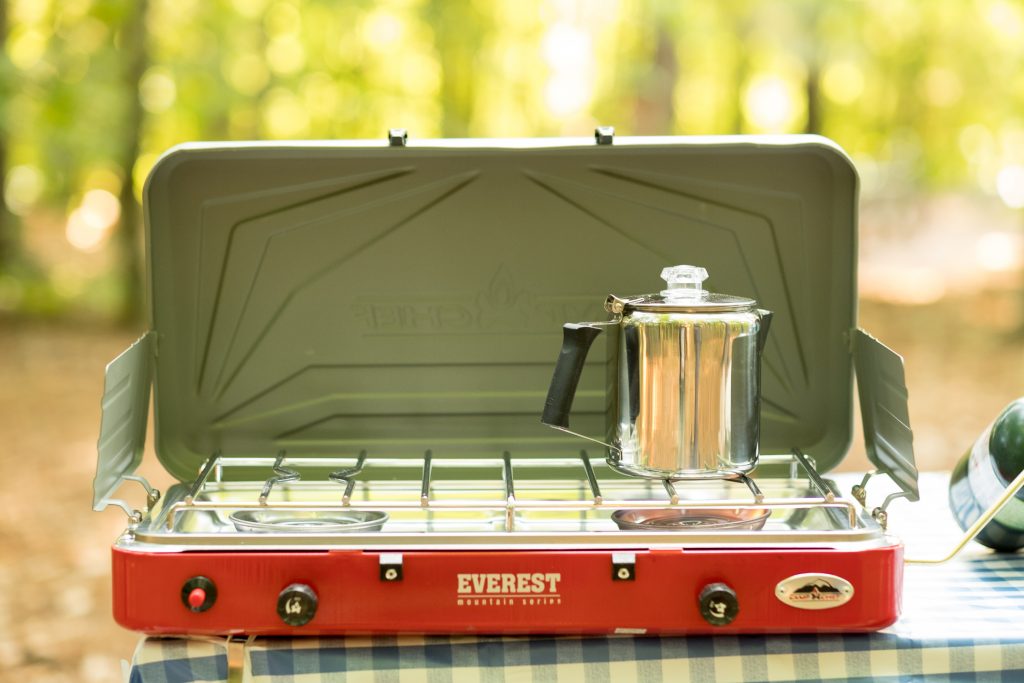 Cooking supplies: We did some cooking over the campfire, but to speed things up, we also used this camp stove.  We also brought a percolator, but boiling a pot of water for instant coffee is a faster and easier route.  Other kitchen supplies to pack: pots and pans, dishes, cups, and utensils.  Next time, we'd go the disposable route with more ready-made / dehydrated meals and paper plates / utensils; you'll have more time for activities.  Our camping must have: marshmellow roasting sticks!
Food Storage: Cooler with ice
Water bottles: We packed our Camelback hiking packs and also our trusty Swell bottles and a Klean Kanteen for Bash.
Fire supplies: We got our firewood from the camp's ranger station but don't forget the matches!
Dry goods: We brought this Vinyl Tablecloth and clamps set to cover the picnic table and it was great – easy to wipe down and acted as a nice, clean working surface.  Other items to pack: sponge, garbage bags, and paper towels.
Food: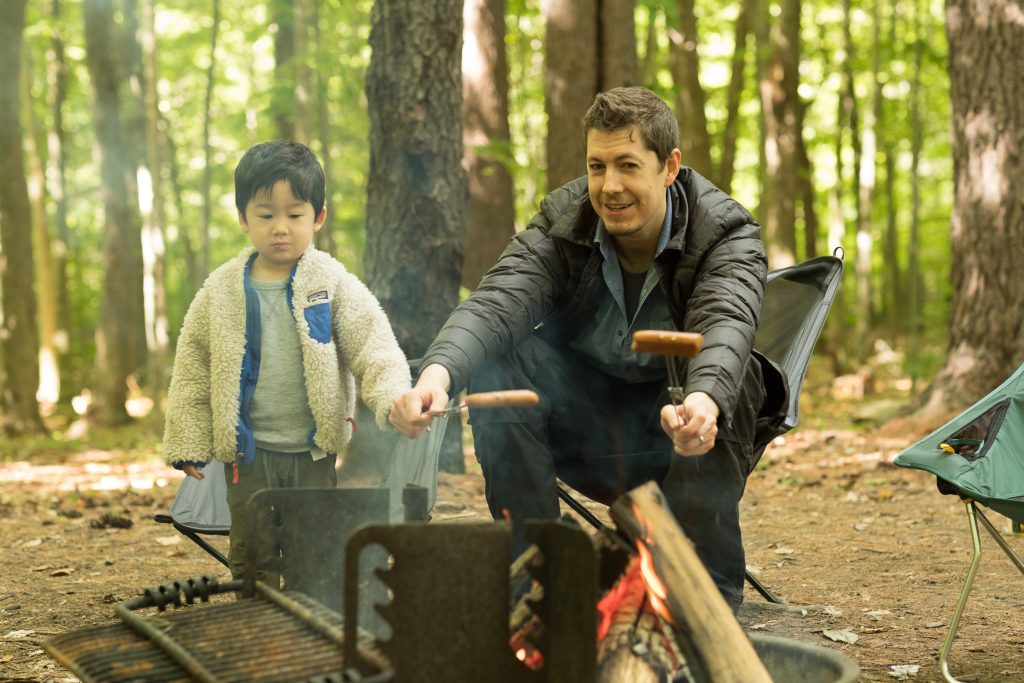 Since we planned to do lunch on the road on Friday and Sunday, we brought enough food for Friday dinner (grilled chicken and veggie skewers, which I had chopped and put in a Ziplock bag in the marinade on Friday morning), Saturday breakfast (eggs whites, bacon, English muffins, fruit), Saturday lunch (hotdogs, baked potatoes), Saturday dinner (chicken sausage pasta), and Sunday morning (egg whites, breakfast sausage, granola, and fruit).  Plus, 3 large water jugs, supplies for smores, and a ton of snacks for everyone.  This was one area we didn't mind overpacking!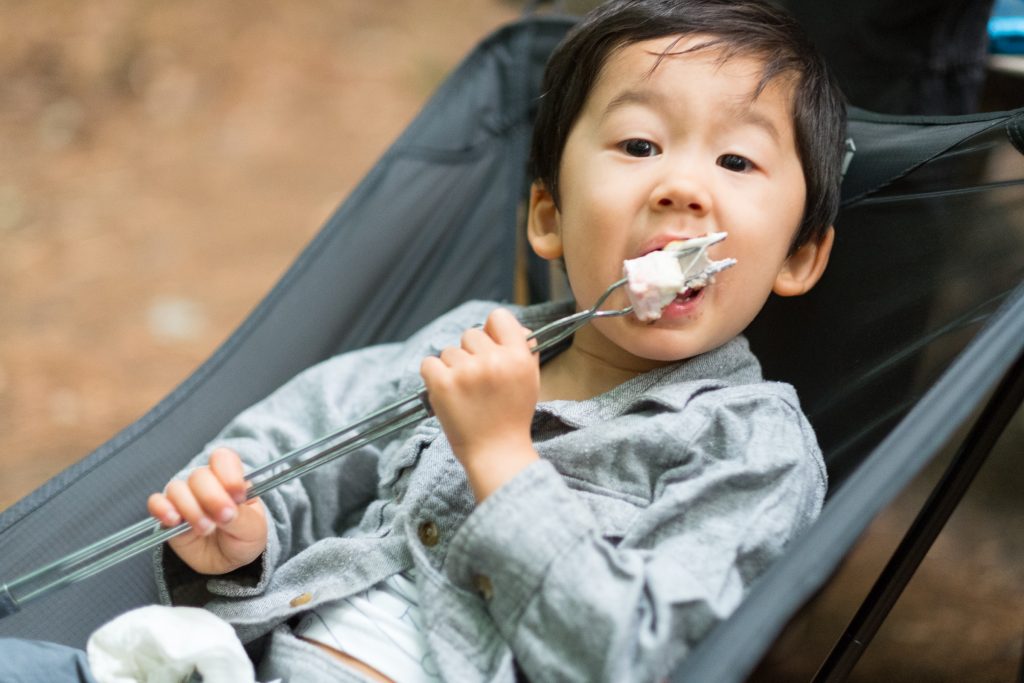 Clothing: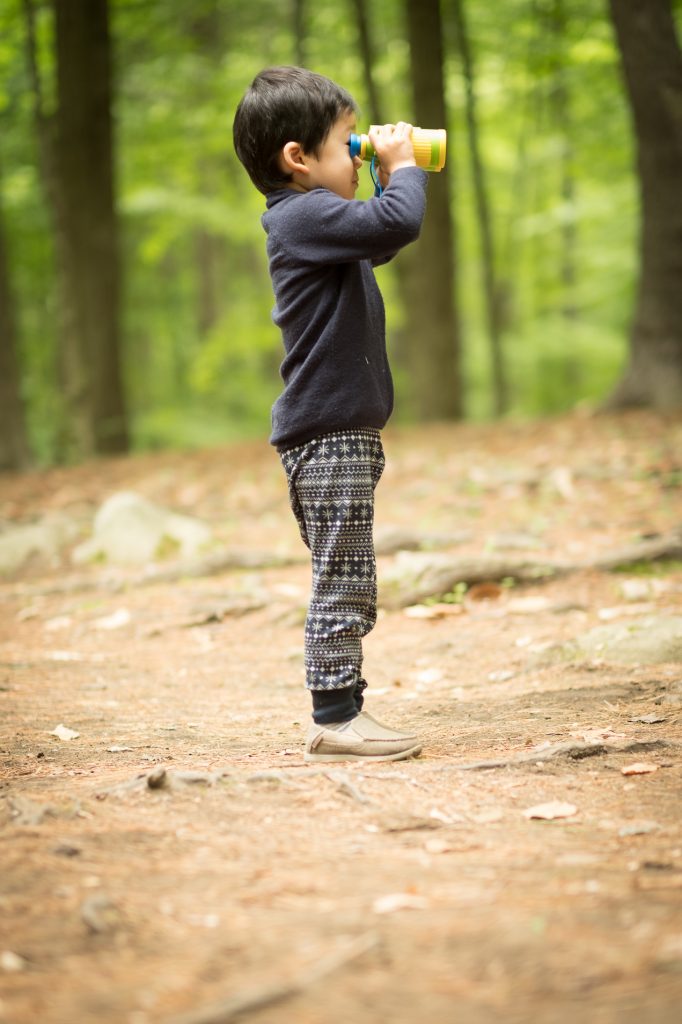 For us: 3 sets of outdoor / hiking clothes (Nick swears by Kuhl pants), warm pajamas (I wore long underwear + sweatpants to double up), some comfy clothes for lounging in the tent, warm socks, and fleece jackets.  Depending on the season and weather, don't forget beach wear and rain gear.
For the Kids: Plan to pack a few extra outfits and pajamas as dirt will be your new best friend and blowouts will happen.  We loaded up on these lightweight cargo pants from Old Navy.  For nighttime, Bash wore his trusty Polarn O.Pyret long underwear and we added a second fleece layer and these wool socks for extra warmth.  Layering is definitely key, so don't forget a jacket.  And, depending on your activities and weather, beach wear and rain gear (see our article on the best rain gear for kids)
Toiletries: Since we were only going for a weekend, we didn't need too much in the way of toiletries; some travel toothbrushes and toothpaste and face wipes did the trick.  A few of our essentials included:
Camp towels that are packable and quick-drying
Medicine: Bring any prescription medications plus a first aid kit.  We also like to include After Bite, hydrocorisone, allergy meds, headache meds, and just in case, a tick key for tick removal (don't forget to do nightly tick checks).
Bug spray: Besides bringing the bait (me – I'm always the only one who gets bitten), we used Cutter Family Insect Repellant Wipes (a lower amount of deet for safety concerns), permethrin tent / clothing spray(best tick and insect repellent; uses the same active ingredient that's in head lice shampoo; we used this on the exterior of the tent), and citronella candles for the table.  For Ava, we didn't put any bug spray on her, rather, we kept her under the bug net and also kept a ParaKito Kids Repellant Clip close by but not attached to her.
Sunscreen: ThinkBaby
Potette travel potty: this was key, especially since our campsite was a little far away from the "comfort stations" and, honestly, was easier and cleaner than the bathrooms anyways!
Baby supplies: Basically, everything you use at home with baby in double quantity: portable diaper changing pad / chux pads, diapers, wipes (bring a ton as you'll use them for everything – I pretty much went through a package a day), Aquaphor, Nose Frida, and burp cloths.
Entertainment: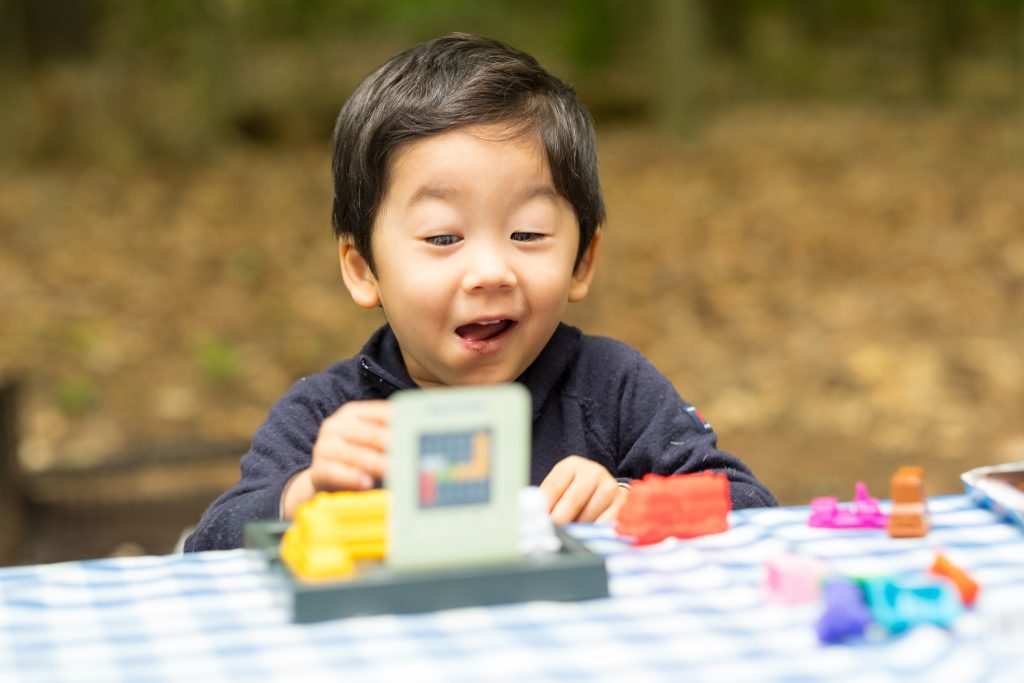 Outdoor toys: We brought: bubbles, bucket, shovels, excavator, and binoculars.
Indoor toys: Family-friendly and easily portable games included Zingo and Rush HourTraffic Jam Jr. and we also brought a journal / writing pad and markers and a Kindle Fire (for the car).
General Tips:
Planning is key!  We started writing up our checklist and adding to our camping gear stockpile about a month in advance.  Packing was the most stressful part and while we started the week before, we had to make two piles for must-haves and nice-to-haves just in case we ran out of room.
Practice makes perfect: To help prepare for the adjustment, we did some practice "indoor camping" a couple of weeks before the real thing.
Early bird gets the worm: Leave a little early so you make sure to get to the campsite before sunset and set up camp upon arrival, especially camping with little kids.
Nightly tick check.  I'm super paranoid about ticks, so long sleeves and pants and tick checks multiple times a day were essential.
Setting boundaries: While we let some rules (and his afternoon nap) slide, we did enforce a few rules for safety.  Namely, keeping a safe distance from the fire, not going beyond the cleared campsite and avoiding the brush (for concerns about ticks and poison oak / ivy), and no running (though his split lip and bruised chin said otherwise).
Keep clean: Clean up trash and keep the food in the car at night to avoid bears and other hungry animals.
More Pictures
We all had a great time and can't wait for our next camping adventure!