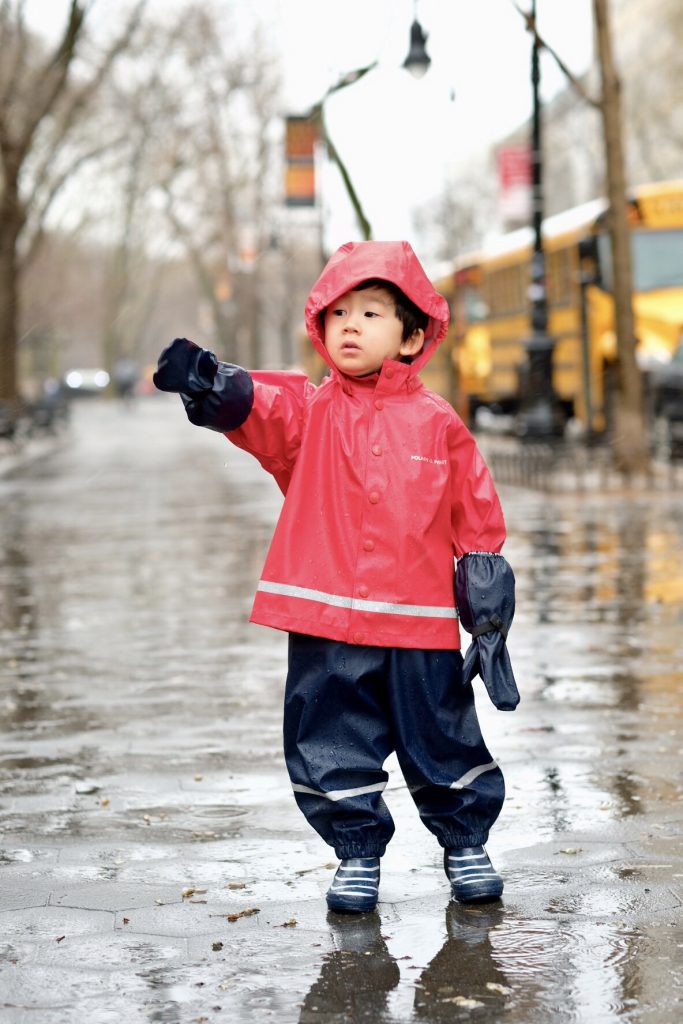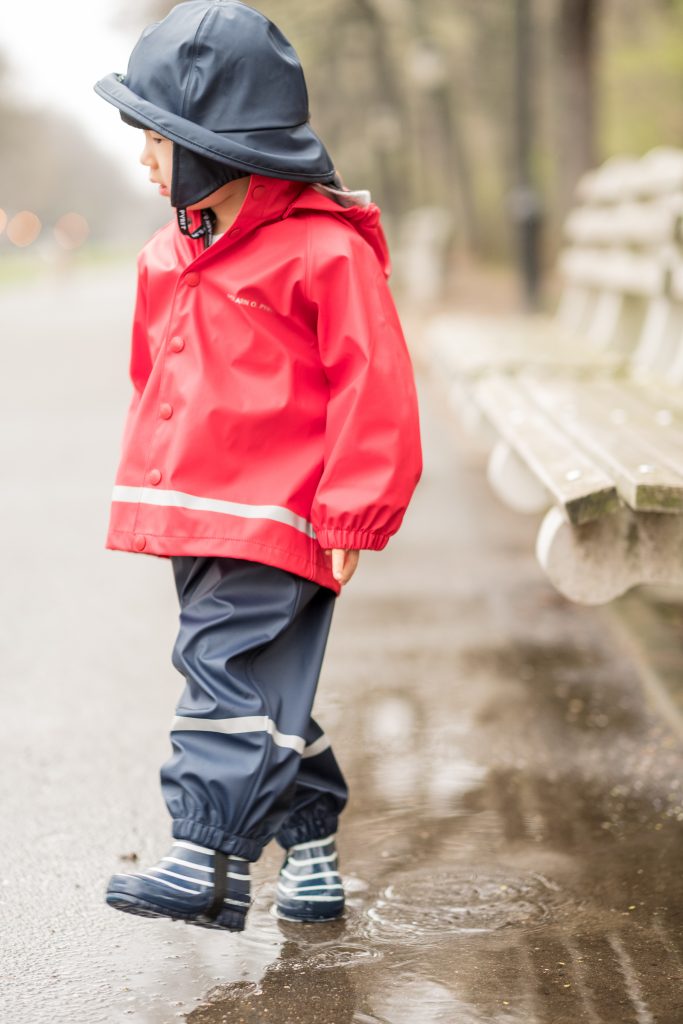 After 3 Noreasters in a row, this month brought much more than just a few April showers!  To prepare for a potentially wet Spring, we've been hard at work (ahem, play), testing out rain gear.  With the right gear, a little rain / snow / sleet won't stop us from being true New Yorkers, walking our city and playing in our backyard concrete jungle gym!
Don't let a few sprinkles prevent your kiddos from the joys of puddle hopping and making splash pads in the park!  Here are our picks for the best rain gear that will keep your kiddos dry and stylish, while flexible enough for play!
Rain Coats and Pants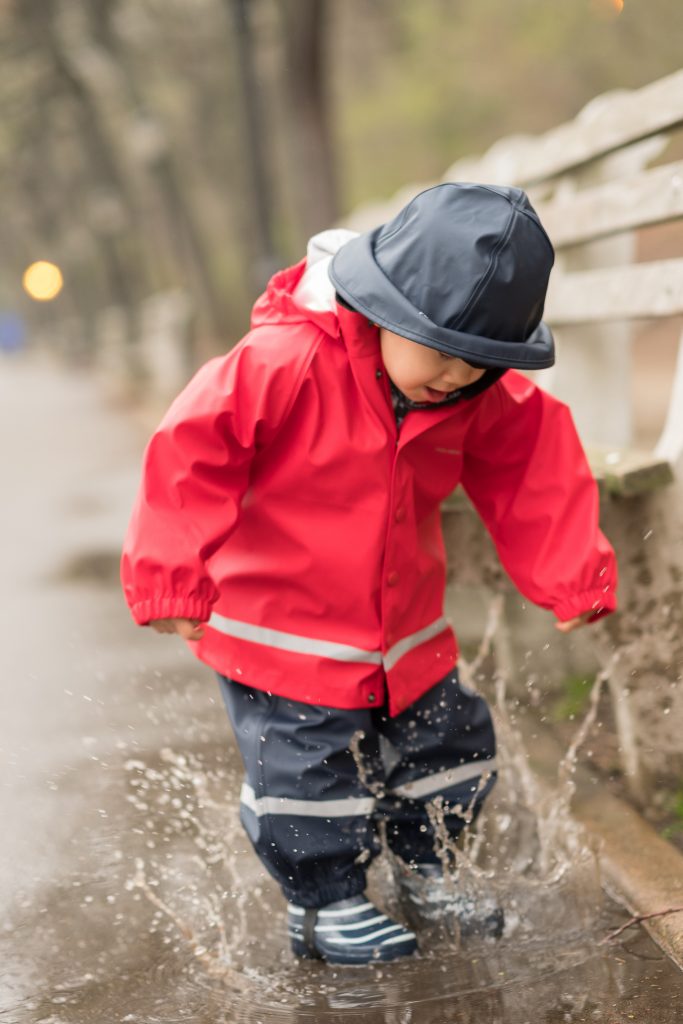 As city slickers, no matter the forecast, we're always outside and walking everywhere.  So we need gear that will keep Bash dry and in style for those impromptu street style photog moments.  Investing in a set of well-made rain gear is well worth it so Bash can burn off his boundless energy outside.  It also lasts us all year – a rain jacket is a great transitional layer between seasons and we can double purpose rain pants for snow play (with a few insulating layers).
Key Elements to Look for in Rain Gear:
Safe, non-toxic: Double check those tags to make sure the materials used are PVC / vinyl-free, phthalate-free, lead-free, PFC-free.  Instead look for polyester, polyurethane, or nylon outers and lined with more natural materials. I found this Center for Health, Environment & Justice article a helpful resource (albeit slightly outdated) for finding PVC-free rain gear brands as well as other school supplies.
Waterproof: If we're making a mad dash for the subway, our water-resistant trench will do.  But we often need a more technical, waterproof coat to brave the elements while walking at a toddler's pace or heading out for some splashing.  If you only want to invest in one coat, look for the "waterproof" over "water-resistant", which will keep you drier in those downpours.
Breathability / warmth: Depending on your child's level of activity, you'll want to assess breathability and warmth (or ability to add layers).  Traditional "slicker-style" rain gear isn't as breathable, but we've found that Bash is still comfortable while scootering in the rain!
Fit: Look for adjustable cuffs / straps for fit and longevity (to grow with your child).  We also like jackets that are long enough to cover the bum on wet benches / seats.
Our Picks:
 ⭐ Bash & Co. Favorite: Polarn O.Pyret – Our favorite outerwear brand, Polarn O.Pyret, is a Swedish brand that focuses on making baby to kids' clothes designed for outdoor play (in all conditions)!  You have probably seen Bash living in their merino wool and snowsuit all winter long.  PO.P saw our Today.com Kid-Approved Winter Gear article and Bash & Co. Winter Gear Guide Series and invited us to test out their line of rain gear for Spring.  Bash got outfitted at our local Upper West Side store, where we tried on PO.P's 2 styles of rain gear: Shell and Traditional Rainwear.  Both styles are waterproof, with the main differences being style, breathability, and layering (see here for a direct comparison).  We opted for the traditional rainwear set: Classic Rain Jacket in Red (Bash loves the bright red color as he said he felt like a fireman hero and I like being able to easily spot him on a foggy / cloudy day) and Rain Pants in Navy (the suspenders make these super easy to get on / off and I love that the pants can slide over Bash's rain boots to keep his feet dry.  Note: if you have a local PO.P store nearby, we'd recommend heading there to try on for size as we find their sizes run slightly larger (Bash, while on the small side for a 3 year old, is currently wearing size 1-2, with room to grow) so be sure to check out the measurements page if ordering online.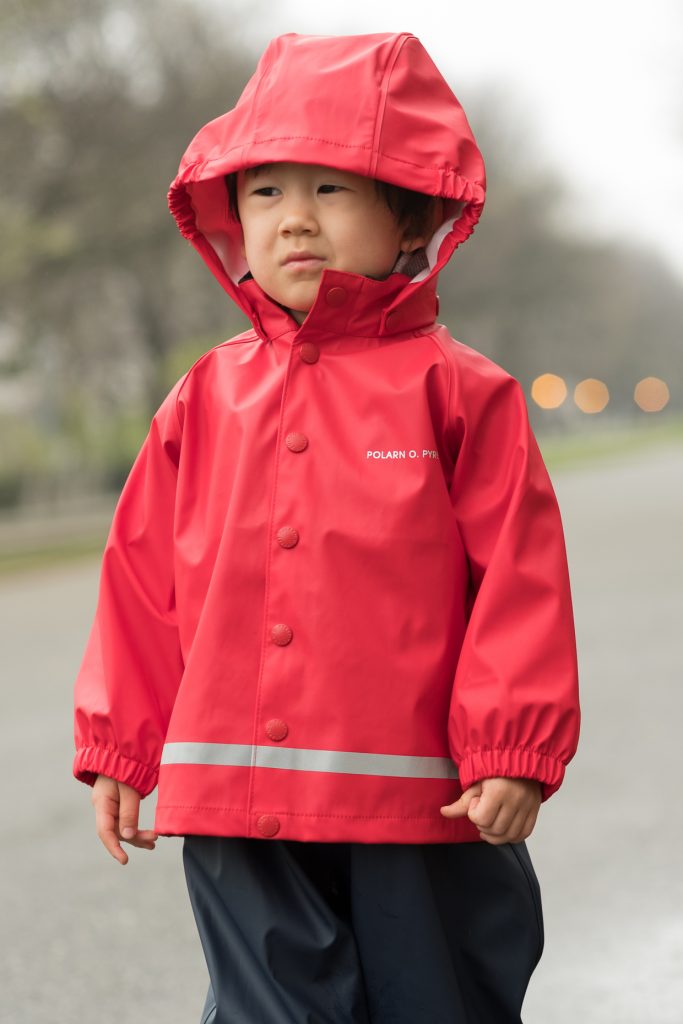 Patagonia Torrentshell Jacket: While slightly more expensive, Patagonia makes high-quality outerwear for kids.  Their Torrentshell series for babies, toddlers, and kids is fully waterproof and breathable.  However, the matching Torrentshell pants start at a kids' size XS (5-6).
LL Bean Discovery Rain Jacket and Pants: Waterproof nylon material and breathable lining and vents to keep dry and cool for infants and toddlers.
Rain Boots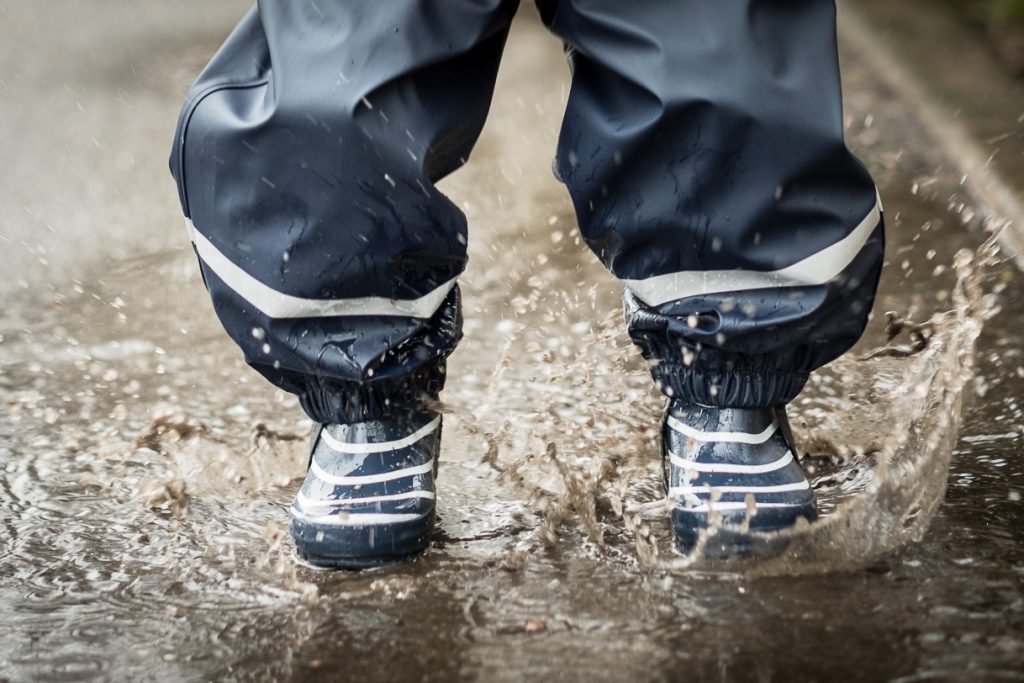 Along with the warmer temperatures, Spring also ushers in the rains that bring May's flowers.  Bash loves splashing in puddles and, with the right gear, we never shy away from outdoor play!  A pair of practical, weatherproof boots will allow your kiddos to splash in puddles (and mud) without fear of cold feet.  Just add a pair of sock liners and they will also double as winter boots (maybe not for sledding, but definitely good for the post-snow plow slush) to get more bang for your buck!
Key Elements to Look for:
Waterproof: A must for rain boots…enough said!  But do look for boots that are tall enough to withstand splashes
Comfort: Straps / handles and a wider shaft for easy on and off
Safe, non-toxic: Look for brands using natural rubber and have a textile lining
Our Picks: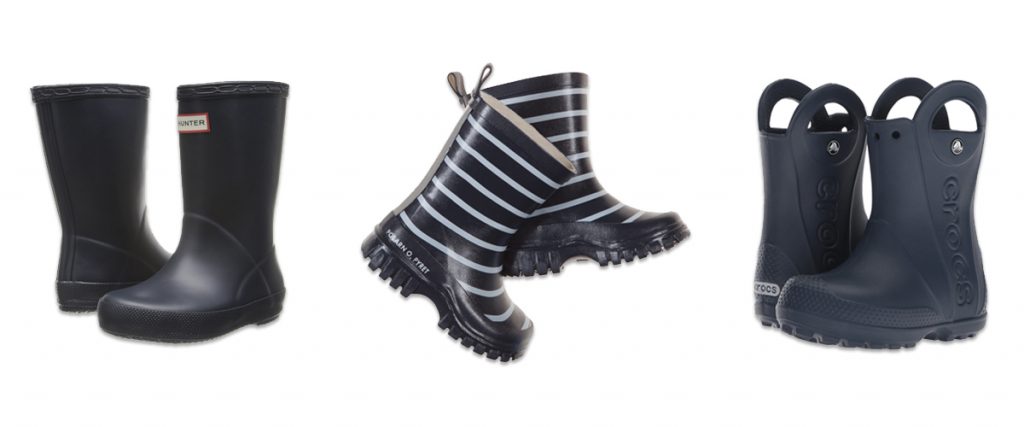 Hunter Kids Original Classic Rain Boot: There's something about these oh so stylish, classic wellies that we love.  Ok, it's probably got something to do with the fact that the whole family can match!  You may have seen Bash sporting these in navy all fall and even into winter, accessorized by their matching wellie socks.
Polarn O. Pyret Classic Stripe Rain Boot: On the practicality front, these boots offer more traction during those slick conditions and when we inevitably head indorrs.  We also love their classic styling: the nautical stripes pop against our solid navy rain pants and they are also stylish enough when paired with jeans.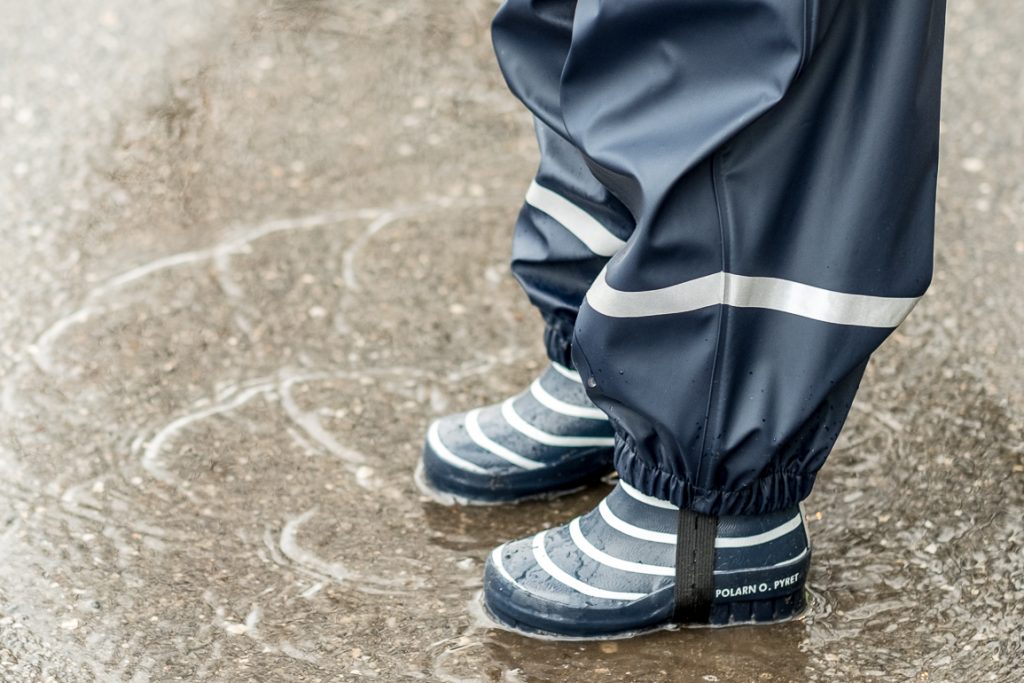 Crocs Kids Handle It Rain Boots: Like their clog counterparts, these rain boots are super lightweight.  However, they are very secretive about their proprietary resin material so it's hard to decipher potential safety concerns.
Umbrellas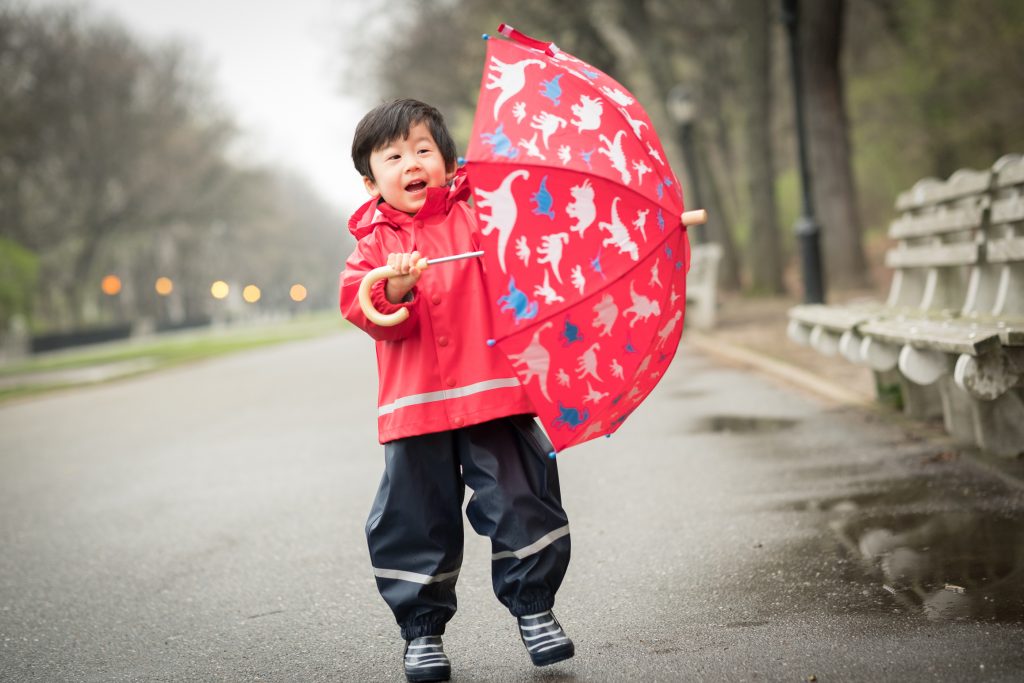 Don't let a cloudy forecast rain on your parade!  A little rain is no match for these colorful cuties.  With the cutest designs, your kiddo won't want to leave home without this classic accessory!
Key Elements to Look for:
Safe: Kid-safe open / closing; no pointy ends
Safe, non-toxic: Wooden handles (no EVA foam handles); avoid clear / shiny plastic looking umbrellas as these are likely made with PVC / phthalates.  Upon opening the packaging, if there's a slight odor, air it out in the outdoors or near an open window.
Our Picks:
 ⭐ Bash and Co. Favorite: Hatley: 100% polyester with a wooden handle and kid-safe design.  Plus, Hatley has the cutest prints for boys and girls.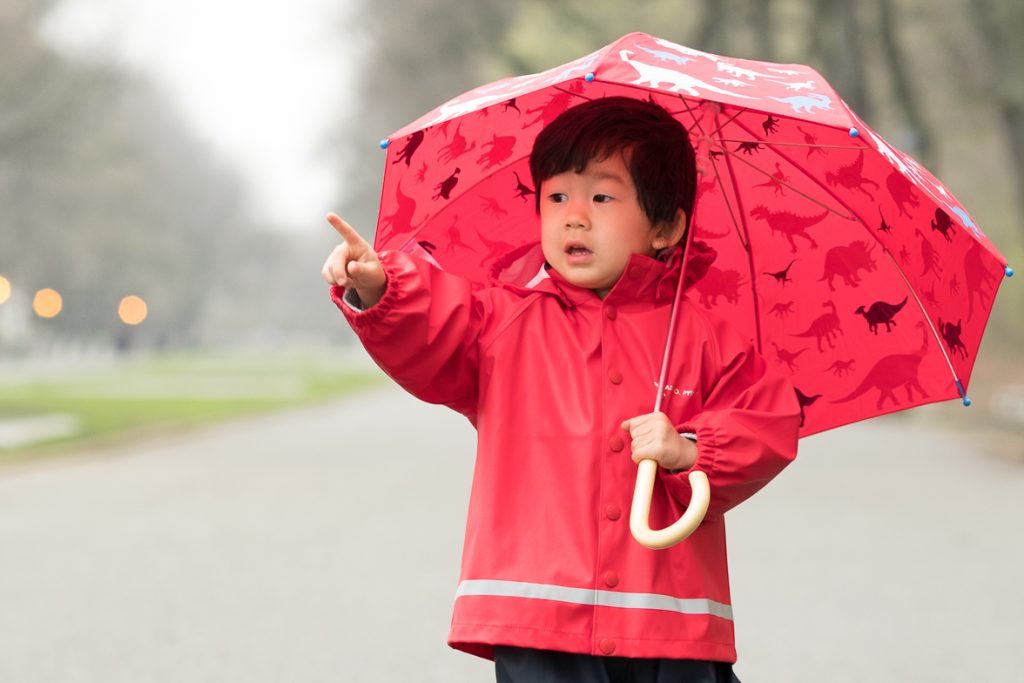 Skip Hop: BPA and phthalate-free with a peekaboo window and cute animal characters
Accessories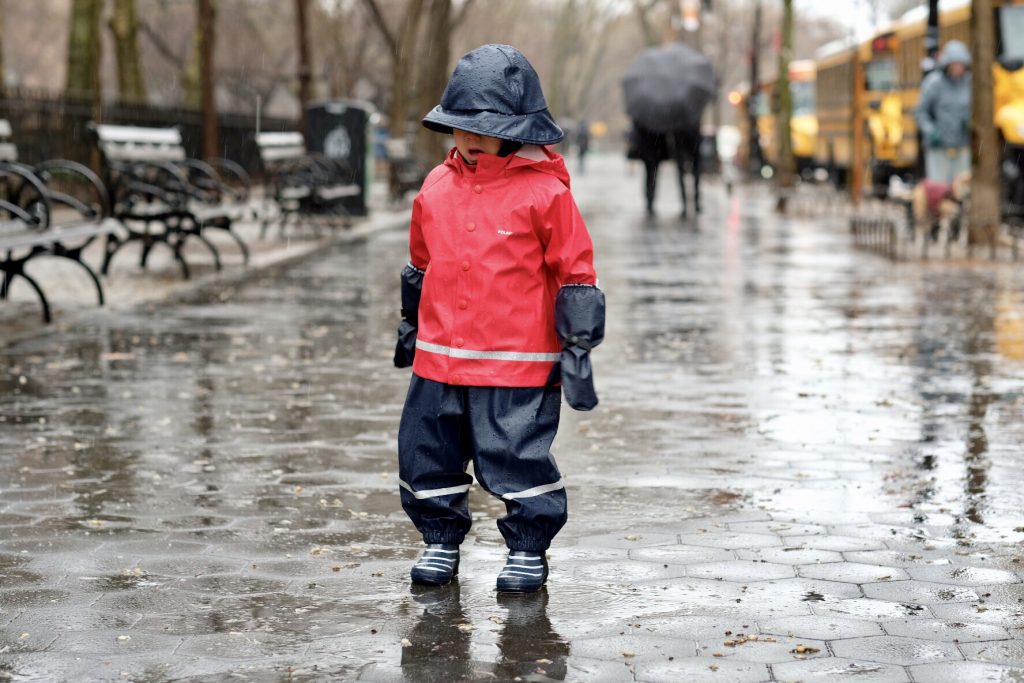 For torrential downpours, don't forget the accessories!  Outfit your kids in these slick pieces to brave the elements for outdoor playdates.  While most rain coats will have a hood, extreme conditions call for reinforcements.  We like this North Easter Rain Hat with its wider brim that keeps rain off the face and these Rain Mittens to keep Bash's hands protected while scootering in the elements.
Bash: Playing in the Rain (more photos!)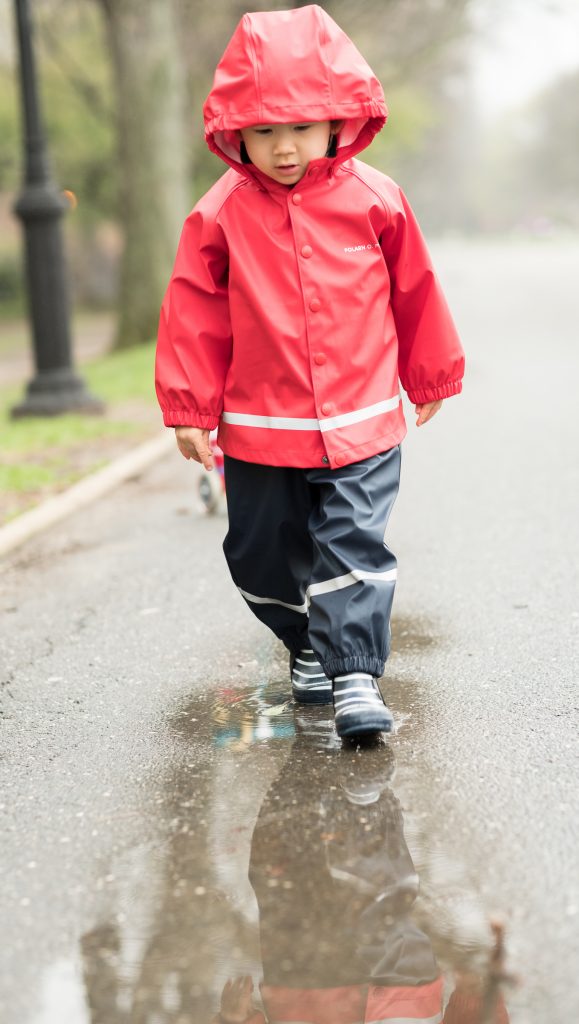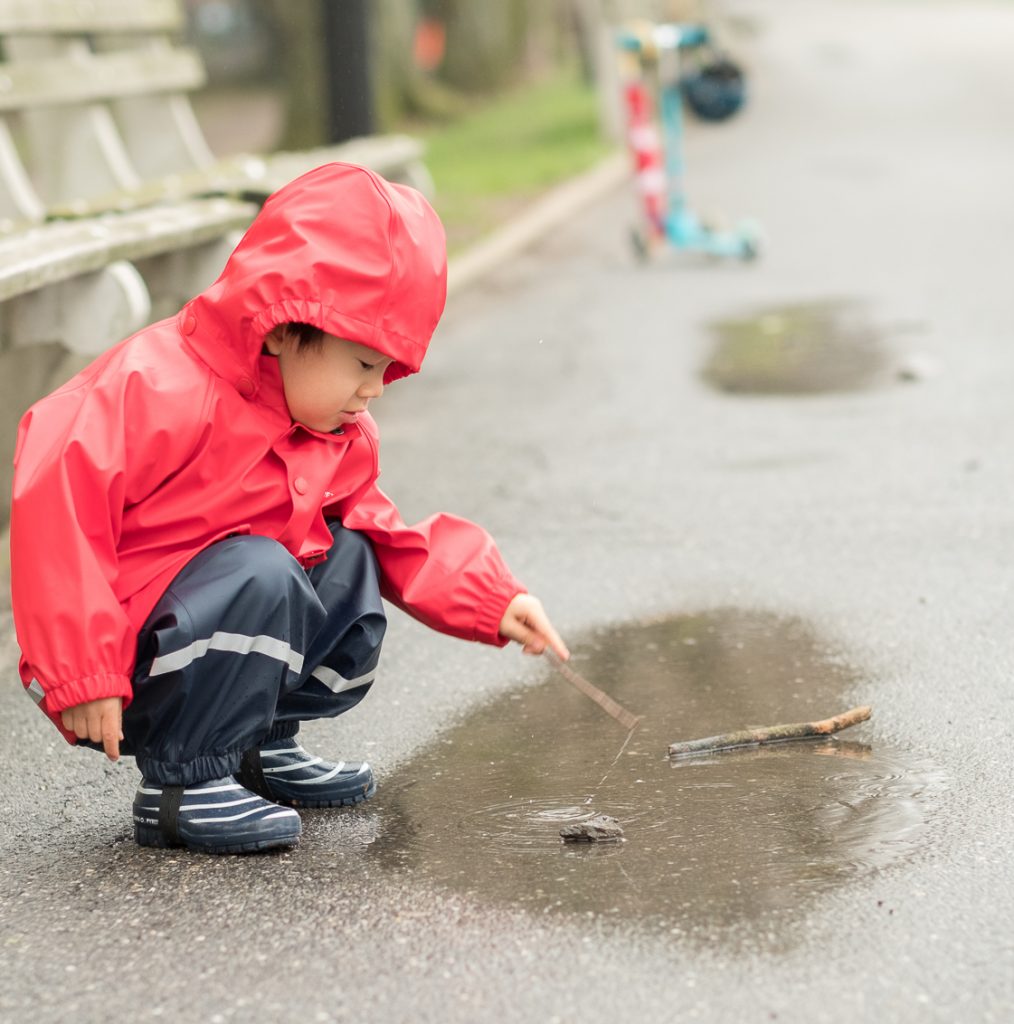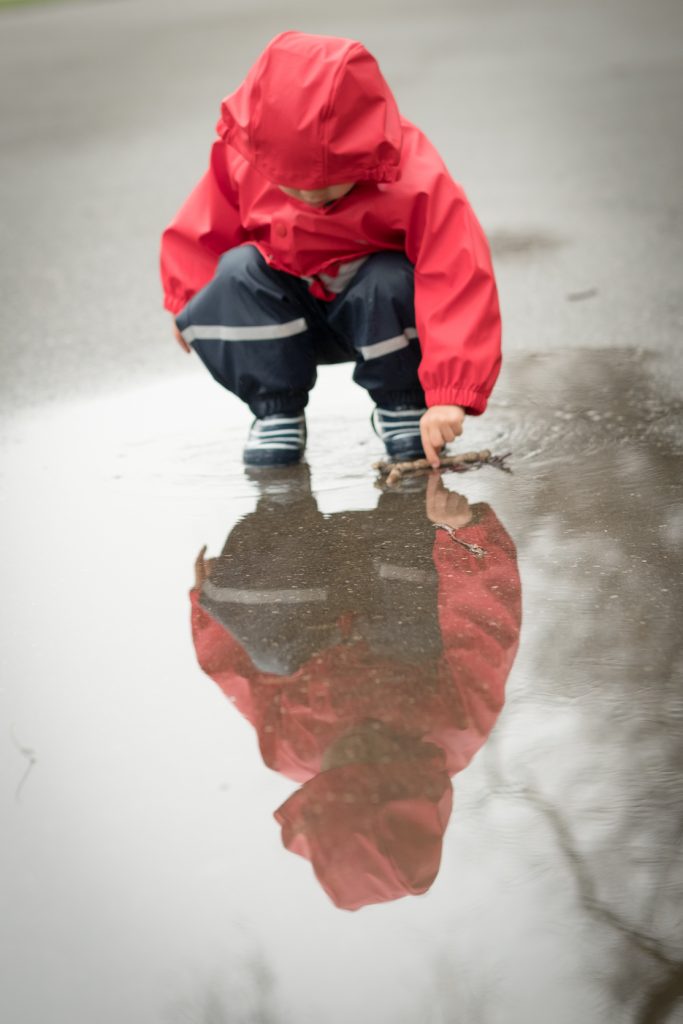 Hope this guide is helpful and stay dry, friends!