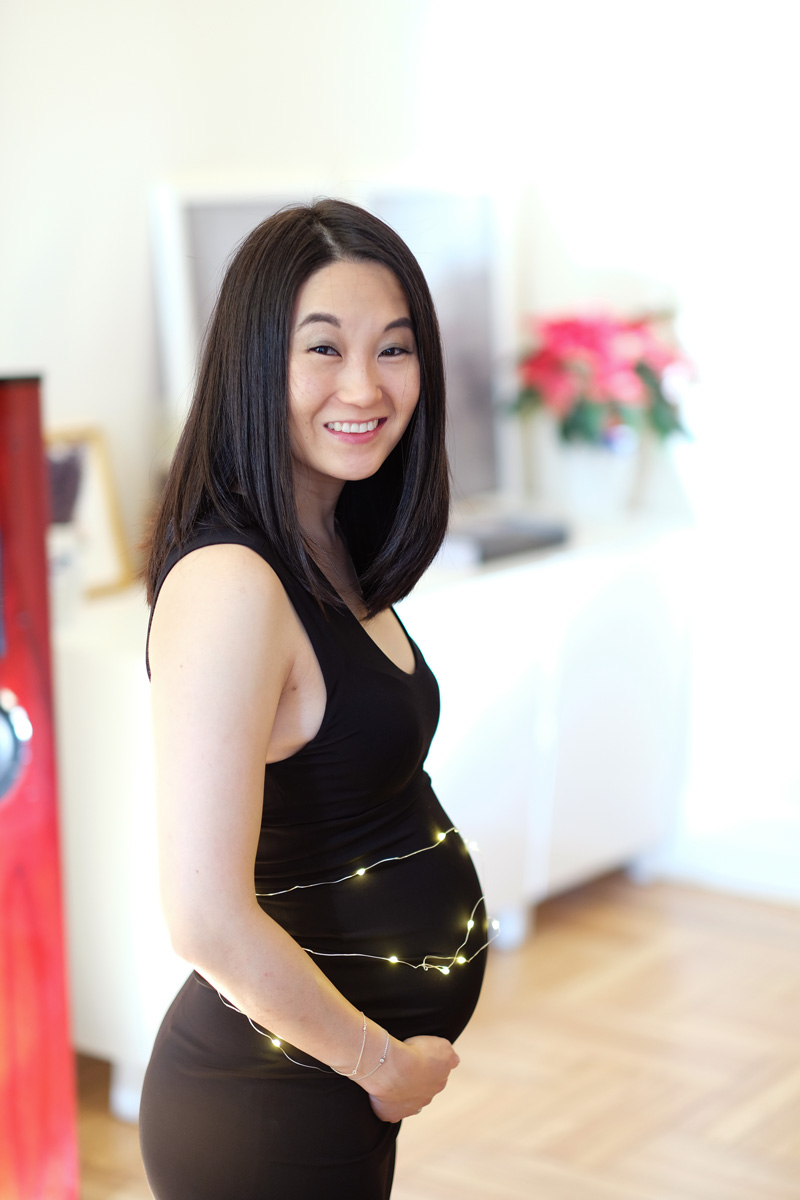 Happy 2018! Hope everyone had a wonderful holiday season and a happy New Year's! We are certainly looking forward to 2018…as a family of four! That's right…we're thrilled to share that we are expecting a…drum roll please…little girl in early April.
The Second Time Around
Everything with baby number 2 is different this time around. First, I can never remember my actual due date (and at this point, I've given up asking for a reminder at my appointments lest my doctor starts to think it's more than just "pregnancy brain", hahah). With Bash, it was like, "yes, I'm 27 weeks, 3 days, 6 hours, and he's the size of a cauliflower." I was a daily user of the Babycenter and What to Expect apps and was glued to a host of pregnancy / baby books: Expecting Better (written by one of my business school economics professors), Bringing Up Bebe, What to Expect When Expecting, On Becoming Baby Wise, Mayo Clinic Guide to a Healthy Pregnancy, Baby 411, and Happiest Baby on the Block (hands down the best guide to newborns; we also watched the corresponding DVD a handful of times). It's definitely different not being pregnant at work, either. The first time around, I was waddling through airports (the belly got lots of pat-down love from TSA since I preferred not to go through the body scanners), traveling for work up until about Week 30. I felt pregnant and thought about pregnancy constantly. This time, I almost feel busier (or, at least, more distracted) whilst chasing my preschooler and sometimes I'm even oblivious to being pregnant. I will say that it's been nice to take an afternoon nap every once in a while when Bash goes down for his. And, I don't have to worry about stuffing myself into suits and heels!
So far, it's been a pretty smooth pregnancy, save for the first trimester morning sickness. That came as a shock as I lucked out and didn't experience any nausea with our first. I even cold turkey quit coffee as I thought it was contributing to my daily "hangovers." Thankfully, the morning sickness subsided around week 14 and I'm back to a one decaf (with a splash of regular) coffee a day!
Bash's Reaction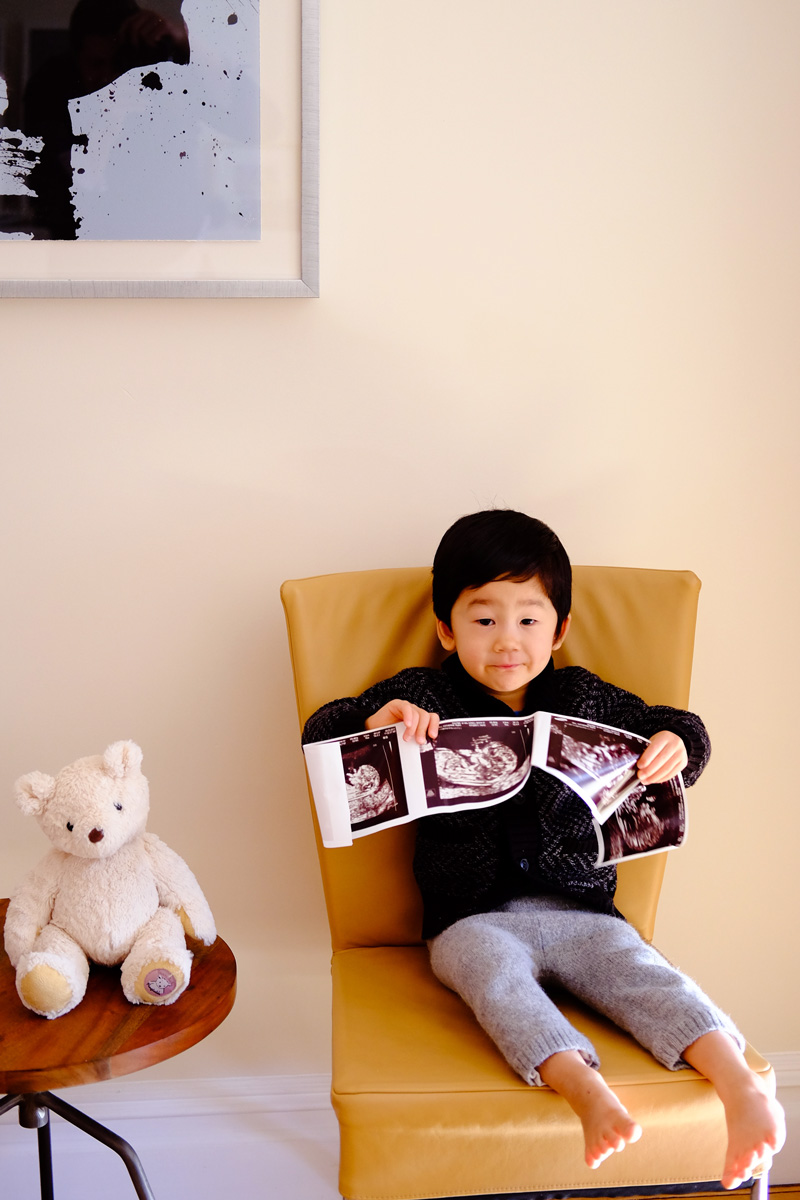 He may look a little smug here, but Bash fully understands he's getting a baby sister and is really excited about it. We like to compare bellies and sometimes he says baby sister lives in his belly, though he still calls my belly a "mountain." He's very sweet and loving with the bump (when he's not trying to climb all over me); he loves to give baby sister kisses, talk to her, and he thinks she loves his blowing raspberries. He's also very into the concept of "family" and constantly talks about momma, dada, Bash, baby sister, and Mono (his imaginary friend who lives in his pocket).
But I don't think he realizes at all how his life will change (not that I would expect him to understand the impact of a new baby as I haven't fully grasped the future "managed chaos" to come). He's certainly used to being the center of attention, especially as he's entering his threenager years, "momma, no talking to daddy; we are playing in my room." A friend gave us a doll that Bash calls "baby sister" and his favorite thing is to tell us she hit her head jumping on the bed and that Doctor Bash will fix it and then she's miraculously all better. We should probably start preparing him for his role as a big brother (please let me know your tips on introducing a new baby to siblings), but for now, we're just basking in his remaining only child days.
Looking Ahead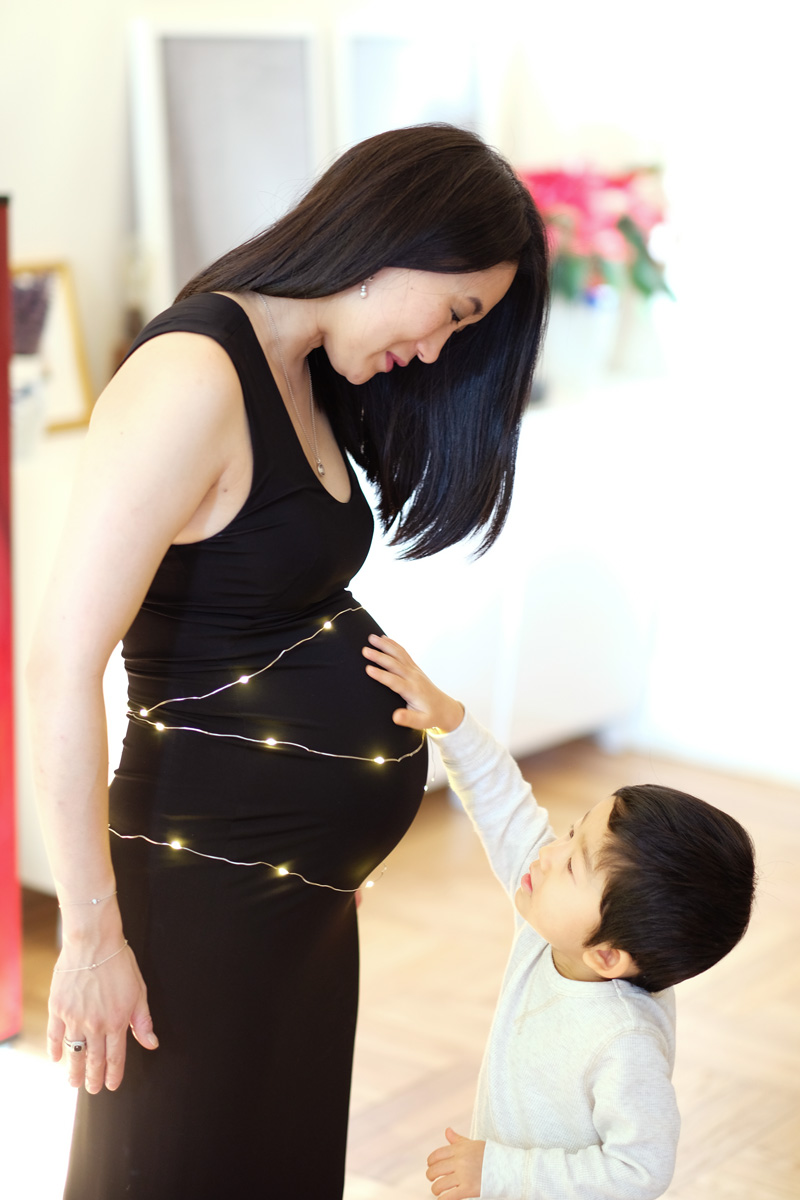 Heading into the start of my third trimester, I'm starting to feel the nesting urge a little more strongly. But since we are still considering options around moving to a bigger apartment, I haven't strongly thought about nursery design. Plus, we plan to keep her bassinet in our room for the first few months anyways, so that will buy us some time. Overall, we haven't done much baby prep as we've been so busy and Bash keeps me on my toes. But after we get back from California, we'll take a trip to our storage unit and start going through Bash's old baby stuff. I'm hoping we won't need much more gear so I can splurge on baby girl clothes (they are seriously the cutest and I can't wait to dress her!).
At this point, I'm not as anxious about being pregnant and the actual birth as I was with Bash. My previous OB moved offices so I have a new doctor who I love and will be delivering in a new hospital across town. I'm just hoping for no traffic when it comes time, as giving birth in an Uber just doesn't appeal to me, hahah. Given my OCD, I'm still shocked that I don't have a birth plan fully developed in PowerPoint slides with Excel charts and graphs. For now, I'll continue to keep an open mind and just roll with the punches (or more like stabbing pains to the gut).
I'm looking forward to sharing our remaining pregnancy journey, reliving those precious baby milestones, and sharing our favorite maternity and baby must-haves.