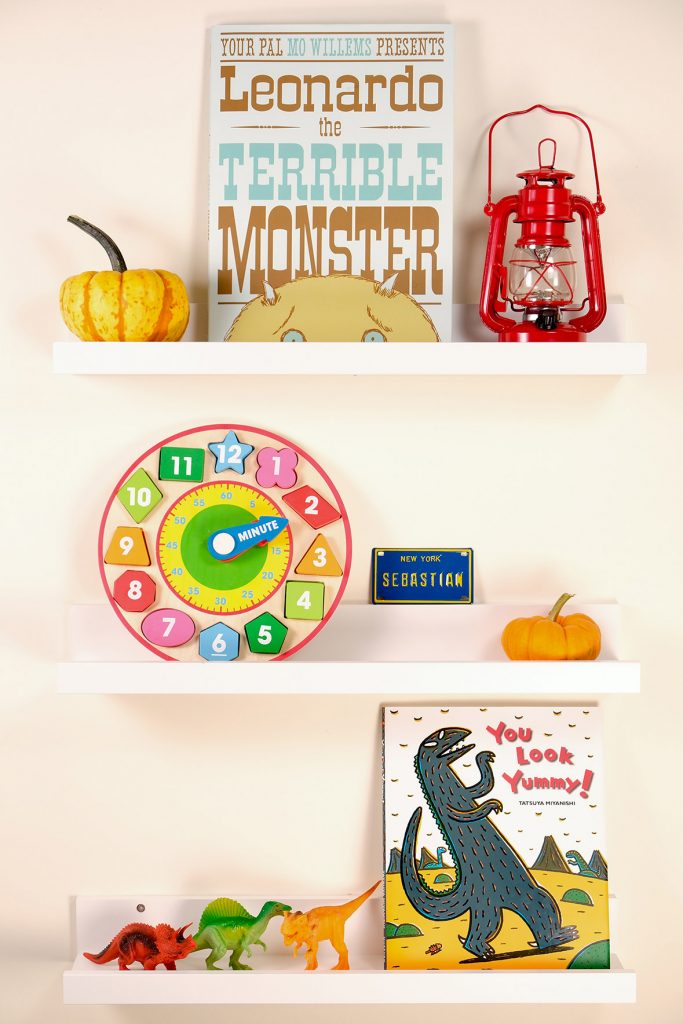 As we start building up to Halloween, we're getting in the spirit this week with two "monster" books: Leonardo the Terrible Monster and You Look Yummy. Recently, Bash has been very into monsters and we've been playing a lot of "hide, here comes the monster" games. Maybe he's seen one too many Halloween decorations, but it's amazing how his imagination has taken off with this concept. So far, we haven't found any monsters living under the bed yet!
What can I say: Mo Willems's take on monsters…yes, please! I was so excited to see Leonardo the Terrible Monster featured at our local outpost of Book Culture, especially since we usually get lost in a sea of our other favorite series (Pigeon, Knuffle Bunny, and Elephant and Piggie) by this prolific, award-winning author. Bash loves the cute, over-sized illustrations, and the multitude of facial expressions. As he gets older, I think he will start to appreciate the emphasis on feelings and the message about friendship. But for now, Bash enjoys trying to find the hidden pigeon (yes, the pigeon is hidden in every Mo Willems book) and finding ways to try to scare the "tuna salad" out of us! We also can't wait to check out the recently released sequel, Sam, the Most Scaredy-Cat Kid in the Whole World.
If you are looking for something new and a little bit different, check out this Japanese bestselling Tyrannosaurus series by Tatsuya Miyanishi. You Look Yummy is the first of twelve in the series to be translated. Bash was hooked by page 1's "boom boom boom…gurgle gurgle, crack crack, rumble rumble" and Nick was hooked by "I can't wait to be just like you, Daddy!" We all enjoy the colorful, stylistic illustrations and sweet message around parenthood. For older children, I can imagine the ending (no spoilers here) is a little confusing and will require some discussion. Overall, what's more to love about a story involving dinosaurs, roaring and thwacking, and family?! For those with a Kinokuniya bookstore nearby, the author is making his first ever US visit with special readings and signing events throughout October. Local New Yorkers can meet him at the Bryant Park location on October 21st, 2:00 – 4:00 PM EST. Check their full schedule for other locations across the country.
Happy reading!