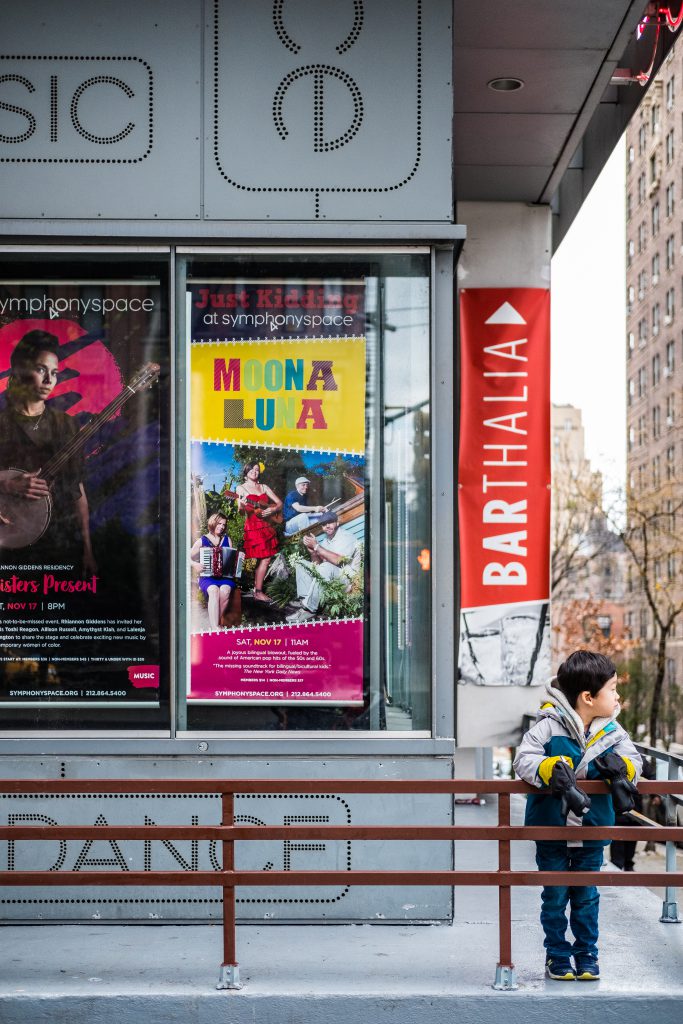 Looking for a fun weekend activity for your family?  Symphony Space's family-friendly series, Just Kidding, is a great way to introduce live performances to kids of all ages.  We were first introduced by Kid on the Town (my favorite site to find the coolest family happenings in NYC), attending the Justin Roberts and the Not Ready for Naptime Player's concert a few weeks ago.  This past week, we had the pleasure of being invited back to check out Moona Luna's rocking bilingual, Latin-influenced tunes!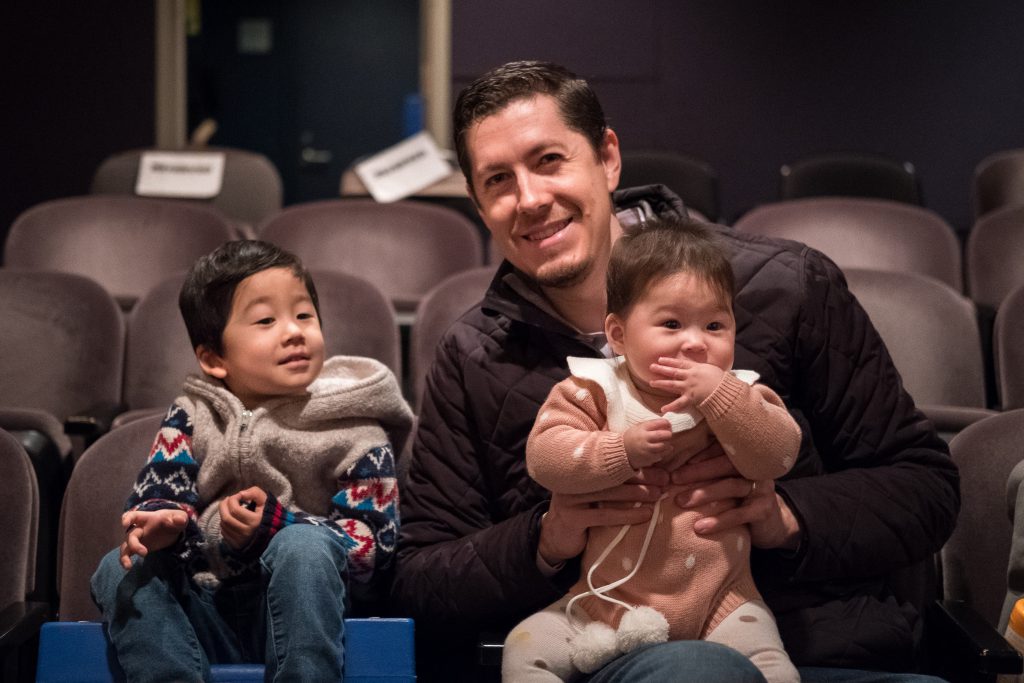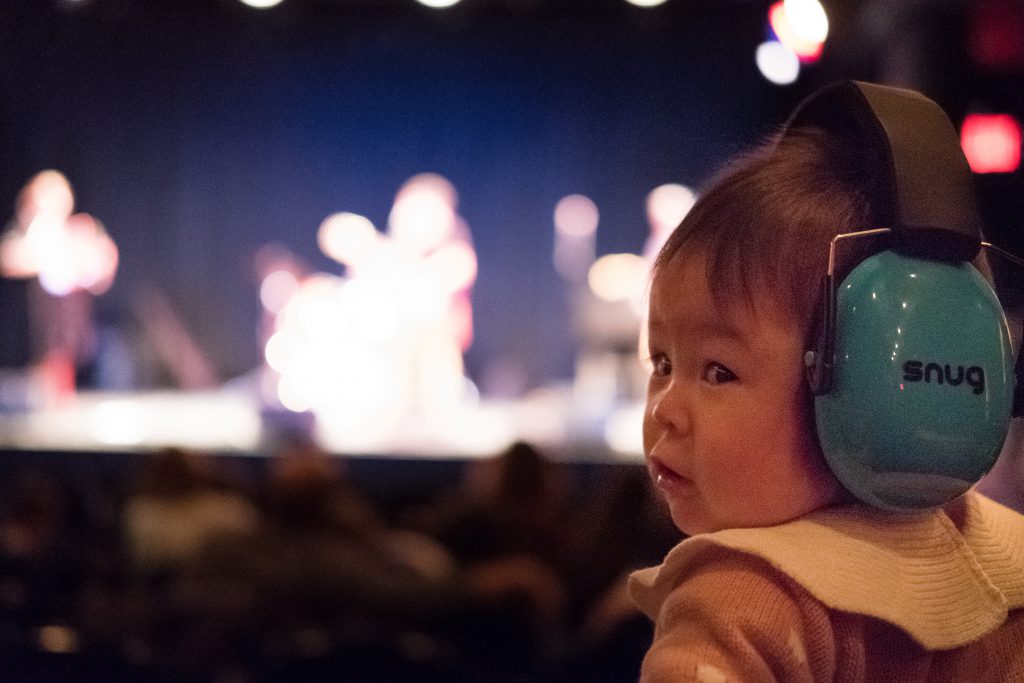 Moona Luna had the kids dancing in the aisles and the bilingual lyrics were perfect as Bash just started Spanish in preschool this year!  Ava even joined in on the action with some seat dancing and bouncing in the carrier.
The Just Kidding series is a great way to introduce kids to live performances.  Almost every weekend, the performance lineup has something for every interest: from musical concerts to puppet shows to dance!  Performances last about an hour and dancing in the aisles is perfectly acceptable to help keep those short attention spans in check (and burn off some of that toddler energy!).  Symphony Space has stroller parking in the lobby and booster seats readily available.  There's plenty of space in both theaters and no worries if you need to get up to attend to a child.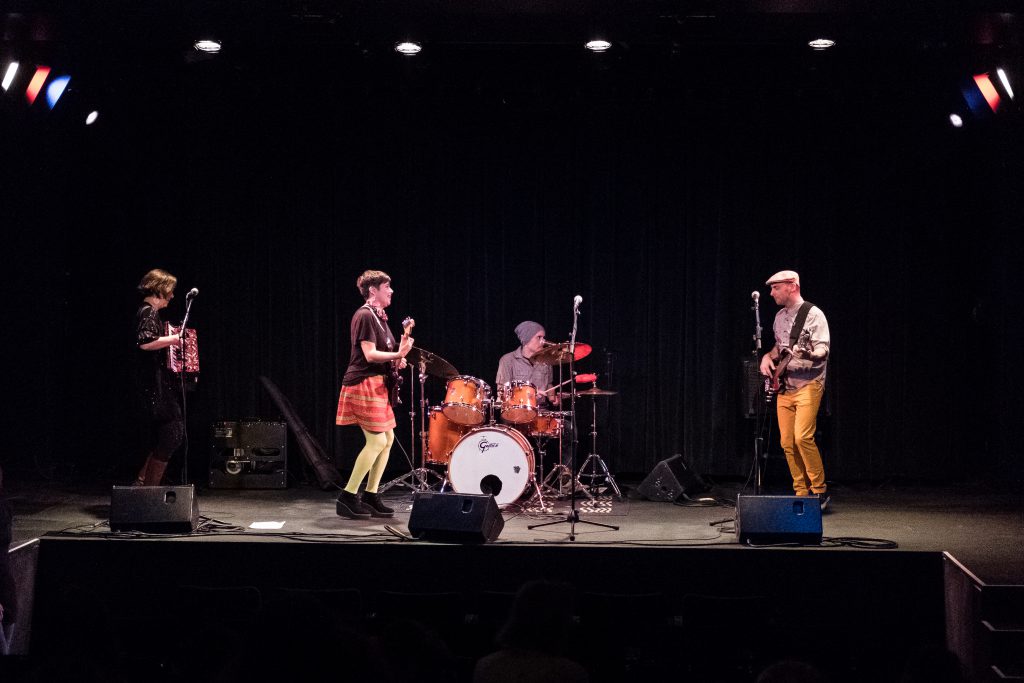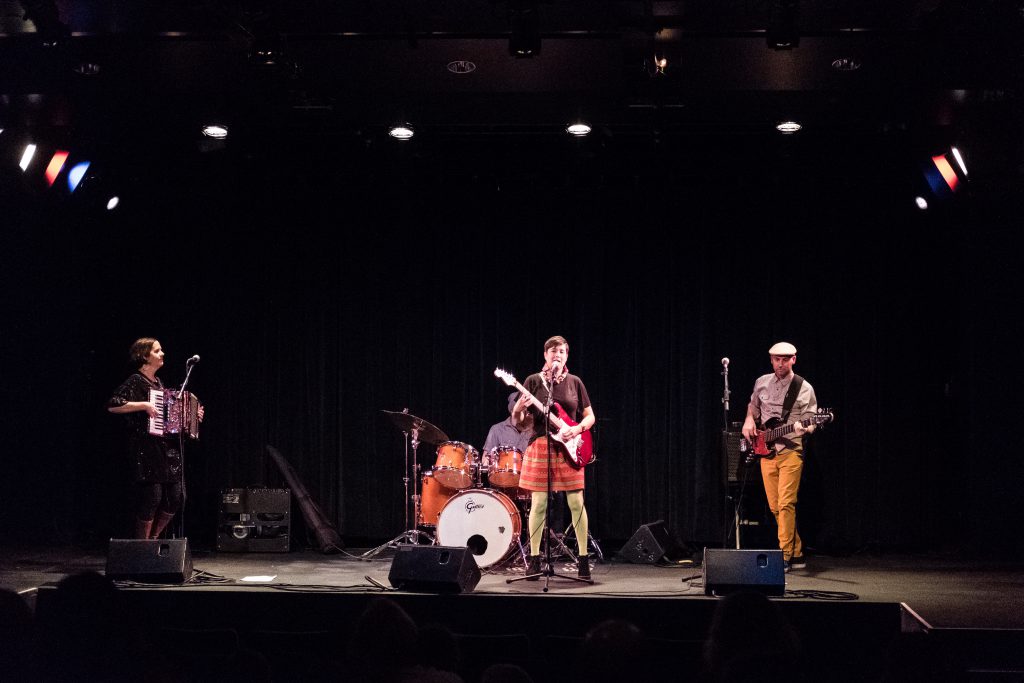 We love that this is in our neighborhood, a short walk away, but also right off the 1/2/3 train at 96th Street.  The bonus: post-concert lunch at 5 Napkin Burger, Carmine's, or (if you can get in) Jacob's Pickles!  We can't wait to head back soon and already have the Beats, Rhymes and Breaking dance extravaganza on our calendar (Bash is obsessed with breakdancing ever since he saw the street performers in San Francisco).
We are excited to partner with Symphony Space to giveaway a family pack of 4 tickets to their upcoming December 15th I Spy Butterfly show!  Follow @bashandco_ny on Instagram to watch for our giveaway!  We'll be posting all the info you need to enter to win via Instagram.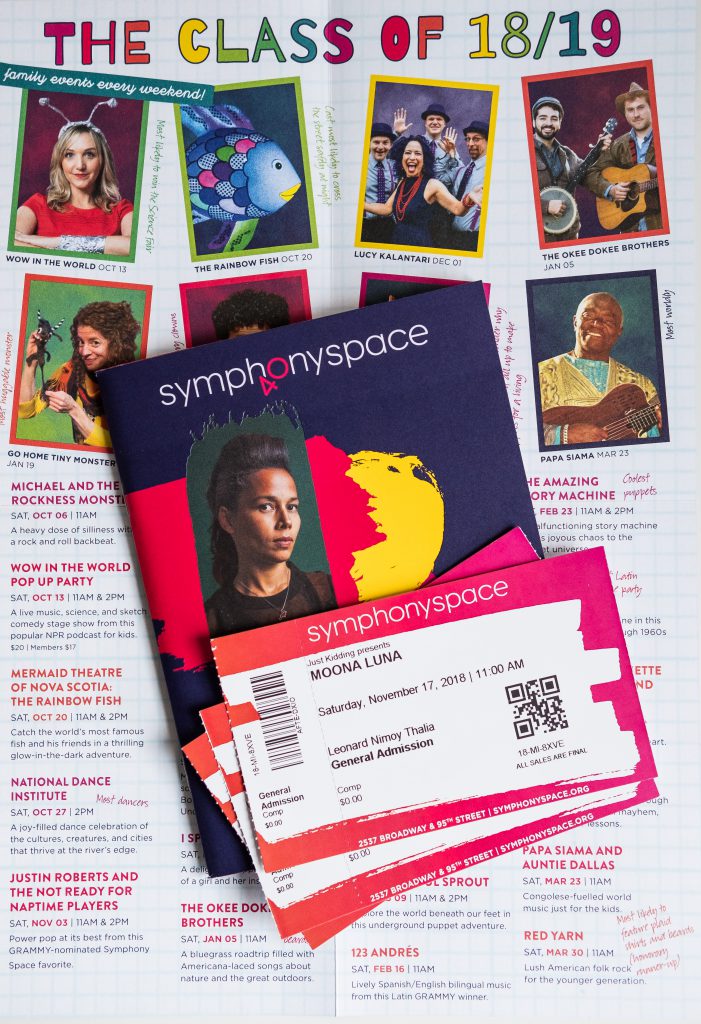 FAQs / Tips:
Kids under 1 do not need a ticket
Stroller parking is in the lobby next to the box office
Tickets can be purchased online or at the box office via phone or in person
We arrived about 5 – 10 minutes before showtime to grab our tickets at will call and find seats.  The shows start on time but there aren't extensive lines and it was easy to find our seats and get situated.
Volumes in both the larger Peter Jay Sharp Theatre and smaller Leonard Nimoy Thalia theater were good for kids.  Ava wore her headphones for part of the concerts just in case but there were plenty of infants enjoying the shows (at one point, I even saw a sleeping baby!).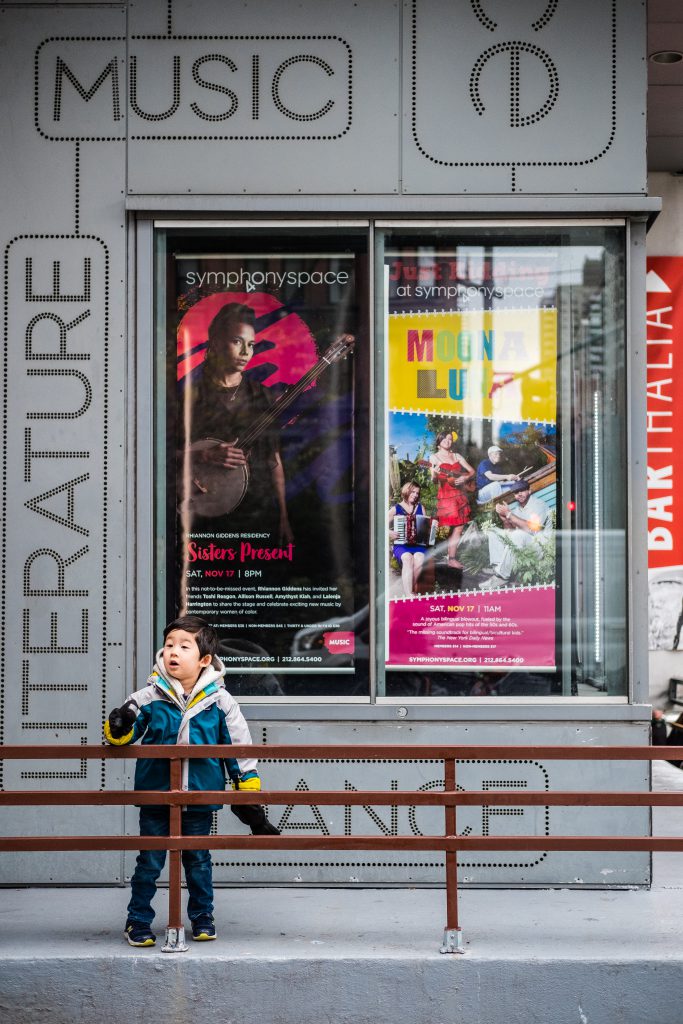 Upcoming Shows: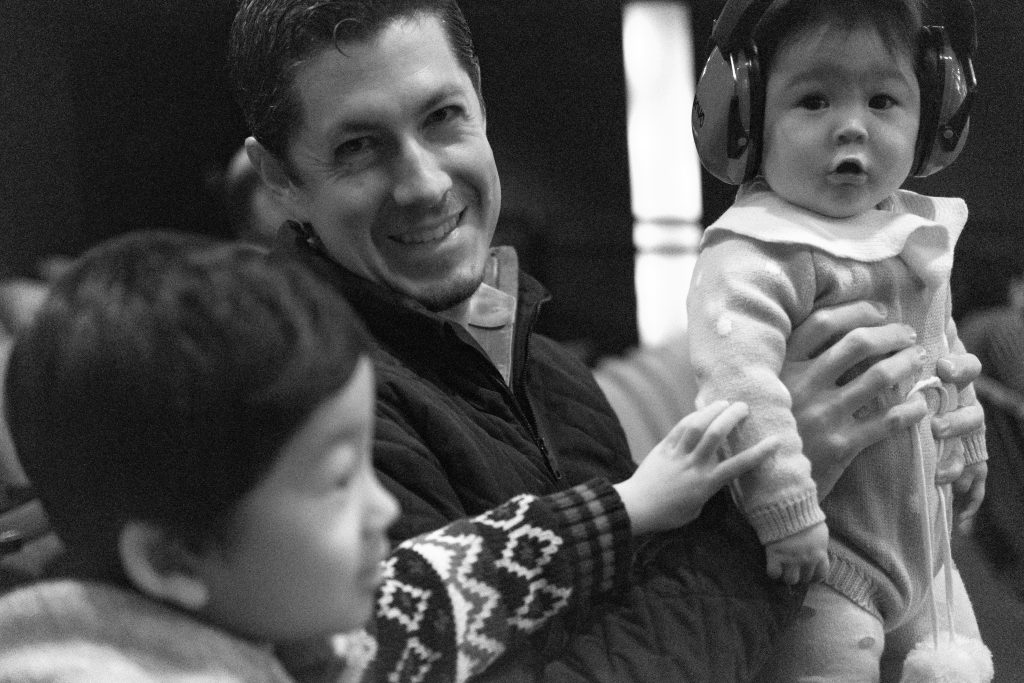 Do you take your kids to live performances?  What are some of your favorite shows?