Back in my consulting days, I lived on a plane. Literally, I LIVED on airplanes, flying the first flight out on Monday and the last flight out on Thursday every week for 10 years (minus the occasional "local" client which was a nice break from plane food but definitely took a toll on my mileage and status accrual). I was Diamond / Platinum / Secret Ambassador Status (yes, that exists; yes, I had it; no, it wasn't as cool as it sounds). So when it came to my first trip alone with Bash, why was I in such a panic? We had traveled several times with Bash over the past 2 years, but this would be the first time I would travel alone with an unpredictable toddler for basically a full day's worth of travel.
Here is what I did to survive traveling alone with a toddler…
Pre-Flight Travel Tips
---
Schedule during optimal waking hours: We chose departures around 10:30 so we wouldn't have to wake Bash up too early (like his momma, he loves to sleep in!). Flying during prime daytime hours meant he would likely miss his nap…not ideal, but definitely manageable.
Get psyched! Talk about the trip in advance. Explain where you will be going and all the new sights and sounds your little one will experience. We enjoyed reading Richard Scarry's A Day at the Airport about a week in advance. Bash was able to name each of the steps from check-in, security, boarding, take-off, and landing.
Travel light and ship the rest: Just because you are checking bags doesn't mean you should pack more. You still need to haul those bags from curbside to the counter when you depart and then from baggage claim back to curbside when you arrive…plus a stroller, plus a screaming toddler, and carry-ons. On the way there, we checked one large suitcase containing both of our clothes, shoes (yes, I limited myself to 5 pairs of shoes), his sheets and blankets (for a bit of familiarity and comfort), and a white noise machine. Any non-essential items we shipped or bought at our destination. Usually we order what we need from Amazon and have it shipped directly to the hotel ahead of time. It's very convenient to arrive and have your items already there.
Don't be a carry-on bag lady: Keeping with the "travel light" theme, don't overdo it with your carry-ons. Initially, I packed a whole toddler sized rolling backpack with toys for the plane. Of course, Bash refused to actually roll it, so I was stuck hauling it around (thankfully someone behind us was able to help me down the aisle). In the end, we didn't even break out those toys! Lesson learned, no need to pack a millions toys, just a few good ones. On the return flight back, I got wise and checked Bash's rolling backpack, leaving me with the right amount of carry-ons. While I probably still looked like a bag lady, I could easily maneuver the stroller, hold Bash's hand when he needed to walk, and get up and down the plane aisle with agility. My stash: a cross-body purse (my everyday go-to bag), a large canvas tote bag (not going to lie, it's pretty big, but I could manage it on my shoulder, and a travel stroller (not just any stroller, but the Guinness Book of World Records' smallest stroller!), and one hand left to guide Bash or pick up some last minute snacks at the airport!
Bag nesting: I totally picked up this tip from PurseBop's blog, but repurposed it for toddler travel. It's a simple concept: similar to a matryoshka nesting doll, you stack one bag inside the next for easy access and organization. In our case, I had 5 bags stacked inside my large tote: (Bag #1) Everyday tote filled to the brim with our entertainment, snacks, and wipes, (Bag #2) Lunchbox with additional meals / snacks, (Bag #3) Potty and supplies in a separate plastic bag, (Bag #4) Camera bag, (Bag #5) Ziplock with medicines and random supplies. I pulled out 1, 2, and 3 to keep under our seats and neatly fit our travel stroller back into the large tote along with 4 and 5 for overhead storage, as we really wouldn't need these things during the flight.
Pre-boarding: This really depends on your seat assignment, airline, and gate agent. But it's definitely worth a shot asking for pre-boarding permission. Just put on a big smile and have your toddler use his best puppy dog eyes!
Essential Toddler Carry-on Items
---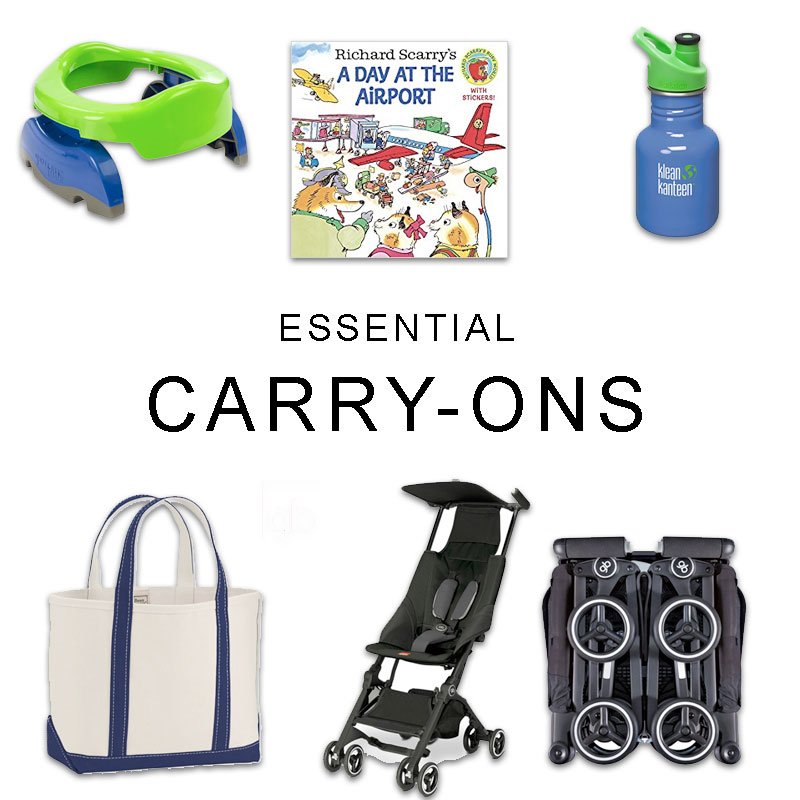 The tote: I think the tote is under appreciated as a travel bag, but it shouldn't be, it is the ideal carry-on bag. The open top gives you quick access to supplies, you can cram a bunch of stuff in it and not have to worry about zipping it closed, and I like that it stands upright when I set it down, I don't have to reach as far to pick it up when I'm ready to keep moving. When you aren't using it as a carry-on it easily repurposes as a nice beach bag. We use the Large LL Bean tote and love it.
Potty training supplies: Potette portable potty, pull ups, wipes, and hand sanitizer.
A change of clothes (or two!): I always carry extra clothes for Bash and I've used it on more than one occasion due to leaky diapers and spills. Extra clothes are a required item for us.
Scarf: in case it was cold on the plane, but I actually used it as a blanket for Bash when he surprisingly fell asleep on my lap on the plane ride home (bonus!).
Disinfectant wipes: critical for tray tables, window shades, seats, arm rests…pretty much everything you are about to touch.
Snacks / meals: While snacks are critical, don't forget a real meal if you are flying during normal meal times. The night before, I froze some spaghetti and meatballs and by the time lunch rolled around, it had defrosted perfectly for eating. Beyond just snacking, I think having the solid meal really helped keep him happy. Oh, and don't forget about yourself! I made that mistake on the flight out. By the time we got to the gate and actually found a seat (at Laguardia, if you miraculously find a seat, you just don't give it up), I had forgotten to get coffee and breakfast for myself. Needless to say, I was stuck the next 7 hours munching on pretzels and secretly stealing bites of Bash's lunch.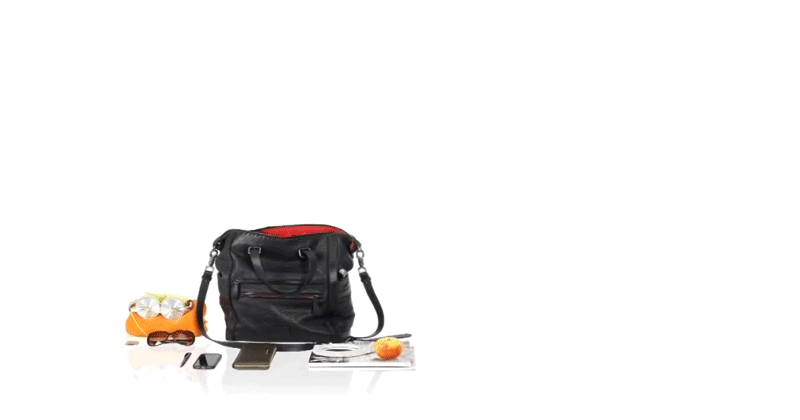 Stroller: I LOVE the GB Pockit stroller!! Especially for airplane travel, it fits down the aisle and then folds up into a little rectangle that fits perfectly (and discreetly) in my large tote bag. No gate checking or hassles with skeptical flight attendants with this one folks! Seriously, all of the families waiting for their gate-checked strollers were inquiring about our stroller that I unfolded single-handedly while carrying all of our bags as soon as we deplaned. We'll do a bigger review of this stroller in a future post; yes, we love it that much!
Medications: Tylenol, Zyrtec (over-the-counter allergy medicine, you never know if someone's overbearing perfume will cause an allergy), saline solution, etc.
Extra Bags: Bring extra zip-lock bags and a small plastic bag for all of the trash you will be accumulating during the flight.
Water bottle / sippy cup: We like the Klean Kanteen with sport cap (and the carabiner comes in handy to clip it on to bags, seat back pockets, etc.).
In-Flight Toddler Entertainment
---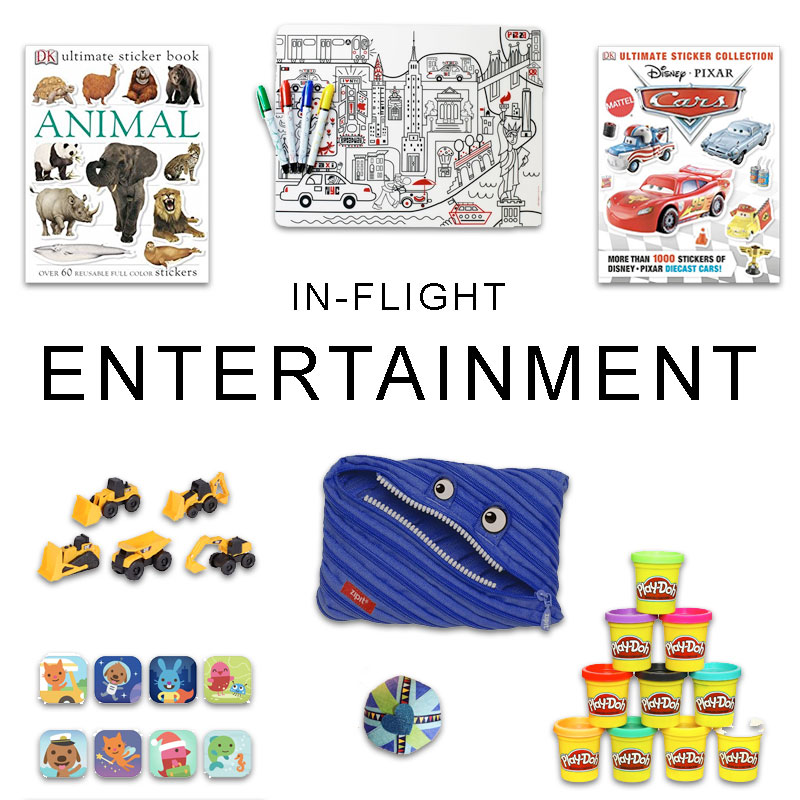 How We Kept Entertained During the Flight:
The Plane: First toy is the plane itself. Don't be so eager to bust out the toys…pace yourself, this is a long-distance marathon. Once settled in our seats, we spent the first 30 minutes or so playing with everything on the plane. Seat belts, window shades, and lights are fascinating to two year olds (cue the disinfecting wipes). And that safety card in the seat back pocket? It's essentially a picture book! Since Bash is fascinated by moving vehicles, we spent a lot of time watching the ground crew at work. Oh, and a seat right behind the wing offers a great view of the pre-departure checks of those wing flap things that go up and down during landing. Basically, we didn't even break out a toy until about 10 minutes after take-off. Exciting times!
Sticker / activity books: these books were lifesavers! While they didn't give me any free time, as Bash still needs some help peeling and matching, these probably killed a good 20 – 30 minutes and are relatively lightweight. Our picks: Car Stickers and Animal Stickers
Creative activities: These are all things that I pretty much carry with me everywhere I go. I never leave home without the Mark Mat – it's a compact silicone placemat that we use at restaurants for the dual purpose of eating off a sanitary surface and you can color on it! Perfect fit to cover that airplane tray table! Some washable crayons or markers with a small notepad and a few mini tubs of playdoh all fit into this cute monster pencil case, which doubles as a toy (kids can unzip and re-zip the whole bag!). These Melissa & Doug Water Wow coloring books scratch the painting itch without the mess.
Cars and Trucks: Of course, we had to bring a few favorites along….a handful of cars, mini construction vehicles, and a small bag of dried beans. Bash likes to pretend the beans are rocks and moves them from one section to another. We got a few stares, but hey, it kept Bash happy!
Surprises: Add in a few fun new toys – the novelty alone will buy you an extra 30 minutes! A bunch of people recommended wrapping the presents for added excitement. Oh, and a brilliant mom hack – a friend even suggested wrapping snacks! I didn't have time to pre-wrap any presents, but I did have a leftover surprise ball from Bash's birthday party favors. Yeah, this was a big hit!
iPad / iPhone (any tablet): Last but not least, these are the sanity savers! I tried to save them for last, but just broke them out when I needed a break. I think next time I'll invest in a pair of toddler headphones (any recommendations?) but this time we just kept the volume relatively low and no one even batted an eye. Beyond a bunch of Amazon downloads, here are a few games that Bash really enjoyed (for iOS):
Sago Mini: This app has a suite of games that Bash loves. From building robots to making music, these are colorful, fun, and Bash picked up on what to do immediately and independently. It's a small cost, but worth it.
Monkey Preschool Lunchbox: Electronic versions of matching games, puzzles, and shape/counting activities, which means all the fun without the possibility of losing multiple pieces!
Look and Find Elmo: Basically like a bunch of Where's Waldo style games where you have to search for specific objects amongst a a busy background.
BOB Books Reading Magic (Beginning Readers): Similar to the book series, this app focuses on matching and pronunciation of letters. With the focus on letter recognition, I feel a little less guilty when he plays this game.
Finally, don't forget to bring something for yourself. I was so focused on packing toys and activities for Bash that I completely forgot to bring any books / magazines for myself. I figured I would be spending 110% of my attention on Bash, but I actually had some time to doze off and scroll through my phone / iPad (whichever of the two wasn't occupied by Bash).
If you have any upcoming trips, I hope these tips are helpful and GOOD LUCK! We'd love to hear what's worked for you (in-flight cocktail totally acceptable)!