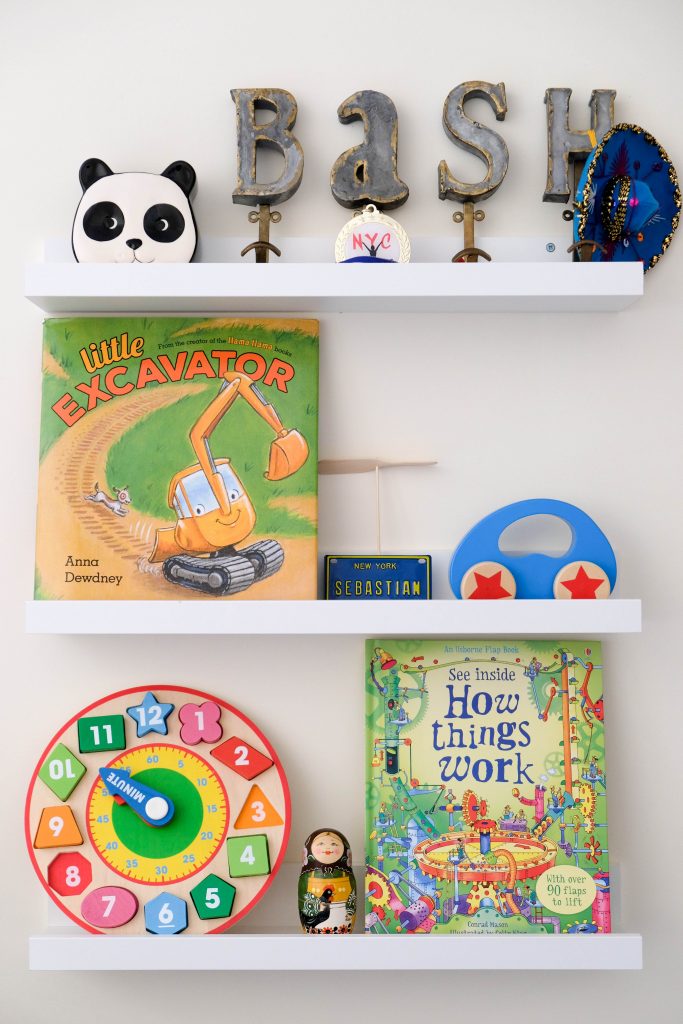 We love that Bash enjoys burying his head in a good book!  Often times, he requests (well, insists) we read his favorites over and over again, which we happily oblige, until rote memorization or parental ennui sets in.  So, to keep it fresh, we like to "feature" a couple of new books each week.  Similar to rotating and refreshing visible toys to keep them new, this is an easy way to highlight some new faves.  At Bash's eye-level and using the Amazon Bookstore method of display, he's "in control" and gets excited to discover a "new" book.
For the upcoming week, we are looking forward to digging into Little Excavator and How Things Work:
Little Excavator is our favorite of the Anna Dewdney books (she's also the mastermind behind the Llama Llama series).  This book has a great group of characters (especially since Bash loves all things construction related), a fun rhythm and cadence, and a cute message for little toddlers eager to help.  We happily now refer to all diggers as "Little E"!
A good friend and fellow mom to Bash's BFF highly recommended Usborne Books – they are packed with great information, detailed illustrations, and tons of things to ooh and ahh over (and help build your little one's vocabulary).  While not a classic storybook, How Things Work boasts tons of engaging liftable flaps and descriptions of the underlying mechanics of everyday objects and complex machinery.  We definitely haven't made it through all of the objects yet, but this is one book that will be sure to grow with our curious little learner (I'm just waiting for the "why" phase!).  When you are ready to move beyond those board book lift-and-flaps, or if you just want to start nurturing a budding engineer, this one's for you!
Happy reading!