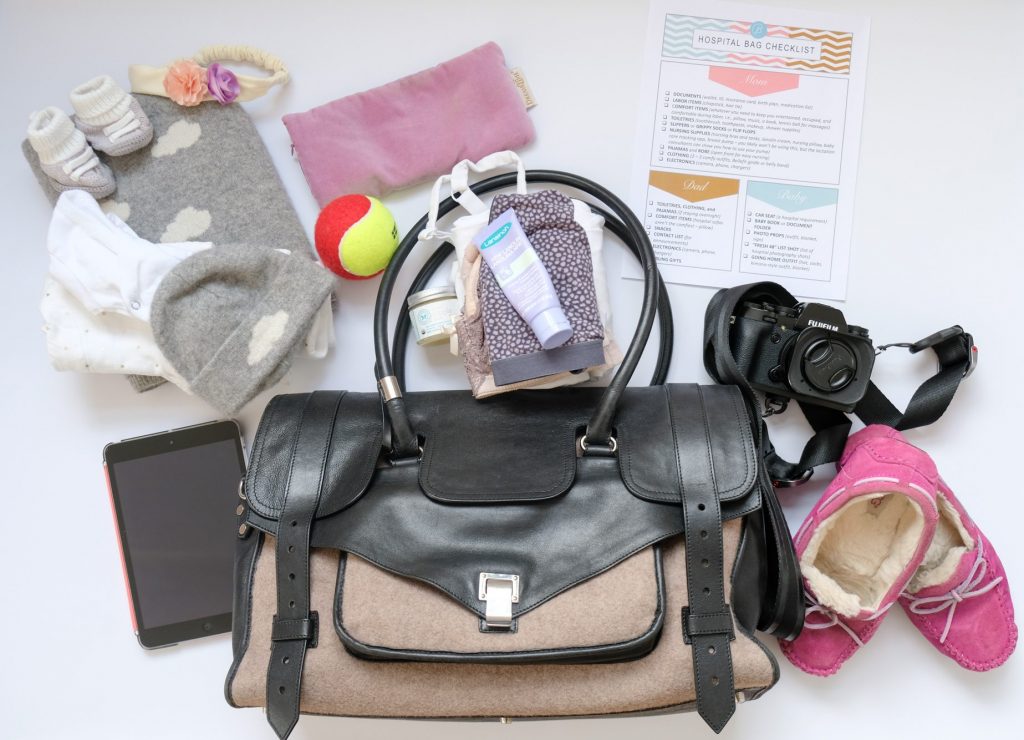 I woke up in a state of panic as I felt baby girl "drop" – it seriously felt like I was on the downhill of a roller coaster followed by some intense Braxton-Hicks.  I honestly don't remember having the same sensation while pregnant with Bash, but it jolted me awake at 4 AM Googling "signs of early labor".  While it's totally normal for baby to drop 2 – 4 weeks before delivery, some say that it happens closer to labor for subsequent pregnancies, so I went into full panic mode with so many things left to do on my Third Trimester Checklist.  Thankfully, the Braxton-Hicks passed, but it definitely kickstarted me into action to get my hospital bag packed and ready to go.
While pregnant with Bash, I started packing my hospital bag around week 35 (I kept having crazy, vivid dreams that he would be early).  I had his baby gear and most of my supplies packed, along with a checklist of toiletries, clothing, and other essentials I'd need to pack during the onset of labor (which kept me distracted and gave me something to do while waiting).  As a first-time mom, I way over-packed, arriving at the hospital with my purse, diaper bag, work bag, and my trusty "consultant's sidekick" Tumi wheelie suitcase.  While it can't hurt to be over-prepared, I probably looked like I was jetsetting off on a European vacation.  The reality was that we were a 10 minute cab ride from home, for a 2 – 4 day stay (depending on delivery), the hospital provided everything we needed (and more), and I was pretty exhausted / overwhelmed to even use half the stuff I packed.  This time, I plan on limiting it to a weekender bag and my everyday tote I use as a purse.
Depending on your preferences and how far away you live from the hospital, you really don't need to bring a lot of stuff.  The hospital is going to have all of the newborn baby gear and postpartum care supplies during your stay and you'll want to have some room to lug home your postpartum goodie bag.
So, here's what I'm packing (and skipping) this time around, along with a printable checklist that will hopefully come in handy for some early labor distraction.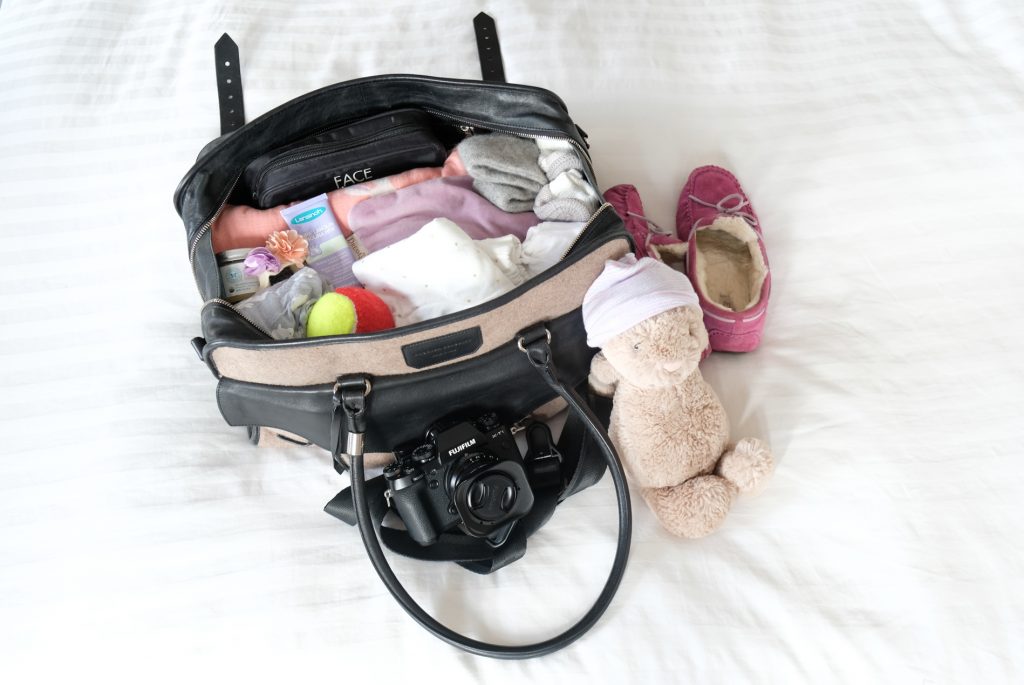 For Mom
Must-have documents: ID, insurance card, medical information (medications list, allergies, birth plan – or at least be upfront stating your preferences), hospital pre-registration forms
Labor essentials: chapstick, hair tie, entertainment (book, iPad, music)
Clothing:

Nursing bras / tanks (2)
Robe – I really liked having a robe as I could still wear the hospital gown underneath for early visitors and it got chilly in our room
Slippers or socks with grips – the hospital will provide socks; I just preferred my own slippers
Flip flops – good for shower shoes and swollen feet
Pajamas – easily accessible for nursing
Going home outfit – thinking I'd be all Kate Middleton, I brought a dress for going home. But my legs were so swollen and several weeks unshaved (that belly can sure get in the way), I wound up wearing the same maternity leggings I arrived in (which also had much better support for the ice diaper you'll be living in).  I went to one of the hospital's breastfeeding workshops down the hall and was probably the only one actually in clothes; most just came in their hospital gowns, so think comfy and stretchy!
Postpartum belly band (my friends who've had c-sections swear by the Bellefit girdle to help keep pressure on the wound)

Electronics: phone, chargers, camera, iPad, extra batteries / memory cards
Toiletries: your daily essentials (toothbrush, toothpaste, makeup, hair, and skin care products).  Don't fret if you forget something as many hospitals will provide bath supplies and travel-sized toiletry items
Nursing supplies:

Nursing bras (2)
Pump: this is not an essential as it will likely take a few days for your milk to come in and hospitals will likely have them on hand.  However, most hospitals offer free lactation consultants who can help you figure out how to use your pump.  I wound up not even breaking out my pump for a few weeks and my insurance company covered follow-up phone consults with lactation nurses
Nursing pillow – I brought my Boppy but Nick wound up using it as a pillow.  Personally, I never got into the nursing pillow as it was too high for my torso

Comfort items: whatever will make your labor and stay more comfortable whether it's a pillow from home, tennis balls for massages, lavender eye pillow, music, etc.
Snacks: the reality is that these are most likely to be eaten by your partner as you likely won't be allowed to eat anything other than ice chips as your labor progresses.  After delivery, food was the last thing I was thinking about, but many friends have mentioned they were famished after delivery.  Our hospital had pretty good food (including a cute, personalized, tasty cake) and our visitors brought lots of goodies!
Baby care app: the nurses will likely have a paper-based chart to track feedings, diaper changes, etc.  This is a great time to start testing out your baby care app.  And remember, the analysis is only as good as the data inputted!  We loved the Sprout Baby App and plan on using it again
What you definitely DO NOT need:
Champagne: My first time around, I thought as soon as I delivered Bash, confetti would fall from the ceiling and champagne bottles be poppin.  Um….no!  Although a celebratory toast would have been nice, champagne was the furthest thing from my mind post-delivery.  I was in a weird state of exhaustion + euphoria, and I just wanted to hold my precious new baby.  Plus, you are nursing around the clock for colostrum and to get your milk to come in, so it's probably best to delay the celebratory champagne.
Work Stuff: As I went into labor a few days early, I brought my work bag and laptop as I had a few scheduled conference calls for that day.  Call me crazy, but while waiting for labor to progress and feeling generally okay, I thought I would get a little bit of work done in the morning.  While I honestly was about to hop on a call, I decided to pass it off to my colleagues to prevent any awkward moments when the nurses came in to check on progress.  After that decision, the work computer never made an appearance and was just another bag to lug around.  Even if you're feeling good during labor and want some distractions, I'd suggest some chill entertainment – magazines, download some shows, play cards, or try to take a nap and rest up (easier said than done!).
Postpartum Supplies: Save all of your pre-purchased supplies for home!  The hospital will have everything you need and don't forget to ask for extra supplies to take home.  Personally, the hospital's mesh undies were perfectly fine for me (definitely not glamorous, but stretchy and disposable are key!).
For Dad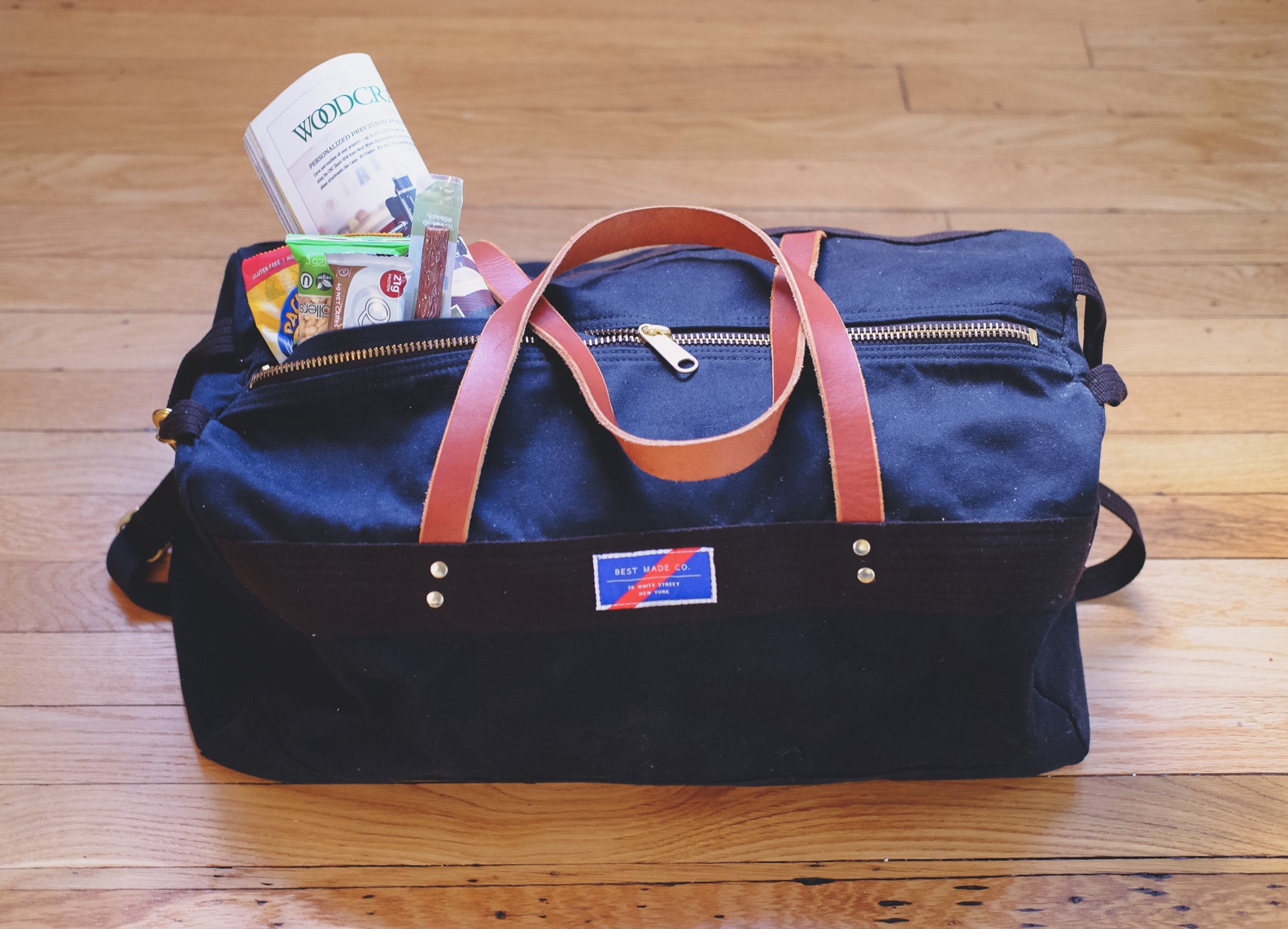 This section really depends on how far away you live from the hospital and your rooming situation.  Nick doesn't even remember packing a bag for himself.  Even though we were lucky to get a private room which allowed him to stay overnight, he didn't bring a lot.  Since we were close to the hospital, he went home to shower and change. (Side note, we highly recommend a private room, sharing a cramped room with a neighbor and newborns is not a great way to rest post delivery).
Pajamas, change of clothes, toiletries (if staying overnight)
Comfort items: pillow – that hospital pull out is not the most comfortable
Entertainment items
Electronics: phone, camera, chargers
List of contacts (if your partner is responsible for birth announcements)
Gifts for siblings
For Baby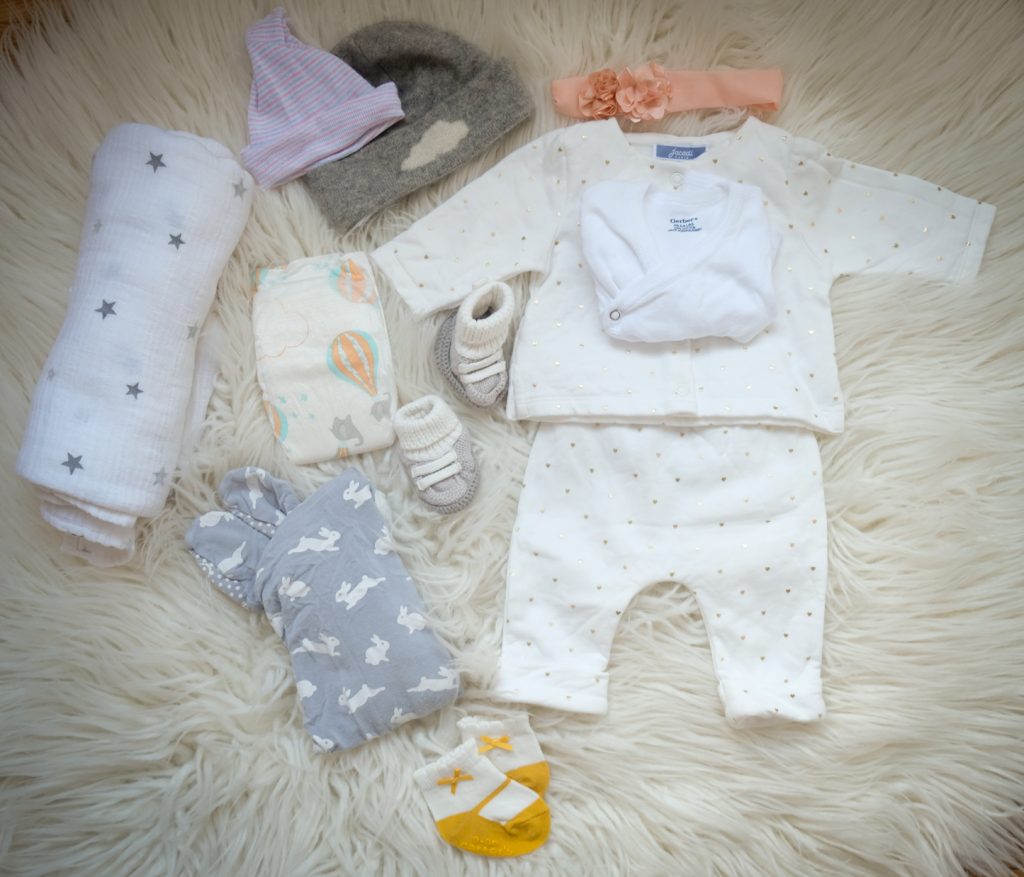 Car seat: this is a hospital requirement if you plan on leaving in a car
Going home outfit: hat, kimono-style / side-snap outfit, blanket.  You can certainly bring more outfits if you'd like but the hospital will provide diapers, clothing, and blankets; some hospitals even require the baby to be dressed in their clothing for identification purposes
Photo props: blankets, stuffed animals, signs
Baby book / folder to document birth story
"Fresh 48" list of newborn hospital photo shots (see our Pinterest board for ideas)
What to Skip:
Diaper bag and newborn care supplies: The hospital will provide everything you need to care for a newborn over the first few days.  Unless you have a specific preference for brands / products for your baby, I'd recommend just using the hospital supplies (you're paying for it anyways).  If anything, bring the diaper bag empty so you can fill it with the stash of extra newborn supplies from the hospital.  We came back with extra diapers, formula, a blanket, hats, a couple of kimonos, a bulb syringe, saline spray, and samples.  And that was just baby's stash.
Our Handy Printable Checklist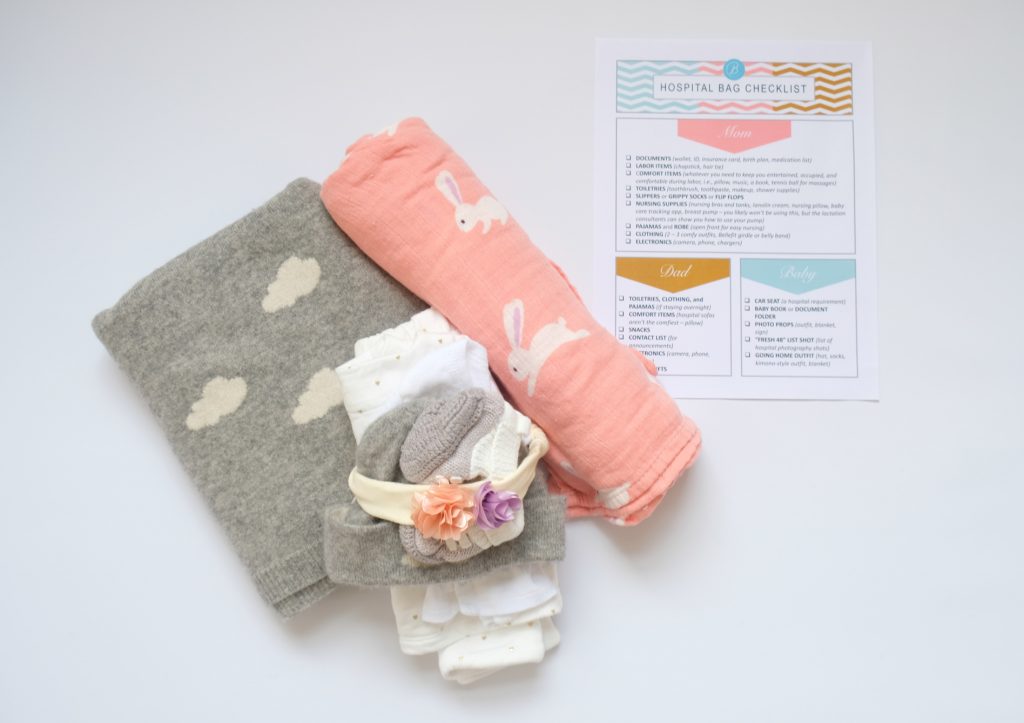 What were your hospital bag essentials?  Anything you wish you had the first time around?