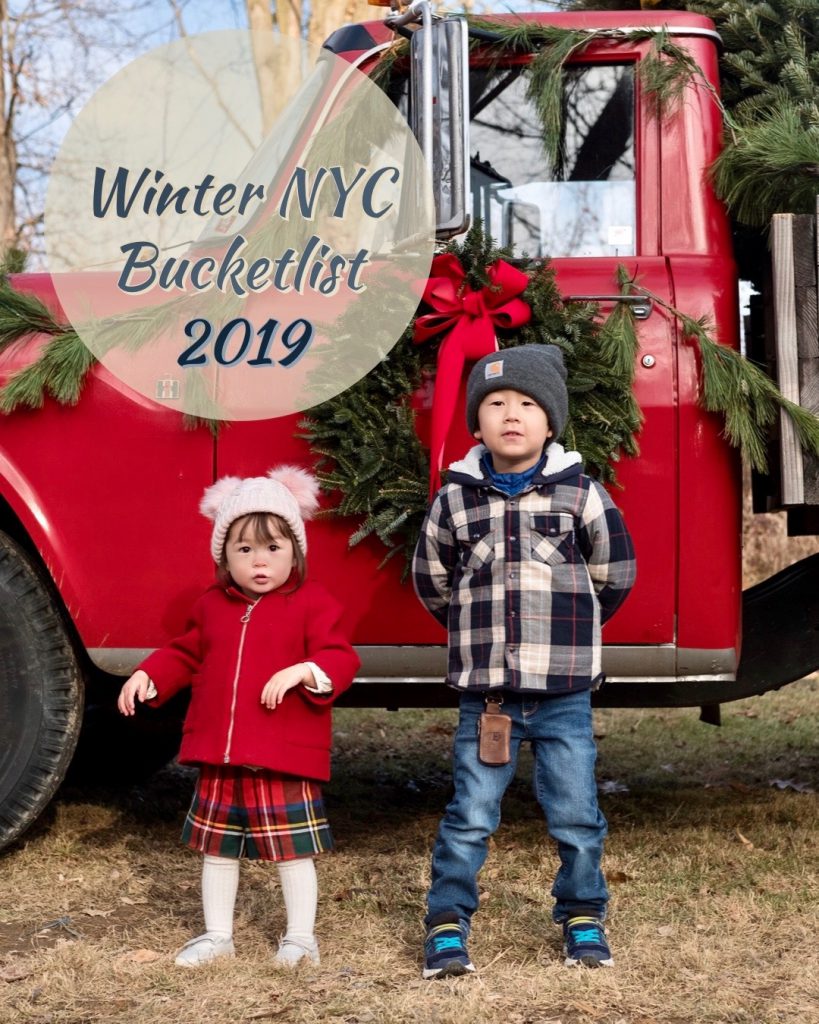 It's the most wonderful time of year in New York City!  The weeks between Thanksgiving and New Year's are magical as NYC goes all in when it comes to holiday festivities.  The shops get dressed up with their best displays, hot chocolate wafts through the air masking the usual city odors, and mulled (spiked) cider is a perfectly acceptable afternoon indulgence!  With only 3 weekends until Hanukkah and Christmas this year, I'm getting super organized to plan our family's winter adventures.  We've already passed a nasty cold around (twice) and had our first slushy snow of the year, so here's hoping we're in the clear for some amazing winter adventures.
Deck the Halls: Santa Sightings and Festive Decor in Midtown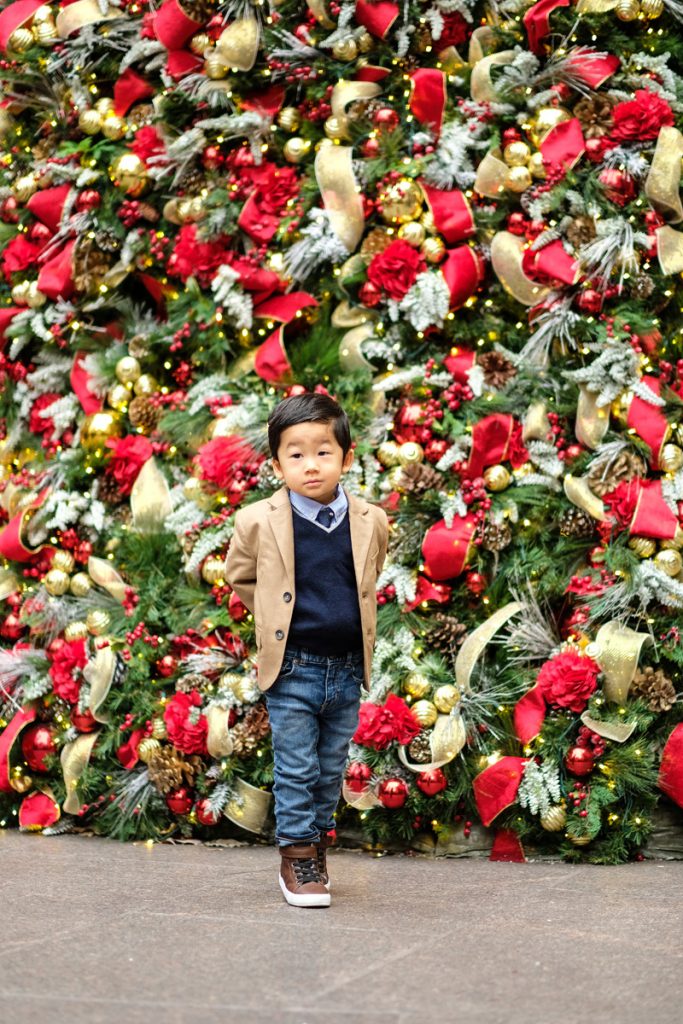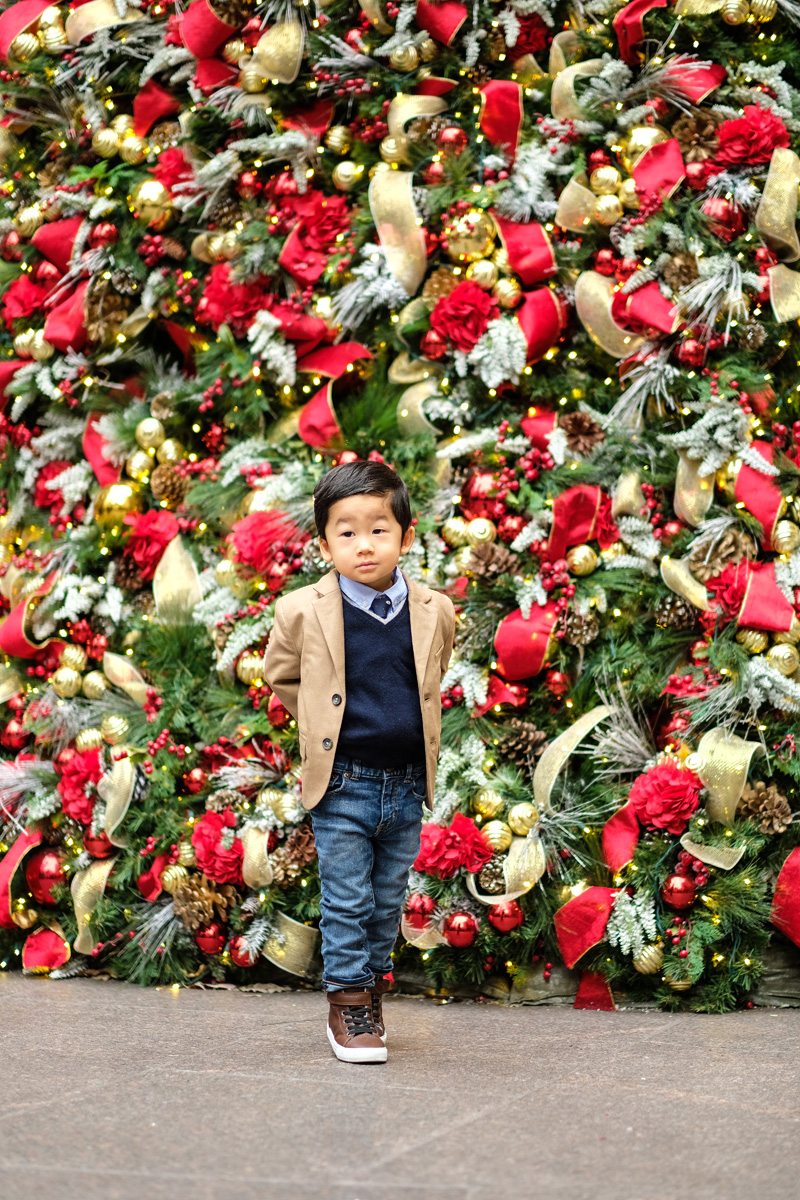 Santa at The Plaza Hotel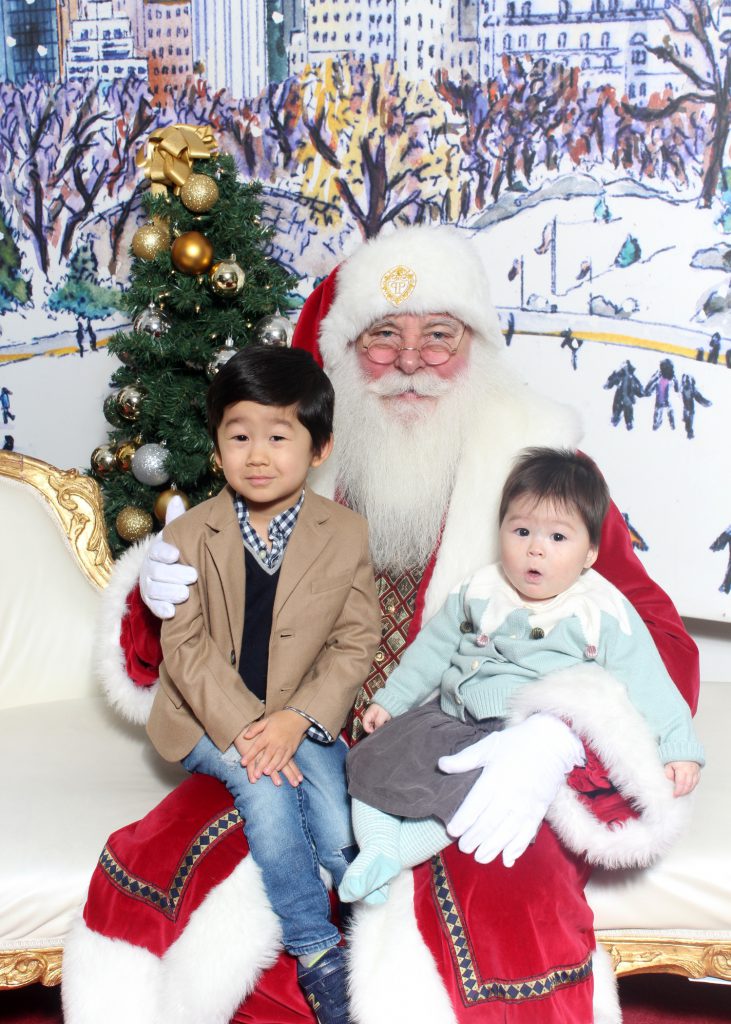 Every year we visit Santa at the Plaza Hotel.  Maybe it's our annual homage to Home Alone 2 or because it's such an iconic NYC landmark with so many holiday festivities, but we love the Santa here – he's super authentic and nice, actually, I'm pretty sure he's the real deal (I mean, he knew what song we sang to Bash on his birthday…wink wink!).  In terms of logistics, we haven't had too bad of a wait.  You can make an appointment on their website (from 11 AM – 7 PM), but no weekend openings are available and the annoying thing is that they don't actually list their hours online.  If there is a wait, you can always take turns grabbing snacks at the Todd English Food Hall and / or checking out the Eloise store.
We also like visiting the Plaza's festively decorated lobby areas and checking out the white and gold trees.  As a heads up, go during the week when it's less crowded as they've closed the lobby to guests only on weekends.  Alternatively, book brunch at the historic Palm Court for prime access and viewing.
Midtown Festivities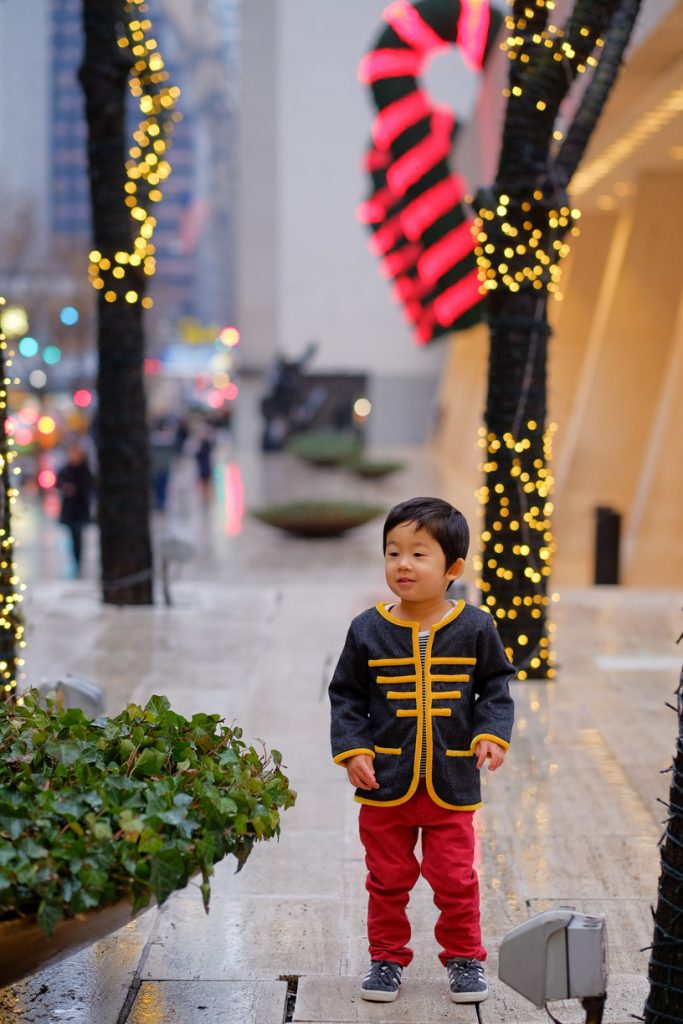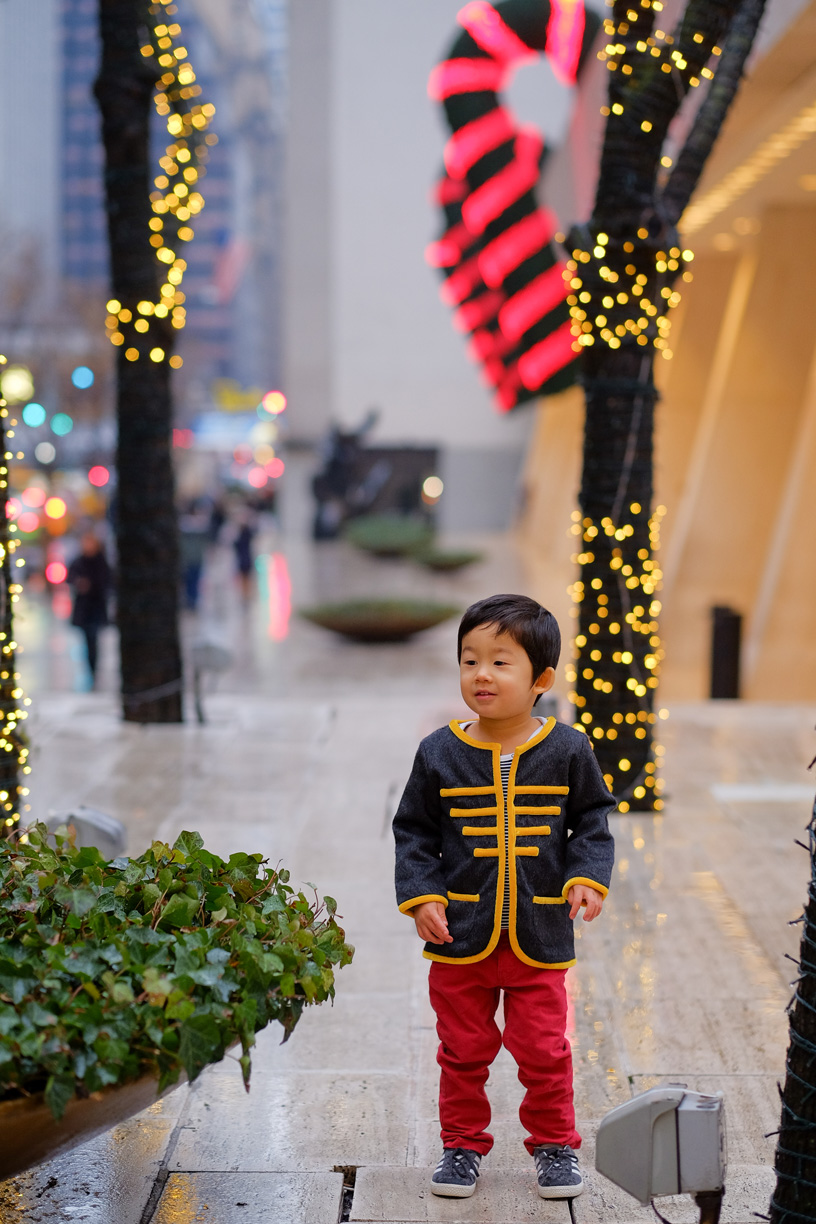 After visiting Santa, we like to tree hop around Midtown as there are so many great decorations.  This is the one time we actually enjoy hitting up touristy hotspots to see them glitzed out in holiday decor.  Our favorites with all the trimmings:
The Lotte NY Palace Hotel: go early in the morning as Chuck Bass's hotspot lures a selfie-loving crowd to the romantic courtyard.  Don't be shy…stop inside the lobby to deliver your letter to Santa's mailbox and take some photos on the grand staircase.  Santa visits every weekend (Saturdays & Sundays) 10:00 – 10:30 AM for storytime and photos until 12:00 PM.
Rockefeller Plaza: you can't miss this one as it's quintessential NYC.  Head there early in the morning and also at night to see it all lit up; expect crowds all day long.  Since you're in the area, stop by FAO Schwarz, usually crowded during the holiday season but worth a visit for the nostalgia (and the salad guy does a pretty entertaining demo!).
Midtown East (from 47th to Central Park South / 59th Street between 6th Ave and Madison): Radio City Music Hall (51st and 6th), Rockefeller Plaza (49th and 6th), office buildings along 6th Ave (i.e., jingle bell fountain), the red LOVE sculpture at 55th & 6th, and the candy cane office building decorations on 58th between 5th & 6th.
Department Store Windows: Bergdorfs, Bloomies, and Saks; all the shops along 57th and 5th.
Midtown Hotel Lobbies: The Plaza Hotel, The Lotte Palace Hotel, The St. Regis (stop here for a champagne and mac and cheese!), The Peninsula Hotel, and The Baccarat Hotel.
Park Avenue north of 54th: lit up trees lining the avenue.
Sleigh the Season: Get in the Holiday Spirit with a Show

The Hip Hop Nutcracker at Kings Theater
While we took Bash in utero to the NYC Ballet's performance of The Nutcracker, I think he is still a little too young to sit through that production.  So I was super excited to discover The Hip Hop Nutcracker which is performing at one of our favorite venues, the Kings Theater in Brooklyn on Sunday, December 15th (there are 2 shows: 2:00 PM and 6:30 PM).  Set to Tchaikovsky's original score, this production is sure to dazzle with "a dozen all-star dancers, a DJ, a violinist, and MC Kurtis Blow, one of hip hop's founding fathers, who opens the show with a short set".  Since Bash is majorly into breakdancing and he's been taking a hip hop class this fall, I think he's going to be absolutely enthralled with this performance!  Just check out the promo video and you'll be amazed.  I've already heard some stellar reviews from friends who've seen the show both with and without kids.
Symphony Space Just Kidding: Beats, Rhymes, and Breaking
Since Bash loves dance, we're also planning to see the Beats, Rhymes, and Breaking at Symphony Space on Saturday, January 4, 2020 (11:00 AM and 2:00 PM).  We went last year to indulge Bash's breakdancing interest and he had a blast!  He even got up on stage to show off his moves and learn some new ones!
Sprucing It Up: Visiting Tree Farms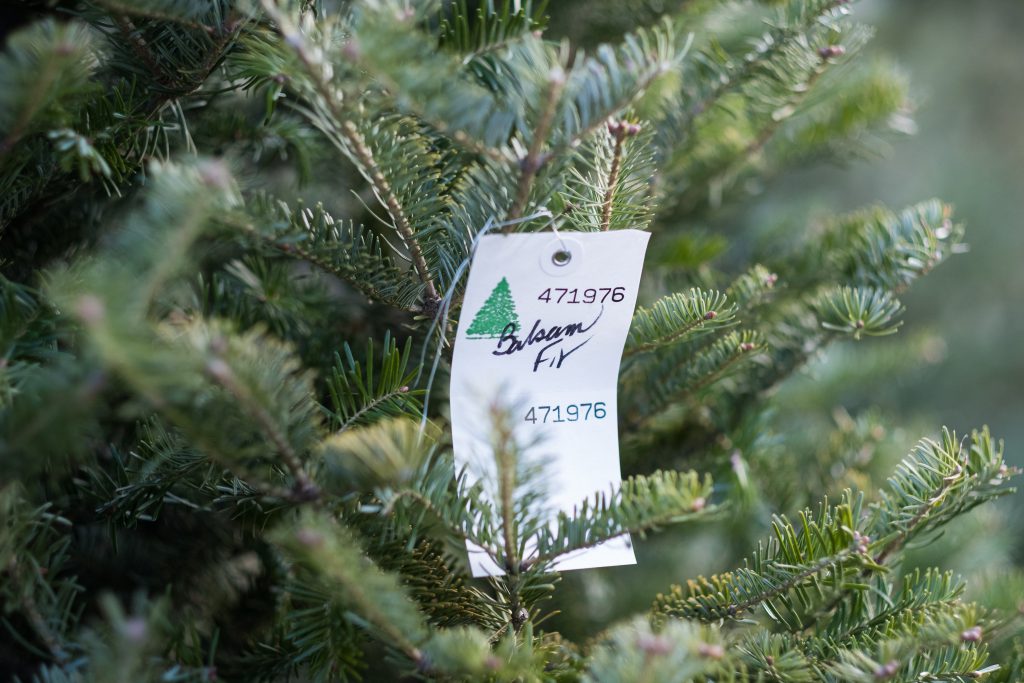 Okay, I cheated – we actually already checked this one off the list last weekend!  We had to stop at our storage unit upstate to grab our holiday decorations and then made the trek further north to visit our 2 favorite Christmas tree farms.  We actually get our main Christmas tree delivered through Bash's school fundraiser, but I still can't resist a family trip to a Christmas tree farm – it's tradition!
Saltsman Tree Farm
We like to start at Saltsman Tree Farm, a small family tree farm near Rhinebeck, NY.  If you start early, I recommend breakfast in Rhinebeck at Bread Alone.  Saltsman is a very cute, small farm with a few different varieties (check their website for tree availability as they were already sold out of Frasers on opening weekend).  They have some really cute photo spots and offer complimentary roasted chestnuts / marshmellows and fireside cider.  I always get their gorgeous handmade table centerpieces and kissing balls.  (Note: cash / check only).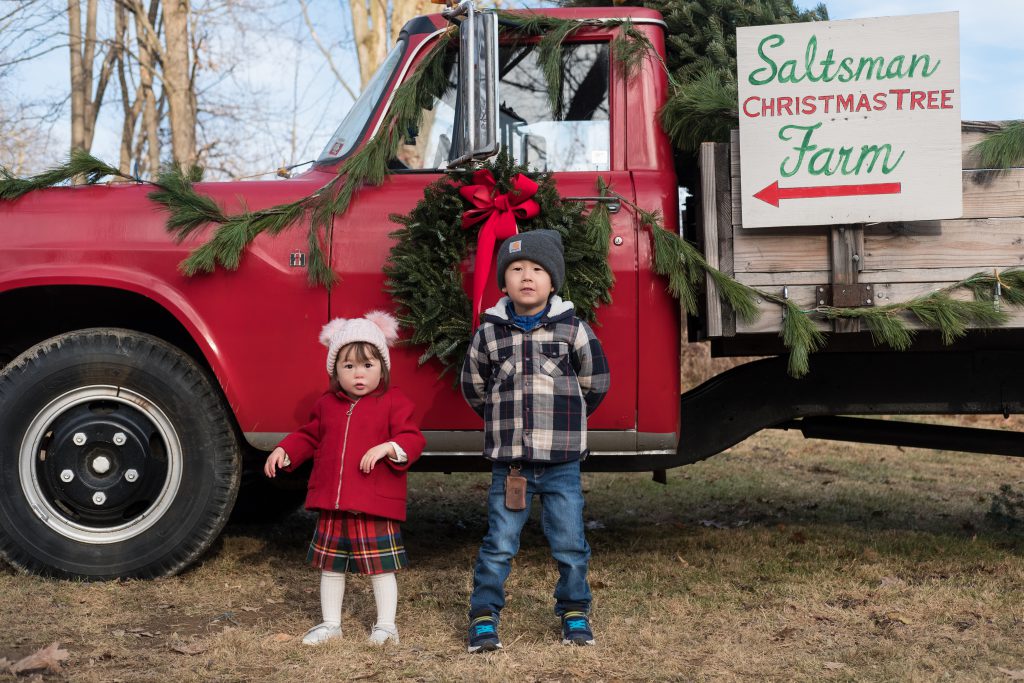 Battenfeld Christmas Tree Farm
For a very different experience, we also stop at Battenfeld Christmas Tree Farm on the way back home.  This farm is huge and is way more crowded.  But they really get you in the holiday spirit with lots of festivities including a Santa, bagpipers, and wagon rides.  People here take their tree cutting seriously and start tailgating early.  We saw some pretty impressive set-ups complete with tents and major grills.  Beyond trees, they have 2 shops: a shop in the baling barn down by the main parking lot which has some ornaments, wreaths, garland, and other decorations and a smaller building close to the road which houses wreaths and boxwood centerpieces.  I always get some fresh wreaths from Battenfeld as they have so many wonderful styles to choose from and are super fresh.
Gingerbread House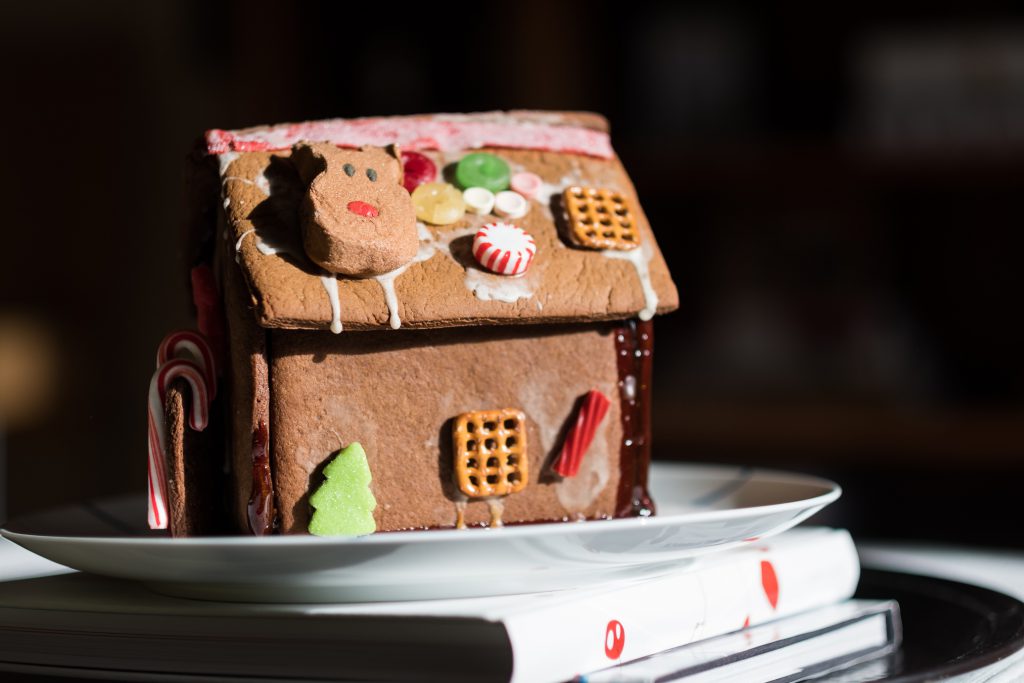 We're signed up for a gingerbread house decorating event with our college alumni community (University of Chicago alumni families, check it out!).  But NYC offers so many great gingerbread decorating activities for kids.  A few options include:
St.Regis Hotel Gingerbread Workshops: December 14, 15, 21, and 22 1:00 – 3:00 PM for decorating and tea, $85 per person
New York Hall of Science Gingerbread Lane Workshops: November 23, 24; December 27, 28, 29, 30 10:30 AM, 11:30 PM, 12:30 PM, 2:00 PM, 3:00 PM, and 4:00 PM, $15 per project (plus museum admission)
Biscuits in a Basket: Ice Skating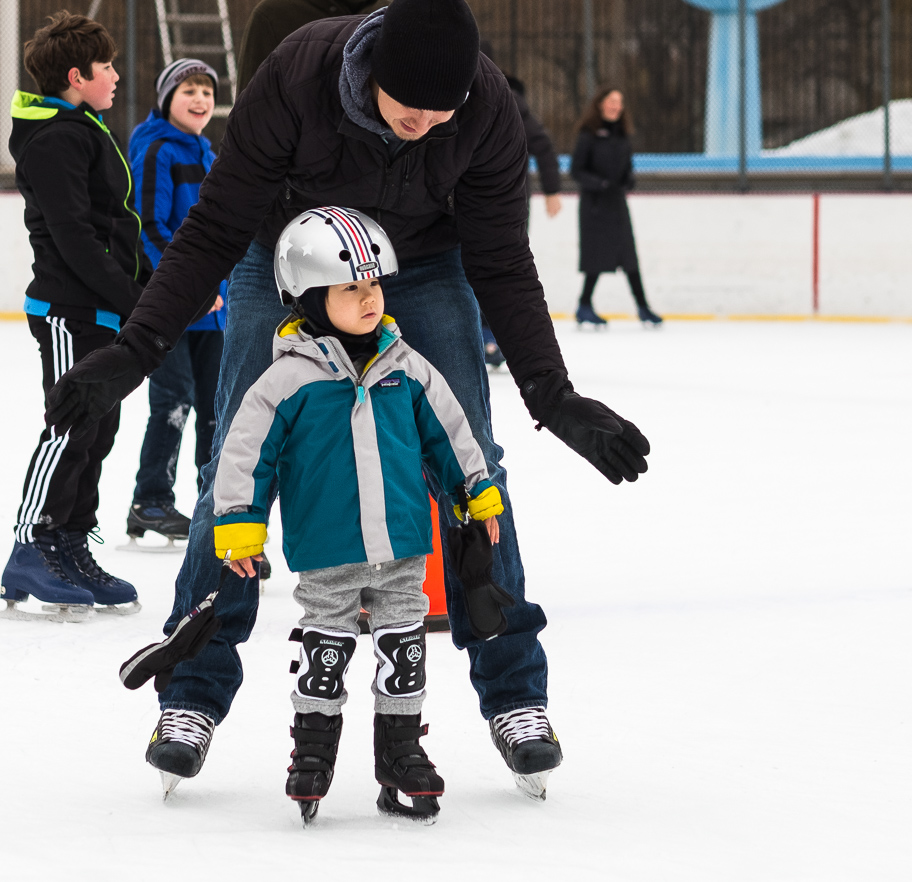 We took Bash ice skating for the first time last year and will likely be spending weekends at the rink all winter long.  We usually head to Lasker Rink in northern Central Park as it's much less crowded.  For a festive winter skate, you can't beat the backdrop of Wollman Rink in southern Central Park.  It's way more touristy and expensive (almost double the price of Lasker on weekends!) but a great photo opp if you're just looking for a casual skate.
Another fun and festive option is the rink at the Bryant Park Winter Village, which offers free admission if you have your own skates.  Stay for photo opps with the huge decorated tree, check out the holiday market in the winter village, and don't forget to stop inside the NY Public Library's Astor Hall for more festive decorations.
Shop Til We Drop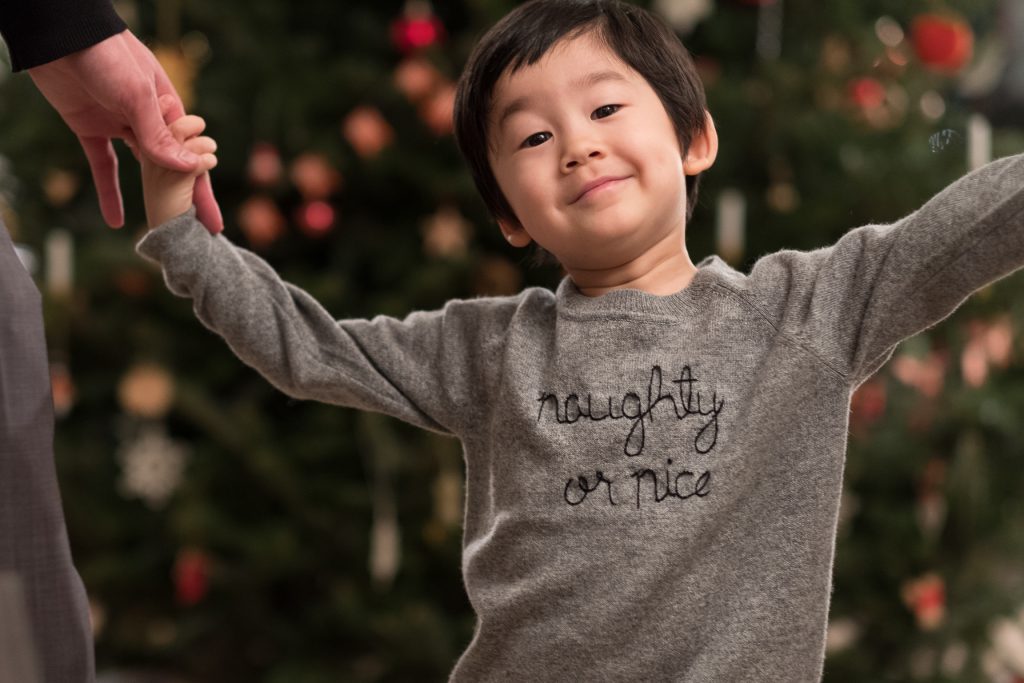 In addition to the big department stores (Bergdorf's, Saks, Bloomies in particular) with their amazing holiday windows, festive shopping can be found at the holiday markets that pop up all over the city.  We like to warm up with some hot apple cider and a brat while browsing the stalls at these markets:
We love giving unique gifts and always make a point to stop at some of our favorite local shops:
For some gift ideas for your little ones, check our gift guides and favorite winter / holiday books organized by age in the Holiday Section.
All Aboard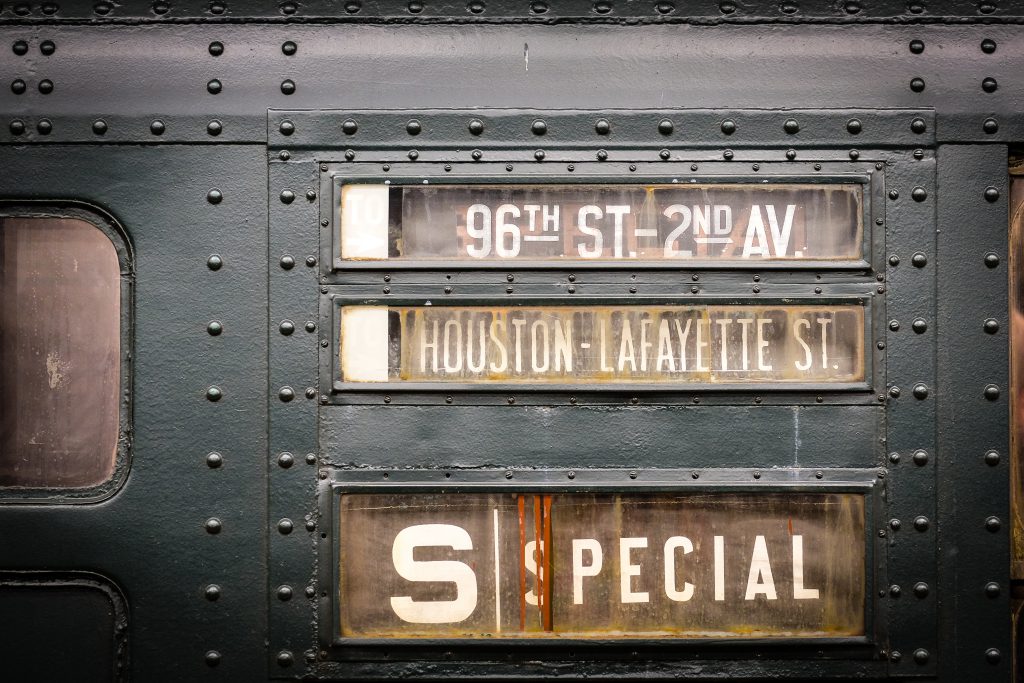 We skip the Polar Express themed train rides in favor of these festive locomotives:
Holiday Nostalgia Ride aboard vintage subway cars and buses: We caught the vintage subway cars last year and it was the one time we were actually thrilled with the MTA!  Trains run Sundays (December 8th, December 15th, December 22nd, and December 29th) along the F or A/D lines depending on the station.  Check the schedule for more details.  It's a little difficult to time correctly if you don't start at the beginning of the line, but with a little bit of patience and asking the conductors on the regular trains that come rolling through for approximate timing helps.
NY Botanical Garden Holiday Train Show (through January 26th).  We've taken Bash to this show every winter and he's always enthralled by the trains and we are equally impressed by the NY landmarks made out of flora and fauna.  There are timed tickets for entry and the show does get crowded, especially on weekends in December.  Opt for a weekday if you can swing it.  Also, for really little ones, bring the carrier as strollers must be parked outside the exhibit.
Up to Snow Good: Snow-day Activities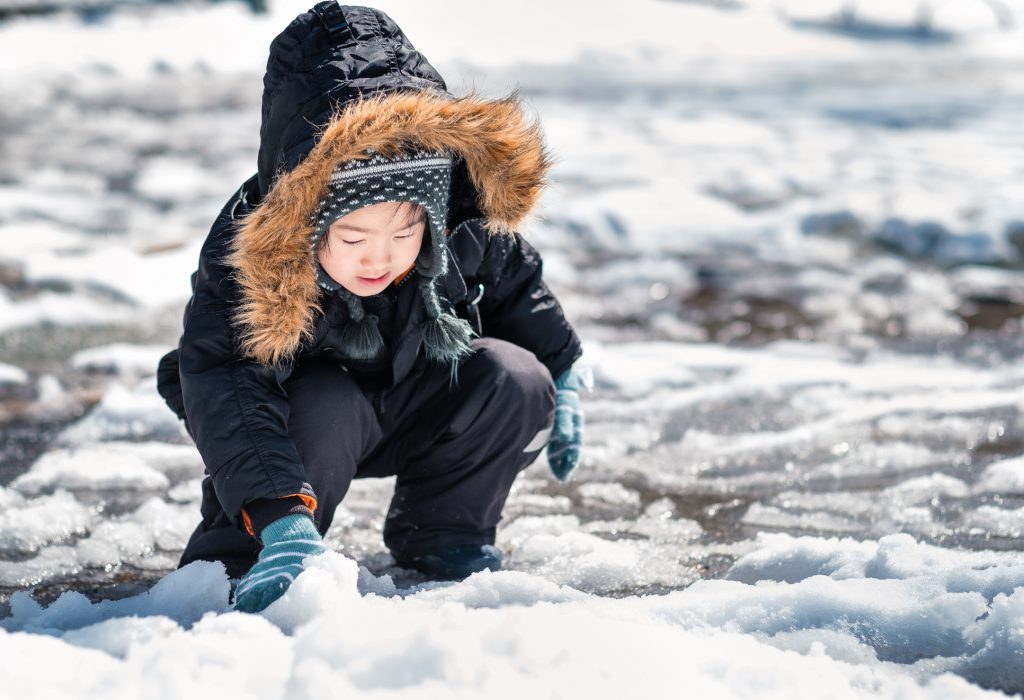 I love winter sports!  When we're not putting biscuits in the basket at the hockey rink, you can find us on our mission to find the best snow tubing hills.  I'm looking forward to trying Mt. Peter's tubing which has a kids' tubing hill for tots under 42″.
While Bash is content with making snow angels, I'm hoping he takes an interest in skiing or snowboarding so I can continue to shred (and apres-ski!).  We're hoping to do a trip out west to the Rockies but might settle for a weekend at Hunter Mountain.
Since Nick and Bash have been on a real fishing kick lately (they've been going every weekend since our beach vacation in the Outer Banks), we may have to head way upstate to try our luck ice fishing.
Hibernation Plan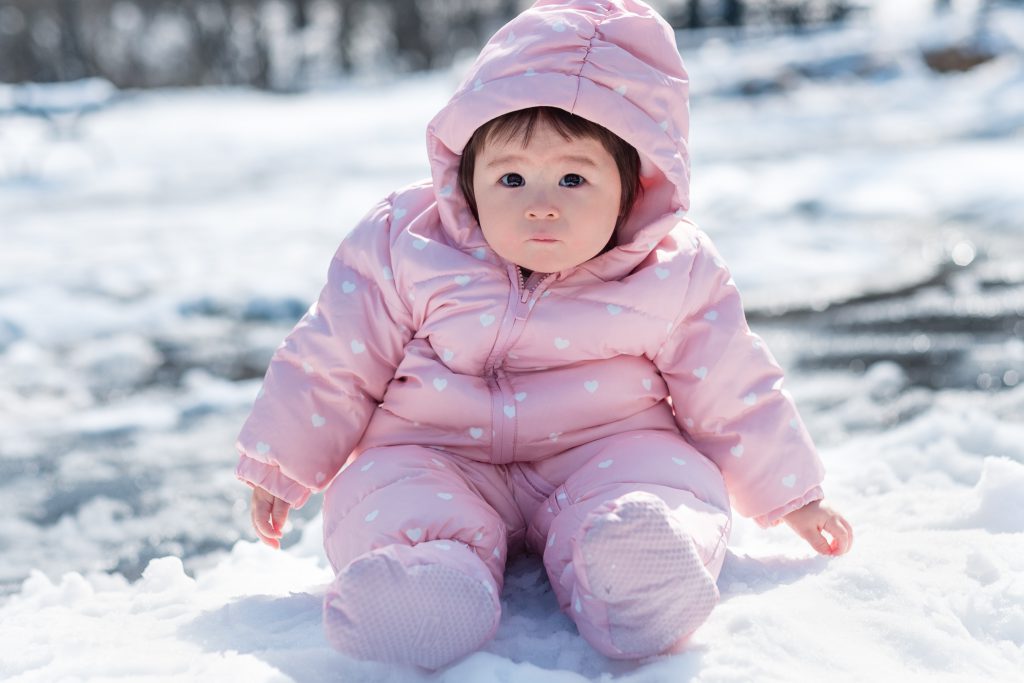 Let's be honest, sometimes I just want to curl up indoors.  Just short of hibernation, we plan to stock up on indoor activities because, let's face it, day-old city snow gets pretty gross.
Movie Marathon: We always watch Love Actually, Elf, and Home Alone 1 & 2 during the holidays.  What are your favorite movies to get you in the spirit?
Activities and Crafts: I'm stocking up on arts & crafts supplies for dough ornaments, wreaths, felt Christmas tree and ornaments, pom pom pinecones, twig starts, and popsicle stick ornaments.  I've pinned a bunch of potential projects on our Pinterest Holiday Crafts board and can't wait to share our projects.  In the meantime, here are a few of our favorite indoor activities from last winter.
Baking: Last year, Bash did a cooking class at Freshmade NYC and I'm hoping to keep him interested in the kitchen this winter.  Plus, I could use a little helper while churning out my usual cupcakes, sugar cookies, pies, and Mexican wedding cookies.
What's on your family's list this winter?  What are you favorite seasonal activities in NYC?