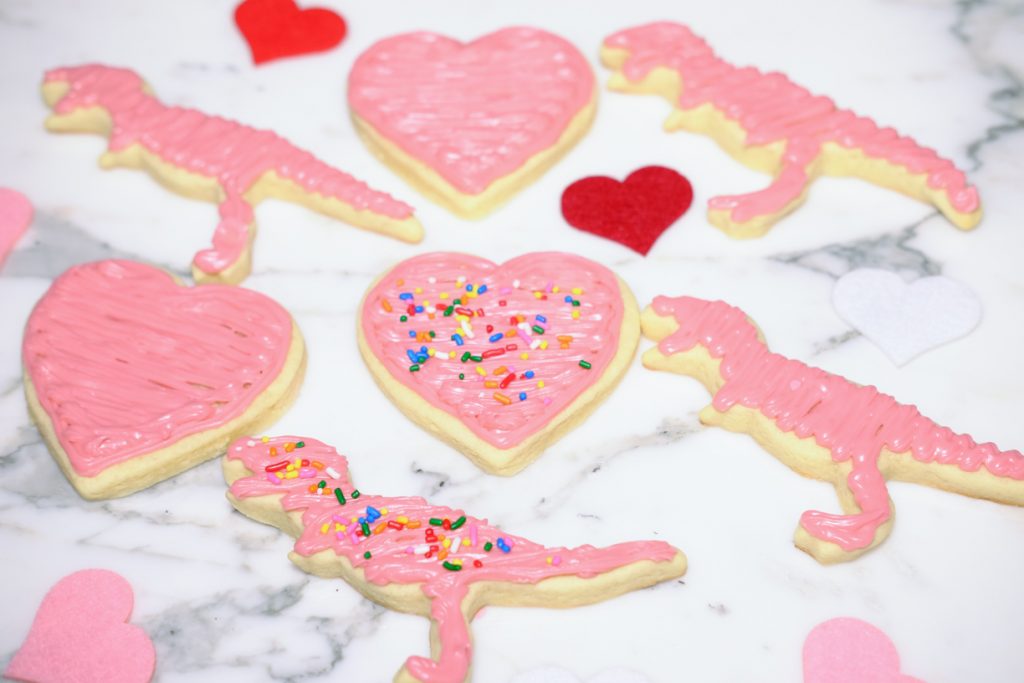 Happy Valentine's Day!  As a sucker for sugar cookies, candy, and flowers, I've always loved this holiday.  Yesterday, while decorating Bash's valentines for his classmates, we talked about how Valentine's Day is a celebration of love and friendship.  As we were going through the names of Bash's classmates and teachers, I thought it was so sweet how he was adamant that we make additional cards for Daddy, Mommy, Baby Sister, and Mono (his imaginary friend).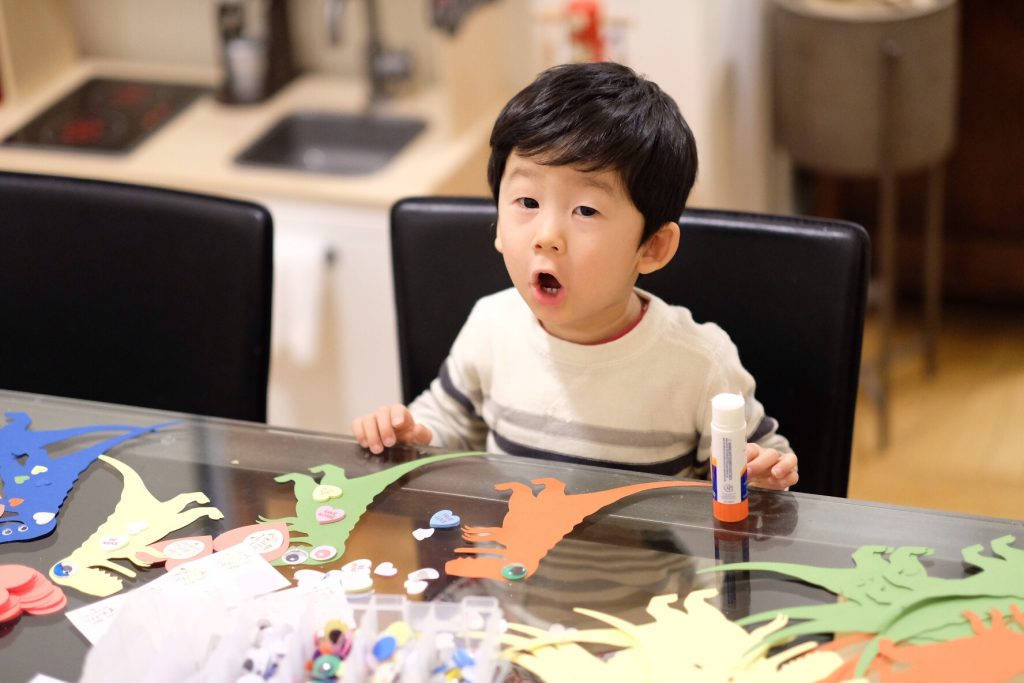 Along with his dinosaur-themed valentines, we also made my favorite (and super easy) sugar cookies.  While Bash doesn't like cookies or cake (he definitely doesn't get that from me, especially during this pregnancy!), he loves to help measure during the baking process and especially likes frosting and decorating the cookies.  And no matter how pretty or messy they look, these simple sugar cookies with buttercream frosting are always a hit for a delicious homemade treat!  Here are my go-to recipes for Sugar Cookies and Buttercream Cookie Icing.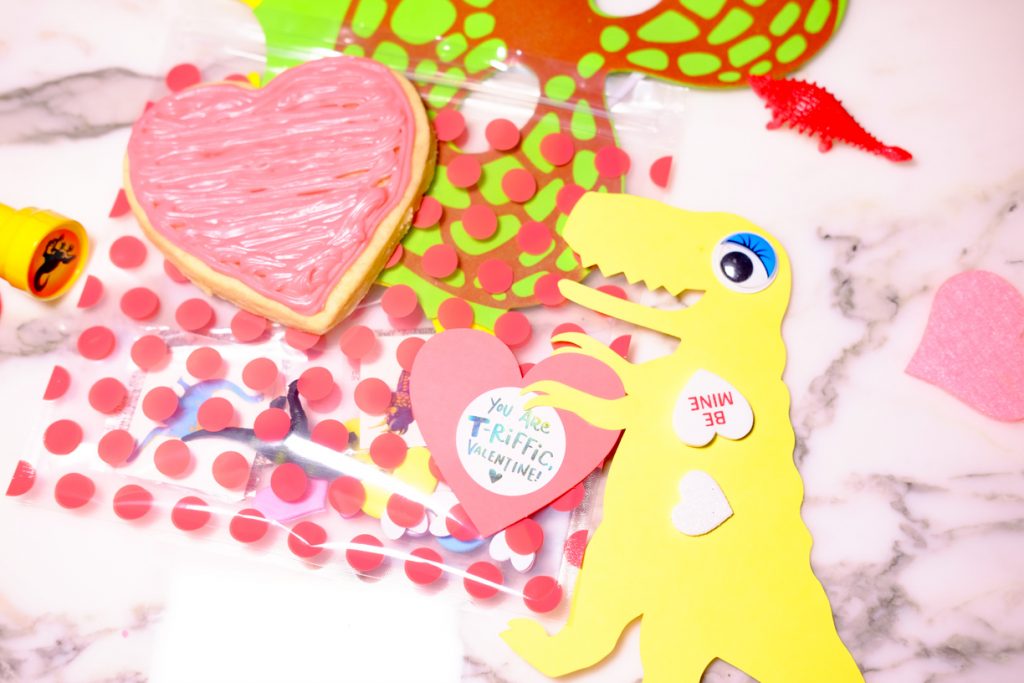 ---
Sugar Cookies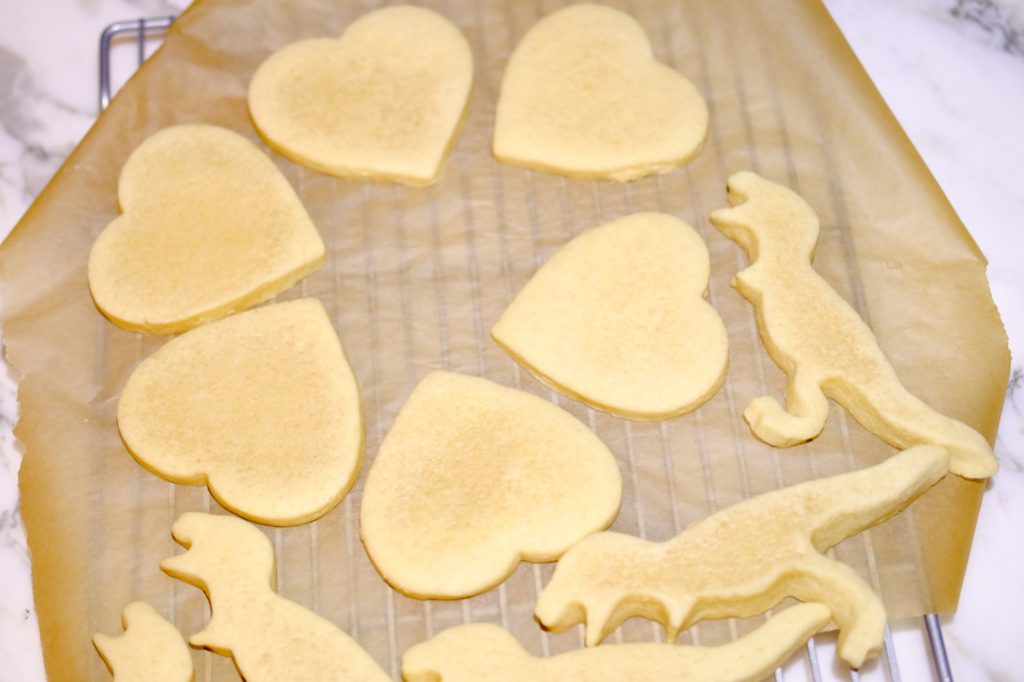 We love this recipe for simple sugar cookies that are delicious, easy to make, and fun to decorate for holidays and birthdays.  If following the recipe exactly, these cookies aren't overly sugary, which I personally like as they get pretty sweet once combined with the buttercream icing.  If you are baking unfrosted, standalone sugar cookies, I'd add another ½ cup of sugar to this recipe or substitute a little bit of confectioners' sugar to make them sweeter.
Ingredients:
1 ½ cups of butter, softened
2 cups white sugar; extra sugar for rolling dough
4 eggs
1 ½ teaspoons vanilla extract
5 cups all-purpose flour (I like King Arthur)
2 teaspoons baking powder
1 teaspoon salt
Directions:
 In an electric mixer or large bowl, mix wet ingredients first.  Cream together room temperature butter and sugar until smooth (about 1 1/2 minutes).  Beat in eggs and vanilla until well combined.
In a separate bowl, combine dry ingredients: flour, baking powder, and salt.
Set mixer to low and carefully add dry ingredients about a cup at a time, until well mixed.
Wrap the dough ball in plastic wrap and chill dough in refrigerator for at least 1 hour (or overnight).  I'd highly recommend chilling for a longer duration / overnight to avoid dough that's too sticky.
Preheat oven to 400 degrees F.
Roll out dough on lightly sugar or flour-covered (I prefer sugar) parchment paper or smooth work surface to about 1/4-inch thickness.  Use additional flour or chill dough longer if dough becomes too sticky. Use cookie cutters to create fun shapes and carefully transfer to an ungreased cookie sheet (I like to use a sheet of parchment paper during baking for easy transfer).
Bake on middle rack for about 6 minutes.  Keep an eye on the cookies as these cook fast!  Allow cookies to rest for 2 minutes on baking sheet before transferring to wire rack to cool.
Buttercream Cookie Icing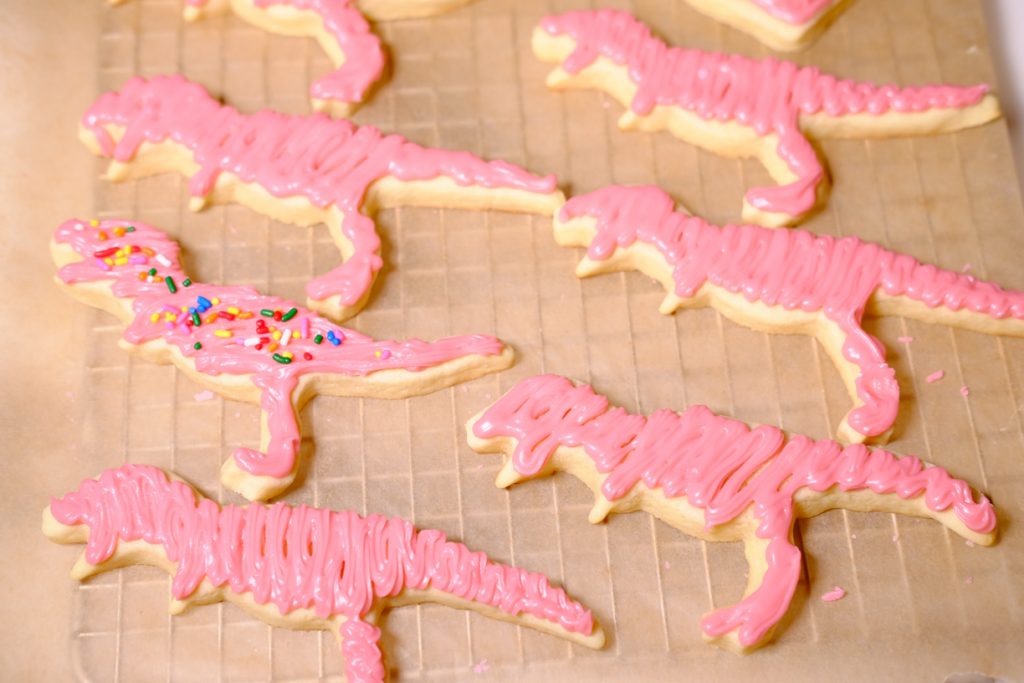 Here comes the fun part…decorating!  This simple buttercream frosting is delicious and easy to work with whether spreading or piping.  Spreading is probably easier for kids to work with, but as the icing cools, it becomes grainier.  It won't impact the taste but if you want smoother frosting, you can either try warming the icing over a bowl of hot water or you can always dip the iced cookies in sanding sugar or sprinkles to cover any "mistakes".  This time, I tried piping the icing and found that while it stayed smooth, it was a little harder for tiny hands to manipulate.
Ingredients:
2 cups confectioners' sugar
2 ½ tablespoons cream
4 tablespoons butter (I use unsalted)
1 teaspoon vanilla extract
Food coloring (if desired)
Directions:
In a saucepan over low to medium heat, heat cream and butter to melt.
Stir in vanilla and confectioners' sugar until blended and remove from heat.
Beat with an electric mixer (medium to high speed) until thick and smooth.
Spread or pipe icing on cooled cookies.
Decorate with additional sprinkles, sanding sugar, etc. and allow to dry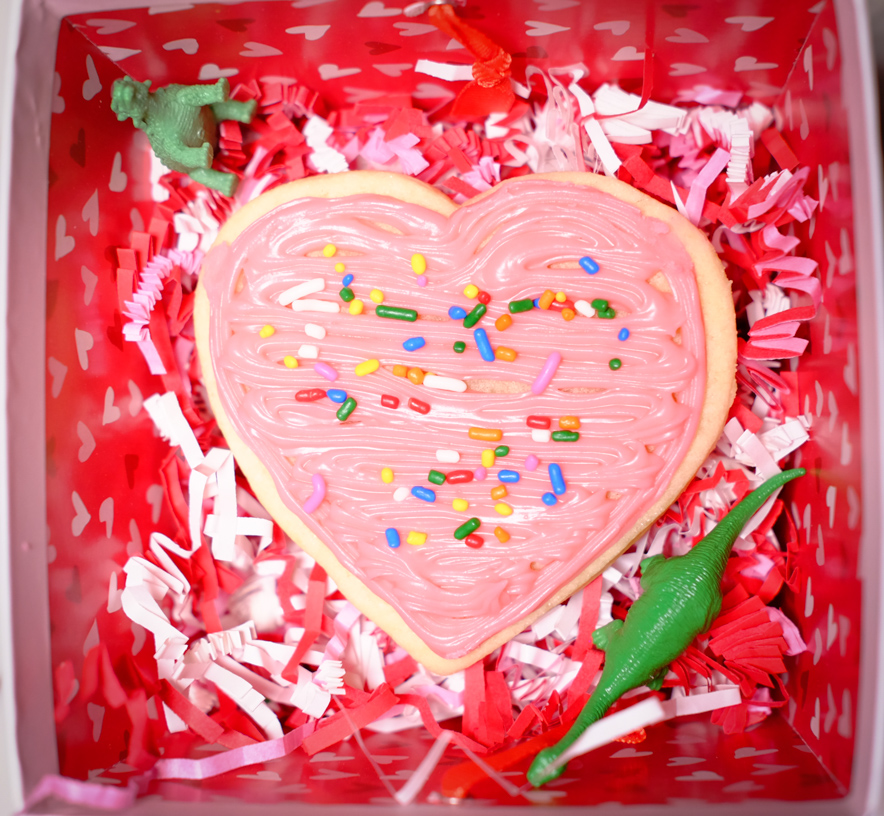 Hope you enjoy these sugar cookies as much as we do. Wishing you and your loved ones a very Happy Valentine's Day!  What are your favorite Valentine's traditions and treats?