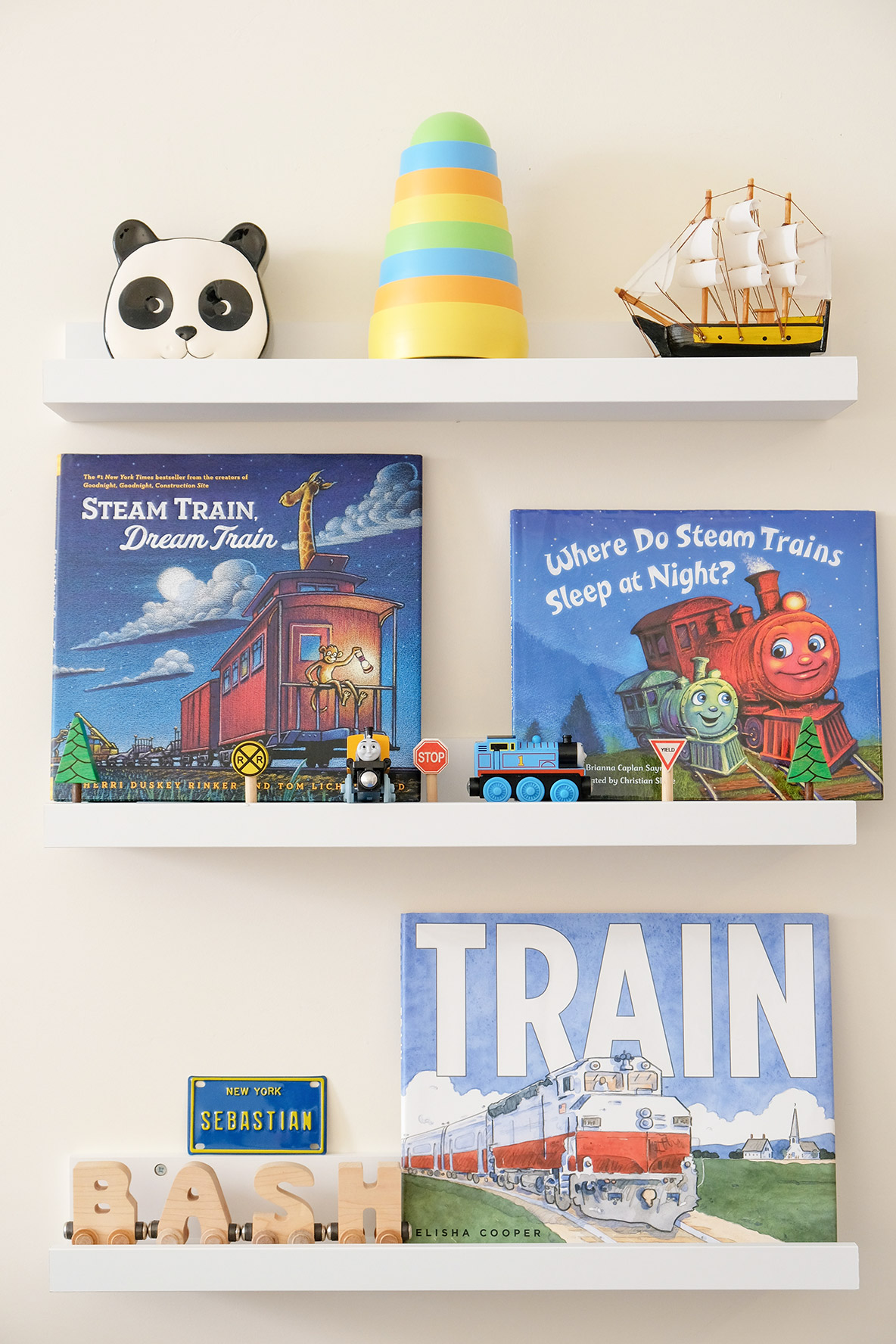 New England is known for its gorgeous fall foliage season…and what better way to see the changing colors than a steam train ride through the countryside! In conjunction with our fall foliage train ride through the Hudson River Valley, we are rounding up some of our favorite train books for toddlers: Steam Train, Dream Train, Where Do Steam Trains Sleep at Night, and Train. Bash can't get enough of the choo-choos and these three books are definitely "on the right track"!
We are huge fans of Sherri Duskey Rinker and Tom Lichtenheld (the team behind Goodnight, Goodnight, Construction Site and Mighty, Mighty Construction Site) and were so excited when they released Steam Train, Dream Train. The whimsical illustrations have everything a child could imagine: juggling monkeys, a hopper ball pit, ice cream chillaxing penguins, turtles driving race cars, and cameos by bulldozers and dinosaurs. We also enjoy how the story recaps a full day of play (from sports to art to sandbox play), as the toys strewn about our apartment after a long day can attest! The rhythm is soothing and peppered with fun train sounds. I only wish Bash would drift off instead of "going off the rails" and trying to break out his train set right before bed!
Where Do Steam Trains Sleep at Night is a sweet bedtime story in the vein of their preceding Where Do Diggers Sleep at Night (another favorite for the construction-obsessed set). With a catchy tune, we like following the different types of trains as they complete their bedtime routines. Just don't forget the tooth brushing before bed! As a bonus, Bash especially likes to find the mouse engineer hiding on each page.
Once again, I judged a book by its cover: I saw Train during a preschool tour last year and thought it just looked so beautiful and soothing. And I'm so glad we got it because I enjoy it equally, if not more than Bash. It's very different from our other train books which are filled with choo-choo sounds, rhymes, and anthropomorphic trains. The watercolor illustrations are soothing but reveal tons of real-life details that always have us discovering new things. This is neither a sing-songy rhyming story, nor a fact-filled "how it works" style book. Rather, the prose is beautiful, soothing, and filled with enriching vocabulary that will engage us for many years. We both enjoy the attention-keeping, simple, but oh-so-imaginative descriptions, "[T]he Passenger Train crawls over the tracks through a jungle of gravel, wires, and dirt. Everything smells of grease and rust and burnt toast." This book has us seriously considering our next vacation "on the rails".
That's the "end of the line"!  Happy reading!