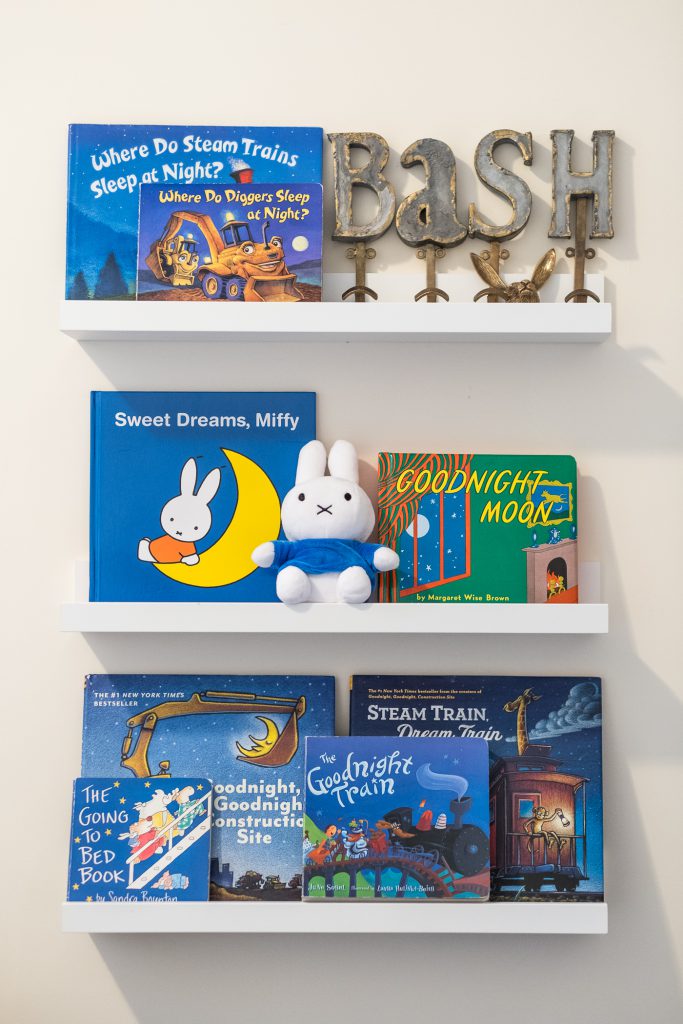 Lately I've been nostalgic for Bash's favorite bedtime books to help baby sister, Ava, settle down for bed.  Ava's been going through her 18 month sleep regression and her 6:00 AM wake ups and nap protests have me really struggling these days.  So, we're cracking down on her sleepy time routine and hoping these favorite bedtime books will lull her to sleep for just a little bit longer!  🙂
Sweet Dreams, Miffy
This is one of our favorite new additions to our soothing bedtime story collection.  Bash and Ava adore the snuggly Miffy character, so Sweet Dreams, Miffy (the latest book in the Miffy series) was a must-add.  Bash loves that he can relate to the story that walks through Miffy's bedtime routine.  For Ava, the illustrations are simple, yet colorful, capturing her attention and keeping her engaged.  Its soothing tone makes for the perfect just before bedtime read; we tuck Bash into his plush Miffy blanket and settle Ava into her crib propping up her Miffy doll so it's the first thing she sees in the morning.  Sweet dreams, kiddos!
Goodnight Moon
Goodnight Moon is such a beloved classic.  It's a timeless story of a rabbit saying goodnight to everything in its room, in an almost lullaby, soothing cadence.  For babies, the illustrations are simple and alternate between black and white.  While for toddlers, the simple illustrations capture their attention as Ava loves pointing out things she recognizes and Bash loves finding the mouse on every page.
Goodnight, Goodnight, Construction Site
Goodnight, Goodnight, Construction Site has consistently been one of Bash's all-time favorite reads.  If you have a truck-obsessed little one, then this book is a must!  Little readers are transported to a construction site, where they walk through the duties of various construction equipment until it's time to say goodnight.  The illustrations of the personified construction trucks capture young childrens' imaginations and hearts.
Steam Train, Dream Train
We are huge fans of Sherri Duskey Rinker and Tom Lichtenheld (the team behind Goodnight, Goodnight, Construction Site and Mighty, Mighty Construction Site) and were so excited when they released Steam Train, Dream Train. The whimsical illustrations have everything a child could imagine: juggling monkeys, a hopper ball pit, ice cream chillaxing penguins, turtles driving race cars, and cameos by bulldozers and dinosaurs. We also enjoy how the story recaps a full day of play (from sports to art to sandbox play), as the toys strewn about our apartment after a long day can attest! The rhythm is soothing and peppered with fun train sounds. I only wish Bash would drift off instead of "going off the rails" and trying to break out his train set right before bed!
The Going to Bed Book
Sandra Boynton may just be the ultimate queen of the baby board books!  We were gifted many of her board books during my baby shower for Bash and they have gotten so much use.  The Going to Bed Book has to be my favorite and we read this every single night to Bash for about 2 years straight.  With cute animals, a little silliness, and rhymes conducive to a homemade tune (I will spare you the video version of my rendition), this is the perfect bedtime story that will delight little ones for years.
The Goodnight Train
Clearly, we have a theme going on here – lots of bedtime books with blue covers and trains!  The Goodnight Train is a super cute story of a train and all its cargo being prepped to chug-a-chug off to dreamland.  Its journey features whimsical illustrations with lots to look at and sing-songy rhymes including fun sound effects.
Where Do Steam Trains Sleep at Night and Where Do Diggers Sleep at Night
Where Do Steam Trains Sleep at Night is a sweet bedtime story in the vein of their preceding Where Do Diggers Sleep at Night (another favorite for the construction-obsessed set). With a catchy tune, we like following the different types of trains as they complete their bedtime routines. Just don't forget the tooth brushing before bed!  As a bonus, Bash especially likes to find the mouse engineer hiding on each page.